Gatwick's record-breaking January shows why it is among fastest growing European airports
Gatwick Airport achieved its busiest ever January with 2.5 million passengers travelling through the airport, a 5.7% increase on the previous year…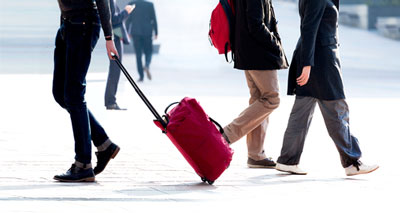 Airport Council International Europe announces that Gatwick Airport is one of Europe's fastest growing airports
2.5 million passengers travelled through the airport in January, +5.7% on previous year
Gatwick CEO Stewart Wingate said: "Strong growth in our European routes – coupled with the ongoing demand for more and more long haul services – has helped ensure the airport's place among the fastest growing airports of Europe. As one of the biggest businesses in the UK, and indeed the UK's best connected airport, we and, more importantly, our passengers have benefited from being part of a liberalised market and from the influence being in the EU provides. We firmly believe that it is in the interest of passengers, business, and the UK to stay in the European Union."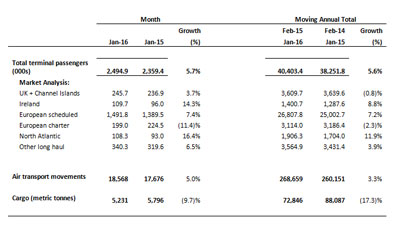 Gatwick Airport achieved its busiest ever January with 2.5 million passengers travelling through the airport, a 5.7% increase on the previous year. An achievement which has helped the airport be recognised as one of Europe's fastest growing airports.
Gatwick CEO Stewart Wingate said today these results continue to demonstrate that Gatwick is the solution to Britain's aviation capacity problem as the airport announced its 35th consecutive month of traffic growth.
With 11 new routes (including Hong Kong, Lima and San Francisco) already announced for 2016, this week saw the Airport's Council International Europe announce that Gatwick is one of Europe's fastest growing airports.
European routes grew +5.3% year on year in January with strong growth seen from routes including Vienna 76.6%, Funchal +42.2% and Dublin +18.5%.
Long-haul routes performed particularly strongly +8.7% year on year with North Atlantic routes driving this growth +16.4% on January 2015. Destinations contributing to this significant North Atlantic growth include New York 121.1%, Los Angeles +54.7% and Las Vegas +38.3%.
An additional 135,417 passengers travelled through London Gatwick in January compared to the same month in 2015. Passenger growth is the result of more air traffic movements per hour and larger aircraft being used by airlines. Average load factors were 75.1%.
Gatwick CEO Stewart Wingate said:
"Strong growth in our European routes – coupled with the ongoing demand for more and more long haul services – has helped ensure the airport's place among the fastest growing airports of Europe.
"As one of the biggest businesses in the UK – and indeed the UK's best connected airport – we and, more importantly, our passengers have benefited from being part of a liberalised market and from the influence being in the EU provides. We firmly believe that it is in the interest of passengers, business, and the UK to stay in the European Union.
"With each month of continued growth, Gatwick further demonstrates that it is ready for expansion. The simple facts show that Gatwick's plan is not just the best but the only deliverable solution to the question of where the UK's next runway should be built. It's clear now that the barriers facing Heathrow are insurmountable – it's Gatwick or nothing and it's time to get on with it."
Related topics
Related airports