Budapest Airport surpasses 10 million passenger mark in 2015
Posted: 15 January 2016 | Katie Sadler, Digital Content Producer, International Airport Review | No comments yet
Budapest Airport grew by 12.5 percent in 2015 with more than 10.3 million passengers recorded and several months breaking the one million passenger barrier.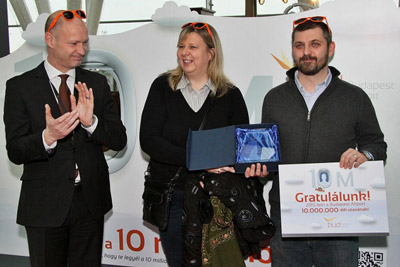 Budapest Airport's CEO, Jost Lammers, welcomes the Hungarian gateway's 10 millionth passenger last month, setting a new record for annual passengers for the second year in a row.
Budapest Airport has celebrated achieving a 12.5 percent increase in passenger numbers last year placing it as one of Europe's fastest growing airports. With several months breaking the one million passenger barrier, the upturn has been chiefly credited to the addition of three new airlines and 18 new routes throughout the year, meaning a total of 44 airlines connected Budapest to 95 destinations in 2015.
Growth at Budapest Airport attributed to 3 new airlines and 18 new routes
With 22 percent growth recorded over the last five years, Budapest is set to take 2016 by storm having already announced 13 new routes and the arrival of yet another new airline partner, Air Canada rouge. Significantly boosting the capital city airport's links to Canada, the leisure carrier will add an additional long-haul service to Toronto, from 10 June.
Further increasing Budapest's route network during the Summer 2016 timetable, home-based carrier, Wizz Air, will kick-off the summer season with the launch of five connections; Nice, Karlsruhe/Baden-Baden, Liverpool and Reykjavik/Keflavik, while welcoming the return of a direct link to Baku. The ultra-low-cost carrier has also announced it will be adding a further weekly connection to Ibiza during the height of the season, increasing Hungary's links to the Spanish leisure destination. Meanwhile, Ryanair will be broadening its schedule from Budapest, commencing services to Malaga, Malta, Gran Canaria and Corfu, offering 18 routes in total.
"It remains imperative for us to continue to grow and build upon these solid foundations"
Commenting on Budapest's objectives, Jost Lammers, CEO, Budapest Airport said: "We are extremely proud of our great results. The airport's incredible health last year allowed us to successfully deliver growth levels amongst the best in Europe. The city of Budapest's own charm plays a great part in making the airport flourish, whilst being able to offer passengers a vast selection of airlines and expanding destinations remains a driving force for growth. We enter 2016 in a strong position and it remains imperative for us to continue to grow and build upon these solid foundations."
Related topics
Related airports