Heathrow introduces Mobile Display Units at Terminal 5
Posted: 20 November 2015 | Katie Sadler, Digital Content Producer, International Airport Review | No comments yet
Mobile Display Units have been installed at Heathrow Airport informing passengers of the latest up-to-date airport information and guidance. Developed by Heathrow's in-house innovation team, display solution provider NEC and manufacturer Parity Aviation, the Mobile Display Units have been deployed throughout Terminal 5 to provide live up-to-date information to passengers during peak times announcing any […]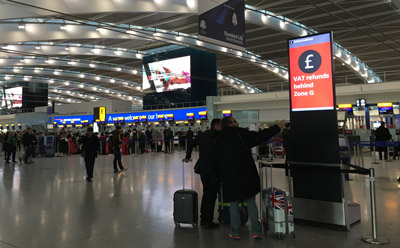 Mobile Display Units have been installed at Heathrow Airport informing passengers of the latest up-to-date airport information and guidance.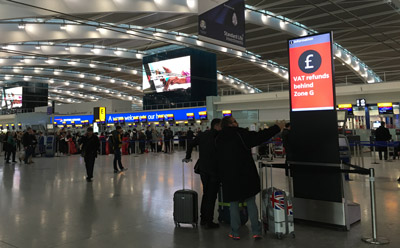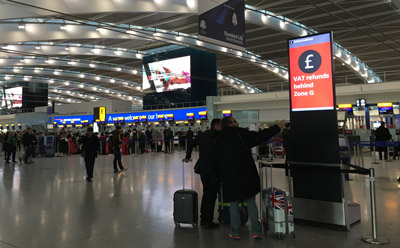 Developed by Heathrow's in-house innovation team, display solution provider NEC and manufacturer Parity Aviation, the Mobile Display Units have been deployed throughout Terminal 5 to provide live up-to-date information to passengers during peak times announcing any disruption to service.
Mobile Display Units give live up-to-date info to passengers
The MDUs have a permanent look but are easily moveable and connect to the airport's central management system by Wi-Fi. The MDUs multi-purpose display is battery powered allowing up to 35 hours of operational use before charging is required.
The MDUs provide tailored messaging via a 55" LCD HD screen with a wireless OPS slot-in embedded PC on a mobile chassis that can elevate the display up to 3.2 metres high. An innovative locking function aids stability and uses a handle to lower and then retract its wheels when the units are deployed.
Stephen Garner, Passenger Services Manager for Departures in Terminal 5, said: "We know that our passengers have a better journey when they have all the information they need about the airport and their flight.  The new displays are perfect for providing quick, up to date information and support to a large number of passengers, particularly when time is of the essence and situations change rapidly. We hope passengers will find them useful during their journey."
Related topics
Related airports