San Francisco International Airport opens new Terminal 3 East Concourse
Posted: 18 November 2015 | Katie Sadler, Digital Content Producer, International Airport Review | No comments yet
San Francisco International Airport (SFO) and United Airlines have officially opened the $253 million renovated Terminal 3 East Concourse providing 53,000sq ft of additional space. The newly renovated Terminal 3 East Concourse, designed by Gensler and Hensel-Phelps, officially opened to passengers on 18 November 2015. The reconstructed terminal features 53,000 square foot of additional space […]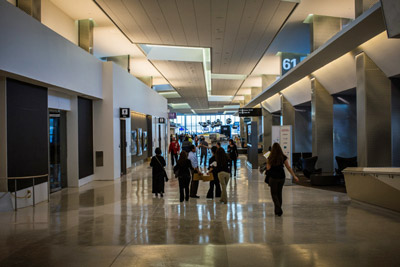 San Francisco International Airport (SFO) and United Airlines have officially opened the $253 million renovated Terminal 3 East Concourse providing 53,000sq ft of additional space.
The newly renovated Terminal 3 East Concourse, designed by Gensler and Hensel-Phelps, officially opened to passengers on 18 November 2015. The reconstructed terminal features 53,000 square foot of additional space to provide additional circulation, new concessions, and enhanced amenities for airport guests. The $253 million renovation is comprised of a concourse connecting Boarding Areas E and F, a consolidated central security checkpoint, three additional aircraft boarding gates, and a new United Airlines Club location.
$253 million Terminal 3 East Concourse features eight new retail and dining outlets and a lounge-style seating area
Terminal 3, originally built in 1979, now contains eight new retail and dining outlets, private changing rooms in passenger restrooms, free Wi-Fi, 230 power outlets and 200 USB outlets. Four new art installations, provided through the San Francisco Arts Commission, along with lounge-style seating areas, help transform the space into a relaxing environment.
"Terminal 3 East is the latest expression of our vision for the guest experience at SFO," said Airport Director John L. Martin. "This inviting, relaxing space features a fresh take on what we aim to deliver in all of our facilities – thoughtful passenger amenities, concessions representing the San Francisco Bay Area, inspiring public artwork, and environmentally-sustainable design."
Jim Pappas, Vice President & Northern California District Manager for Hensel Phelps, added: "The Hensel Phelps-led Design-Build Team with Gensler is excited to unveil the next major section of Terminal 3, T3 East, to the City of San Francisco and the world. This fantastic outcome could not have been accomplished without the tremendous effort, dedication and quality work that was performed by local craft and the subcontracting community in true partnership with Hensel Phelps, SFO, United, CPM and PGH Wong."
Over 6,000sq ft of the East Concourse is dedicated to United Club, an area hosted by United Airlines. The lounge can accommodate more than 130 people who will be able to enjoy a complimentary menu with seasonal choices. United Club at San Francisco International Airport features work stations, power outlets and Wi-Fi.
Sandra Pineau-Boddison, United's senior vice president of customers, said: "The latest updates at San Francisco create a truly premium experience for our customers. With the area's modern design and amenities, San Francisco, the nation's top trans-Pacific gateway, will continue to offer the traveller-friendly environment our customers expect at one of the country's most prominent airports."
Related topics
Related airports