Gatwick Airport to open world's largest self-service bag drop zone
Posted: 1 October 2015 | Katie Sadler, Digital Content Producer, International Airport Review
The completed first phase of Gatwick Airport's £1 billion investment programme to create a new departures level at its North Terminal will open to the public from 20 October 2015. Phased opening of the £36 million new departures level at Gatwick Airport's North Terminal will begin this month including the world's largest self-service bag drop […]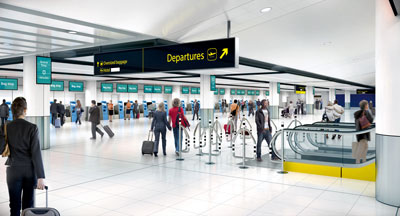 The completed first phase of Gatwick Airport's £1 billion investment programme to create a new departures level at its North Terminal will open to the public from 20 October 2015.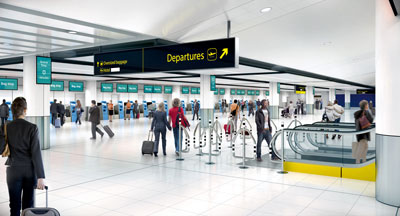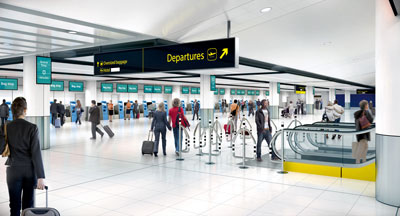 Phased opening of the £36 million new departures level at Gatwick Airport's North Terminal will begin this month including the world's largest self-service bag drop zone. The check-in hall will open in two phases between October 2015 and April 2016. The area has been redesigned to provide more space and better layout for peak check-in capacity increasing from 3,000 to 4,350 passengers per hour.
This follows successful trials of a self-service bag drop in the South Terminal which proved queuing times can be significantly shortened by allowing passengers to take charge of their own journey through the airport.
Gatwick Airport self-service check-in can be completed in less than two minutes
Self-service bag drop enables passengers who have checked in on-line to take their bags straight to a machine upon arrival at the airport, where they can print their luggage tag, apply it to their bag and load it straight onto Gatwick's baggage sorting system. There will be 60 check-in points with 48 of these being self-service bag drop units, 28 of these will be open for the October date.  According to Gatwick Airport, the check-in process can be completed in less than two minutes.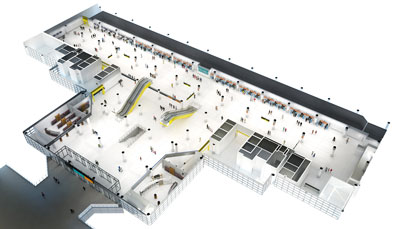 Gatwick CEO, Stewart Wingate said: "Gatwick has added eight million passengers since we came into private ownership in 2009, and we are about to reach the 40 million mark. This is a decade ahead of industry predictions and we will continue to grow. 
"While we wait for a decision on building a new runway, we are investing billions to ensure we can grow from our existing infrastructure, but this will only take us so far.
"Gatwick remains the best and most deliverable option for expansion – we can go from the World's most efficient single runway airport to the World's most efficient two-runway airport while limiting the impact on the environment."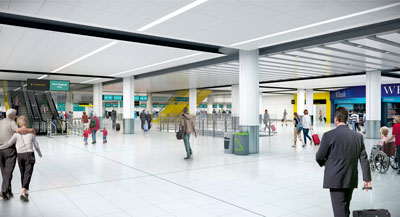 Work has been carried out whilst the airport is fully operational. Major tasks during construction included breaking through a completely new staircase linking the ground floor arrivals to the first floor transit shuttle which goes to the train station.  The installation of a completely new escalator, new flooring, 400 metres of new baggage belts, new lighting, new electrical and mechanical systems, ceilings, wayfinding, retail stores and IT infrastructure. 
The £1 billion investment at the North Terminal will also see the creation of a new security area, refurbished arrivals area, upgraded border zone with 15 state-of-the-art new e-gates and the reconfiguration of Pier 5 in order to construct a state-of-the-art new Pier 1, offering new aircraft stands, gate rooms, new lounge facilities, and storage for 2,600 bags.