Avinor Group to implement Amadeus cloud at 46 Norwegian airports
Posted: 29 June 2015 | Katie Sadler, Digital Content Producer, International Airport Review
Avinor Group, the Norwegian state owned airport network operator, has signed a contract with Amadeus for the supply of its cloud-based Airport Common Use Service (ACUS) platform. In total 46 Avinor operated airports, handling 50 million travellers, will adopt the new system providing cost-effective customised and flexible passenger processing. Initially eight of the 46 airports […]
Avinor Group, the Norwegian state owned airport network operator, has signed a contract with Amadeus for the supply of its cloud-based Airport Common Use Service (ACUS) platform.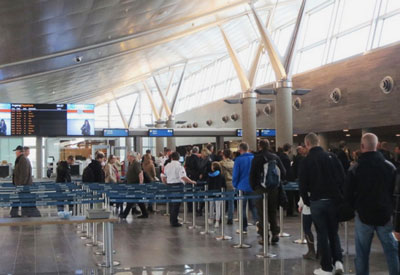 In total 46 Avinor operated airports, handling 50 million travellers, will adopt the new system providing cost-effective customised and flexible passenger processing. Initially eight of the 46 airports will be introduced to the system.
The ACUS platform enables passenger processing systems to be accessed and deployed anywhere on demand, both in and outside the terminal. ACUS can be used from a PC, laptop or mobile device making it useful to process passengers during disruptions. Amadeus states both airports and airlines will see reduced service costs and significant savings on Wide Area Network (WAN) connections, a geographically dispersed communication network. It is thought the technology will also significantly reduce the time and cost associated with the deployment of applications for the entire air transport community.
Avinor expects the new platform to reduce CO2 emissions by 5,000 tonnes annually thanks to a reduction in infrastructure and hardware. Amadeus believes this could be behind the industry-wide shift towards cloud-based systems and airport IT provision.
Brede Nielsen, CIO of The Avinor Group, commented on the agreement: "We are committed to creating lasting relationships with our customers and providing excellent service to the passenger. Switching to the cloud will help pave the road to this objective and change the traditional passenger-processing environment at airports for the better. Furthermore, by using Amadeus' technology, The Avinor Group will be able to provide our airports with an innovative technology solution at a 25% cost reduction to the previous CUTE/CUPPS service whilst increasing customer satisfaction."
John Jarrell, Head of Airport IT, Amadeus, added: "The Avinor Group's adoption of ACUS shows that technology in the aviation industry is moving towards a model that encourages innovation and flexibility. Our cloud-based platform is central to Amadeus' broader commitment to improve airports' operational efficiency and the passenger experience. Thanks to ACUS' agility, Avinor's airports will be better prepared to manage increasing passenger volumes that will ultimately benefit the traveller as well."
Related topics
Related organisations
Related regions