Fraport Tennessee announces new leasing opportunities at Nashville International Airport
Fraport Tennessee is pleased to announce eight leasing opportunities at Nashville International Airport, adding to an array of new amenities.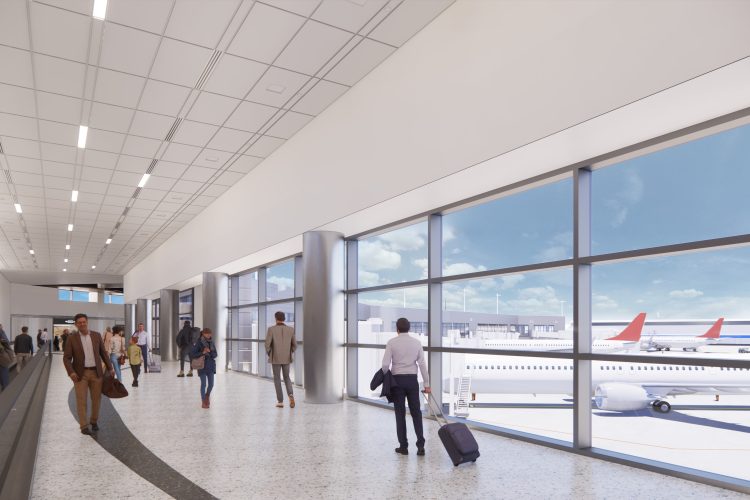 Architectural rendering of Concourse D Extension at Nashville International Airport. CREDIT: FRAPORT TENNESSEE
Airport retail developer Fraport Tennessee is pleased to announce eight leasing opportunities at Nashville International Airport® (BNA®), adding to an exciting array of new retail, food and drink, and service amenities in one of the nation's fastest-growing airports. The locations will occupy 15,642sqft of space in the soon to be expanded Concourse D.
The Concourse D extension is part of the airport's New Horizon expansion phase set to accommodate growth for up to 35 million passengers and continue to build a world-class airport. The airport marked another record-breaking fiscal year in June 2023 with 21.9 million passengers and more nonstop destinations. The historic growth has resulted in further airport and facility expansion to meet travel demands and the region's continued growth and popularity as a destination.
"We congratulate the Metropolitan Nashville Airport Authority on its tremendous growth and banner year! We opened 25 more new shops and restaurants over the past 18 months and are thrilled to embark on this next phase of development," said Matt Jennings, Vice President of Fraport Tennessee. "Visitors will have more retail and dining choices with Tennessee flair and much more to discover at BNA."
The design work for the Concourse D extension has already commenced. The additional terminal area will bring five new gates to the current six, eight concessions locations, and similar finishes and designs with high ceilings and expansive, inviting node areas for travellers. The expansion will also feature a new open-air veranda for travellers at the end of the concourse. The three food and drink locations, three retail/service locations, and two "hybrid" locations will be available for handover and construction starts in February 2025.
The competitive request for proposal process opens on  15 August, 2023. Proposals are due by the closing date: 12 September, 2023 by 17:00 CT.