Hamad International Airport reports 44.5% rise in passenger traffic
The airport achieved an increase in passengers flying to and from the airport in the first quarter of 2023 by an impressive 44.5% increase of passenger traffic.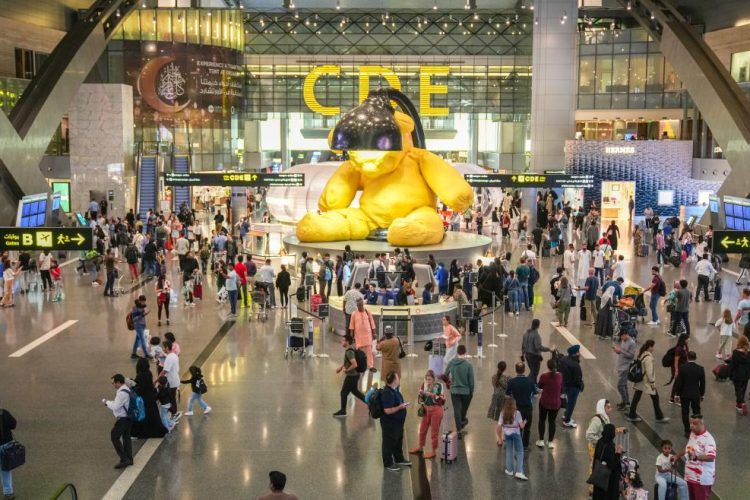 CREDIT: HAMAD INTERNATIONAL AIRPORT
Hamad International Airport (DOH) continues to demonstrate impressive numbers after a hugely successful year in 2022. The airport achieved a further increase in passengers flying to and from the airport in the first quarter of 2023 by an impressive 44.5% increase in passenger traffic. They further reported an 18.65% increase in aircraft movements from the same period last year.
Hamad International Airport saw a total of 10,315,695 passengers during the first quarter of 2023 – moving 3,558,918 passengers in January, 3,240,114 passengers in February and 3,516,663 passengers in March. Aircraft movements also increased compared to last year, with a total of 56,417 arriving and departing from the airport – 19,377 in January, 17,479 in February and 19,561 in March.
During the first quarter of 2023, Hamad International Airport handled over 540,000 tonnes of cargo and moved over eight million bags through its facility, including over five million transfer baggage, signalling that the airport is seen as a preferred transfer hub for global passengers.
Commenting on the results, Hamad International Airport's Chief Operating Officer, Engr. Badr Mohammad Al Meer, said: "This is a remarkable start to 2023 for the airport and is testament to our commitment to enhancing our passenger experience whether they are travelling to, from or through the airport. With our robust operations and investment in our growth plans, we will continue to magnify our airport infrastructure and product offering to reinforce our competitive position in the aviation industry."
On what this means for the industry, Al Meer added: "These numbers demonstrate the resilience of our industry and the vital role that airports play in connecting people. We will always strive towards excellence and ensure that Hamad International Airport remains the top choice for passengers traveling to and from the Middle East and the world."
Hamad International Airport busiest destinations during the first quarter of the year are London, Bangkok, Dhaka, Manila and Jeddah and the airport currently has over 40 airline partners.
Since its inception in 2014, Hamad International Airport has transformed the aviation industry with innovative experiences and breath-taking features. As the gateway to the State of Qatar and the Middle East, the airport continues to create memorable experiences for all its passengers. Welcoming hundreds of nationalities daily, Hamad International Airport is the ultimate link between east and west.