MIA receives its first four all-electric vehicles before Earth Day
The electric vehicles will help reduce its carbon footprint, and save millions of dollars of energy in water and energy consumption annually.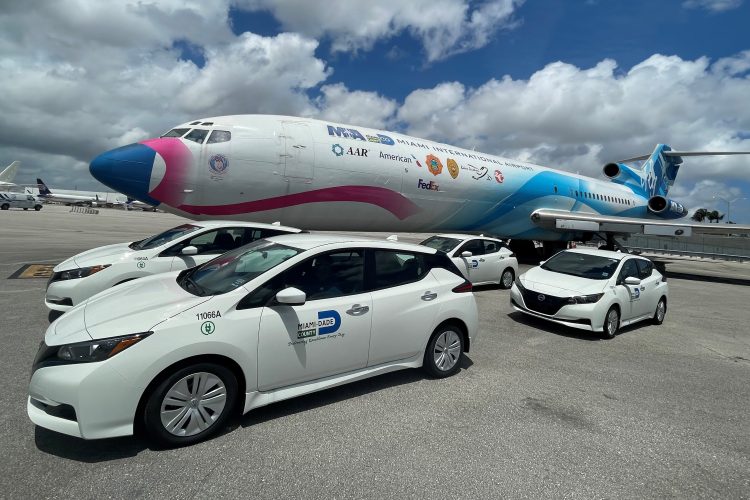 The first four electric vehicles of MIA
Ahead of Earth Day, the Miami-Dade Aviation Department (MDAD) received its first four all-electric vehicles this month. It's not the only delivery for the department, as there are 13 more scheduled for arrival by 2024 and 24 more expected over the next five years. 
The Nissan Leaf 40-kilowatt cars are being assigned to employees whose job duties require the most frequent travel to and from MIA, such as supervisors in MDAD's Airside, Landside and Maintenance divisions.
"Every day is Earth Day in Miami-Dade County because our environment is our economy and the key to our survival,' said Miami-Dade, County Mayor Danielle Levine Cava. 'We work year-round to protect our planet and our residents by building resilient infrastructure and looking for innovative solutions that help us mitigate the impacts of climate change and ensure that all our residents live safely to thrive. Miami-Dade County is leading the way on renewable energy, resilient infrastructure, and heat mitigation, making us a future-ready community at the forefront of climate solutions."
MDAD also plans to transition its fleet of 38 gas buses to electric vehicles that will shuttle employees and travellers between the airport's terminal, employee parking garage, and remote economy park and ride lot.
The electrifying news is just the latest way that MIA is reducing its carbon footprint and saving millions of dollars in energy and water consumption annually. To learn more, visit the Fly Green at MIA webpage.