Big Recruitment Day at Stockholm Arlanda for airport's expanded premises
To meet increased recruitment needs, Swedavia – in collaboration with its partners at the airport – is arranging a big recruitment day at Arlanda on January 30, 2023.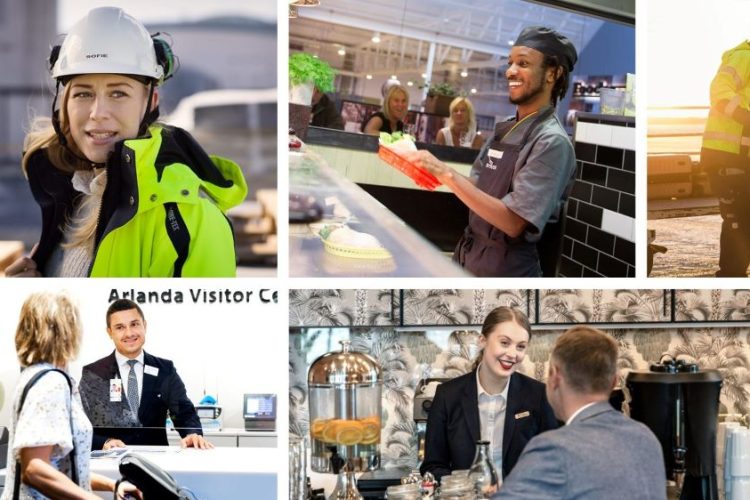 Working at Stockholm Arlanda Airport means working in a dynamic environment where every day is different. Photo credit: Swedavia
Stockholm Arlanda Airport is undergoing expansion, with air traffic on the rise, many new companies setting up operations in 2023, and services already established at the airport experiencing growth. Overall, thousands of new jobs are being created at Arlanda, but also at Swedavia's other airports. To meet increased recruitment needs, Swedavia – in collaboration with its partners at the airport – is arranging a big Recruitment Day at Arlanda on January 30.
Air travel has taken off again after the pandemic, and airlines are making major investments in new routes and resuming routes that had been paused. In mid-2023, a new 11,000 square-metre addition at Terminal 5 will also open, which will include some 50 new shops and restaurants as well as a modern, expanded security checkpoint.
Before the pandemic, about 20,000 people worked at Arlanda, which makes the airport one of Sweden's biggest workplaces. With the investments and modernisations now under way there, many additional jobs are also being created.
In order to give companies and other organisations operating at the airports the opportunity to introduce themselves and meet people who are interested in starting a job at Sweden's biggest airport, Swedavia is arranging a Recruitment Day at Arlanda on Monday, January 30 in collaboration with airport partners. The Recruitment Day will be held at Clarion Hotel Arlanda Airport Terminal 11 a.m.–6 p.m. and is open to the general public. No advance sign-up is required.
Great interest
"We see really great interest in our Recruitment Day and great commitment from both companies and visitors. We expect many participants, most of whom seeking new employment or wanting to know more about what the airport can offer in terms of job opportunities," says Marie Wiksborg, Director of Business Support at Swedavia.
"Along with Swedavia and the different services we offer as an airport operator, some 30 other companies have currently signed up. There are job openings in restaurants, hotels, shops, other services, security screening, ground handling services, logistics, car rental, technical maintenance and communication, IT and administration. The Swedish Border Police, Braathens Regional Airlines (BRA), the currency exchange Forex and VY airport buses will be on hand to present their career opportunities. People can apply for summer jobs, hourly-rate jobs and full-time jobs," adds Marie Wiksborg.
"Together with our partners, we average 600,000 customer contacts a day at Arlanda. We are really keen to find the best candidates to help create positive customer experiences every day and are pleased to see that many people have already shown interest in working at the airport," says Charlotte Ljunggren, Chief Commercial Officer at Swedavia and acting airport director at Stockholm Arlanda Airport.
See all the participating companies looking for new employees below.
A dynamic environment
Working at an airport and at Stockholm Arlanda Airport entails working in an exciting, dynamic environment. All the world comes together here each day, and many different market operators work in partnership to ensure the functioning of airport operations, flows and services. A lot can happen at an airport, and the workday here often consists of a combination of carrying out set procedures and meeting the needs and desires that crop up that day. Given the range of services found at an airport, there are jobs available for many people with different skills and interests.
Stockholm Arlanda Airport is Sweden's largest airport with by far the largest share of international flights. Although some 20,000 people work at Arlanda and about 600 companies operate at the airport, there is a sense of camaraderie among workers no matter who their employer is.
"A large international airport like Arlanda is a unique workplace environment where every day is different. Even though there are many people who work at the airport and who are employed by many companies, there is a strong sense of togetherness and good collaboration. Combined with the dynamic environment and many encounters with people from all over the world, it makes this workplace really special," says Charlotte Ljunggren.
"Along with the modernisation of Arlanda, which will lead to better passenger experiences, working in the airport's airy extended premises with its expanded range of retail outlets and in the new state-of-the-art security checkpoint will also be a brand-new experience. The security checkpoint in Terminal 5 will be significantly enlarged and equipped with the latest technology. Passengers will not need to remove liquids, laptops or tablets from their bags," adds Charlotte Ljunggren.
Representatives from Swedavia's regional airports
The recovery in air travel is taking place all across Sweden, at all ten Swedavia airports. In addition to job openings at Stockholm Arlanda Airport, Swedavia and other businesses operating at the airports elsewhere in the country are looking for recruits to fill positions, and information about this will also be provided at the Recruitment Day at Arlanda.
"We hope to have the chance on January 30 to also meet people who are interested in working at our regional airports. We will have representatives on hand from our six regional airports – Kiruna, Luleå, Åre Östersund, Umeå, Visby and Ronneby –at our Recruitment Day," says Susanne Norman, airport director for Swedavia's regional airlines.
"Just like at Arlanda, there is a sense of community among employees at our regional airports, and that sense of camaraderie is even stronger at a smaller airport. The biggest difference, if you work for Swedavia at a smaller airport compared to Arlanda, is that you have a broader role and are involved in more processes and tasks at the airport. At the regional airports, Swedavia has more operations run under its own management, such as security screening and ground handling for flights, including baggage and passenger handling services," concludes Susanne Norman.
If you are unable to attend our Recruitment Day at Clarion Hotel, information about job opportunities both with Swedavia and our partners is available on our website; see the link below. Please check our social channels, and why not follow us to learn more about what it is like to work at an airport.
Participating companies
Avarn Security, Aviator, Avis Budget Group, Aviseq, Bagport, BRA Braathens Regional Airlines, Clarion Hotel, DUFRY-The Nuance Group, Forex, Gate Group, Global Blue, Gränspolisen, Hertz Arlanda, HMS Host, Lufthansa Cargo, MBH, Menzies Aviation, N-clean, Newrest Inflight Logistics, Nordic Aviation Group, Nordrest, Pontus Frithiof, Radisson Blu, RC Bageri, Renab, SAS Ground Handling, Sixt Rent a Car, Sodexo, SSP, Swedavia, Vy Flygbussarna.