BLR Airport receives Kannada Sahithya Sammelana honour
BLR Airport has been recognised for its efforts and initiatives to promote and preserve Kannada language, art and culture.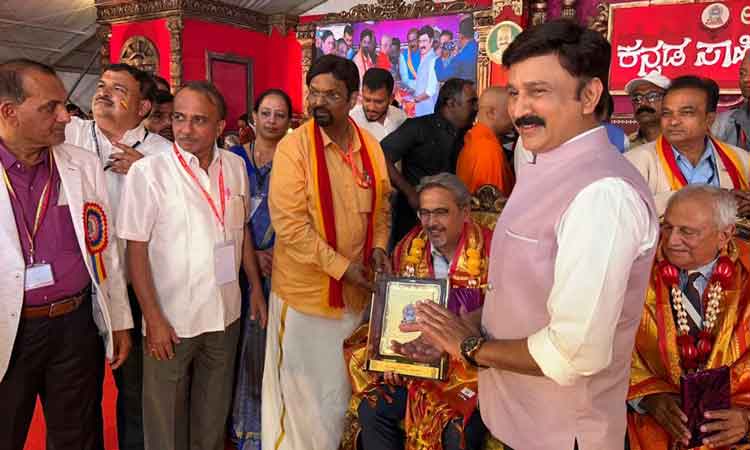 Kempegowda International Airport Bengaluru (commonly known as BLR Airport) has been recognised at the 86th All India Kannada Sahithya Sammelana.
Bangalore International Airport Limited (BIAL) received this recognition for its work in actively promoting Kannada language, local art, culture and celebrating major festivals that showcases the essence of Karnataka at the airport. 
The Kannada Sahithya Parishathu (KSP) recognised BLR Airport's efforts in putting up Kannada signages, making announcements in Kannada, and hosting cultural events to foster love for Kannada and its culture among domestic and foreign travellers. In 2022, BLR Airport hosted Karnataka's state festival Dasara and celebrated the Karnataka Rajyotsava Day in a grand way, offering airport employees, visitors and passengers – both domestic and international, a glimpse of Karnataka's rich culture and heritage.
Hari K Marar, MD & CEO of Bangalore International Airport Ltd (BIAL), the operator of Kempegowda International Airport Bengaluru, was present at the ceremony in Haveri to receive the honour. 
"Receiving this recognition and being honoured at the 86th All India Kannada Sahitya Sammelana is a wonderful feeling and a significant achievement in our journey for the airport and also for the organisation," commented Mr Marar.
"Promoting local language, art and culture has always been one of our main focuses; this honour fills us with immense delight. By presenting the essence of Karnataka in our communications with all our stakeholders, we have always actively worked towards preserving and promoting Kannada and its culture. We are grateful to the KSP under the leadership of Dr. Mahesh Joshi for recognising our efforts."
KSP organised the literature festival in collaboration with the Government of Karnataka and the District Administration of Haveri. Renowned writers, academics, native speakers and poets from all over Karnataka and India attend this annual event.