'Chinnara Dhama' launched to help educate and shelter 300 young girls
Fairfax Financial Holdings Limited, Kempegowda International Airport Foundation, and Sparsha Trust have united to launch Chinnara Dhama, to provide shelter and education to 300 young girls.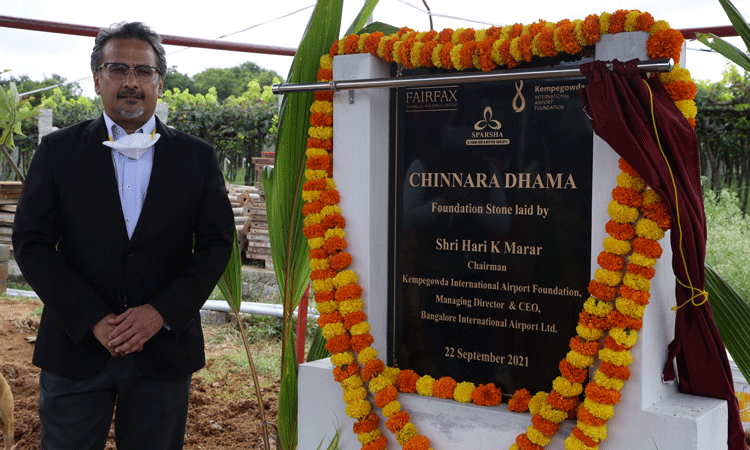 Credit: Kempegowda International Airport, Bagalore
The COVID-19 pandemic has disrupted the lives of countless children and has left a devastating impact on their emotional and physical well-being. While some have lost both parents and have no one to look after them, others are in a situation where a single surviving parent is unable to provide financial and psychological support.
In a joint effort to provide care and support to children hailing from COVID-19-affected families, Fairfax Financial Holdings Limited, Kempegowda International Airport Foundation (KIAF) and Sparsha Trust have come together to launch Chinnara Dhama – an initiative to provide shelter and education to 300 young girls.
'Chinnara Dhama', in Kannada translates to 'A Sanctuary for young children' and will be a residential and learning facility within the campus 'Makkala Dhama'.
While KIAF is the CSR arm of Bangalore International Airport Limited (BIAL), Sparsha Trust is a Bengaluru-based NGO that is working towards creating a safe space for vulnerable children by providing them with care, protection, and education.
Chinnara Dhama will be managed under KIAF's flagship programme Namma Shikshana (Our Education).  The initiative will provide safe and secure lodging facilities, as well as social and psychological support to young girls. It will provide access to quality education by enrolling the children at one of the BIAL-adopted schools. The children will also be provided with basic and vocational skills that are required to develop their social competencies.
Hari Marar, MD and CEO at BIAL said: "As India continues to fight COVID-19, the pandemic has disrupted the lives of countless children, denying them of the most essential elements of their childhood. Many children across the state have been deprived of their parents, and their emotional and financial stability can be threatened if they do not receive timely support. As a responsible corporate citizen, it is our primary responsibility to help the most vulnerable amongst us in their time of need. Through this programmatic intervention, we hope to reshape the lives of 300 young girls, so they grow up to become responsible citizens."
"Over the last two years, the COVID-19 pandemic has created a huge imbalance in society, including the lives of under-privileged families. Many parents who were dreaming of a better life for their beloved children are no more, leaving their children in a helpless situation. It is our primary responsibility to reach out to such families and help their children in fulfilling their dreams. I am thrilled that Sparsha Trust which has been working for over a decade to the cause of underprivileged children, has got such a generous support in helping COVID-impacted children. We are grateful to Fairfax Financial Holdings Limited and KIAF," commented Gopinath Raghavan, Governing Committee Member of Sparsha Trust.
Chinnara Dhama is designed to meet basic needs of children such as shelter, food, health care support, and educational and vocational training opportunities. The Makkala Dhama campus is being developed in a two-acre property, owned by Sparsha Trust in Bettakote Grama Panchayat limits, near Kempegowda International Airport Bengaluru (BLR). The entire project is monitored by an independent team of governing volunteers consisting of entrepreneurs, corporate executives, and veterans from defense and social luminaries. The campus will have a built-up space of approximately 46,000ft2. The first phase of construction is under way and is expected to be completed by end October 2021.