Hamad International Airport opens Apple Shop Programme
Travellers are invited to discover the innovative world of Apple and shop from a wide range of products at the largest shop of its kind in Qatar.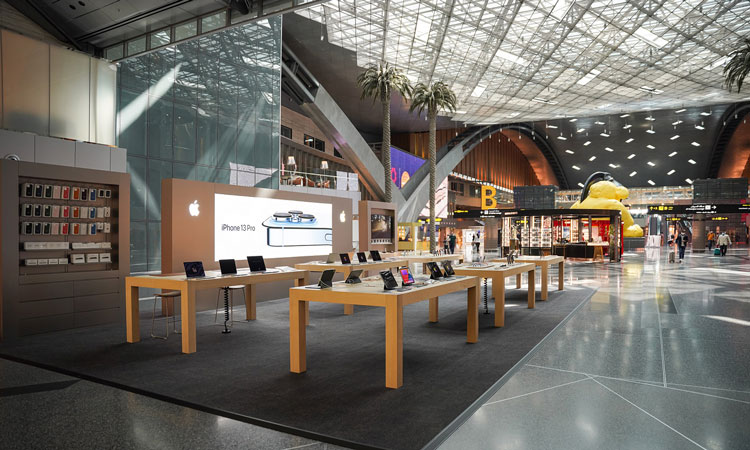 Qatar Duty Free (QDF) has launched the Apple Shop Programme at Hamad International Airport (HIA).
Located at the heart of the airport terminal, the QDF Apple Shop offers the full Apple product range, including iPhones, iPads, Apple Watch, Mac, and Apple TV, plus a selection of Apple accessories.
The Apple Shop Programme occupies a prime space at the airport, covering an area of 86 square metres, making it the largest shop of its kind in Qatar. Trained consultants are available to assist customers and provide product recommendations.
"As the best airport in the world, we are committed to bringing our passengers the world's best in airport retail, leisure, and attractions," commented Hamad International Airport Chief Operating Officer, Engr. Badr Mohammed Al Meer.
"Hamad International Airport and Qatar Duty Free are dedicated to developing pioneering partnerships with leading brands to ensure our passengers enjoy a unique retail experience that is not only memorable, but also exclusive. We are continuously working on elevating the passenger journey by expanding the variety of top-tier brands available to them at our terminal, often bringing them and launching first-of-its-kind concepts at HIA."
Qatar Duty Free is marking its 21st anniversary by unveiling a significant investment and an enhanced retail portfolio of 21 new shopping and dining outlets. With a focus on embracing a range of tastes and budgets, the '21 in 21' project aims to elevate the existing duty-free experience at Hamad International Airport.
This year, Hamad International Airport was named the Best Airport in the World at the 2021 World Airport Awards, recognising the efforts of global airports in adapting and meeting the challenges of the COVID-19 pandemic. HIA has also been awarded 'Best Airport in the Middle East', 'Best Airport 25 to 35 Million Passengers', 'Best Airport Staff in the Middle East', and 'COVID-19 Airport Excellence', accolades it is very proud of.