Macau Airport begins construction on PTB South Extension
Macau Airport's extension construction began following a commencement ceremony, which featured the start of site formation and piling works on site.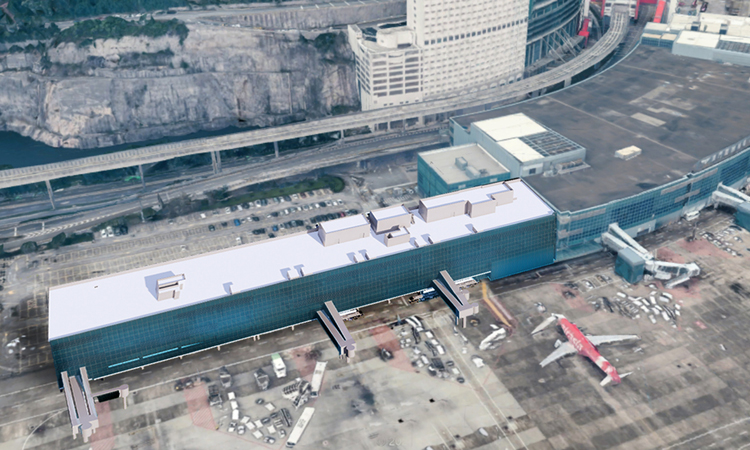 Credit: Macau International Airport - A 3D rendering of the new PTB South Extension
Macau International Airport (MFM) has hosted a construction commencement ceremony for the beginning of works on its Passenger Terminal Building (PTB) South Extension.
Design works for the extension began in 2019, following local codes and regulations, as well as the guidelines from the International Air Transport Association (IATA) to assess the performance of the facilities and services. 
Upon completion, the total floor area of the terminal will be increased by 17,000m2. The expansion will provide more space in the departure hall for passengers, see the addition of three new passenger boarding bridges, rising the total to eight passenger boarding bridges in operation. The overall passenger handling capacity will be increased from 7.8 million passengers to 10 million passengers per year.
The PTB South Extension will be integrated seamlessly with the existing passenger terminal in order to provide consistency and integrity in both architectural appearance and interior finishing.
Due to the current pandemic impacting airport operations across the globe, the construction commencement ceremony was organised in a simple way, followed by the commencement of site formation and piling works on site.
The project team will pay special attention to pandemic prevention and site hygiene during the construction period, and will implement measures that follow pandemic prevention guidelines issued by the government. Measures include taking body temperature for workers, requesting workers to wear masks, periodic disinfection and cleaning of the site, as well as workers being required to stay in Macau during the pandemic period.
Related topics
Related airports
Related regions