Qatar Airways CEO calls for London Heathrow runway expansion for UK to remain globally competitive
Qatar Airways Chief Executive Officer Akbar Al Baker has called on the British government to urgently address capacity constraints at London Heathrow to avoid a 'catastrophic situation' for the country's economy.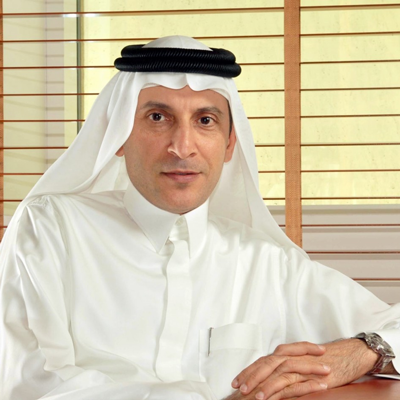 Al Baker was vocal in support for a third runway at the world's busiest international airport to remain competitive with rival European airport hubs.
The government recently began a review to address the critical airport issues in south east England in the face of growing competition from airports in Paris, Frankfurt and Amsterdam.
Al Baker was speaking during a keynote address to a distinguished gathering of more than 250 global aviation industry professionals and media at the Aviation Club in London.
In his speech, Al Baker said the third runway debate 'was not an option, but a necessity' to overcome the capacity crunch Britain's premier airport was currently facing.
"Heathrow is bursting at the seams and has already reached a critical point," he said.
"Already heading towards a double dip recession, the UK cannot afford to lose out on the huge benefits a third runway would bring to the economy in south east England and the country as a whole through the creation of more jobs and more business opportunities."
"No capacity increase will inevitably lead to further economic hardship with job losses and businesses closing down.
"Heathrow is already losing out to European neighbouring hubs that have the resource to expand capacity.
"Measures to expand need to be taken soon to avoid a catastrophic situation in the future. The UK government cannot afford to immerse itself in long winded debate and public enquiries. Action needs to be taken."
United Kingdom cannot delay third runway plans
Al Baker stressed that it would be a grave mistake if no immediate investment was made in an industry that continues to experience demand outstripping supply.
"While the proposed idea of a new airport 'Boris Island' in Kent is a good idea, this is a project that will potentially take at least 20 years to materialise if the go-ahead is given today. Can the UK wait 20 years?
"During this period, we will see airports expand significantly across the Continent – and of course in my region."
He said that bilateral constraints compounded the problem of ineffective competition.
"Not just in the UK, but governments around the world need to wake up to reality of doing business today. Air corridors should be opened up to give passengers more choice," he pointed out.
"Qatar Airways has managed to steadily increase frequency to five daily flights between Heathrow and our Doha hub, but we believe there is demand for further expansion on the route.
"As we prepare to move to a brand new airport in Doha next year, the opportunities that will present themselves are enormous. But to really take full advantage of our new home, we need more services from places like London to cater to the demand," he added.
Airport investment from Qatar Airways
Qatar Airways has been a huge investor at Heathrow over the years moving its operations to a dedicated, larger departures area in Terminal 4 and opening its first airport lounge outside Qatar with the official unveiling of the new Premium Lounge at T4, said Al Baker.
"With our Boeing 787 Dreamliner entering London Heathrow as our first long-haul route with this aircraft in a few weeks' time, this demonstrates the level of confidence we have in our UK operations. The government needs to understand the importance of allowing airlines to expand and keep them at Heathrow otherwise there is a risk carriers will move away."
The rise of Gulf carriers
During his speech, Al Baker explained the growing importance of Gulf carriers and the dynamism they were bringing to the aviation industry with service excellence and a focused strategy.
He said that recent industry developments showed that the world of aviation had woken up to the advent of Gulf carriers – Qatar Airways becoming a member of the oneworld alliance, Emirates' tie-up with Qantas, and Etihad's partnership with Air France KLM.
"We have been considered pariahs in the global marketplace. The notion that Gulf carriers are the black sheep of the airline industry is far from reality. The Gulf carriers are here to stay, successfully building strong hubs in Doha, Dubai and Abu Dhabi," said Al Baker.
He explained that the Gulf region had long faced the wrath of critics opposing the dramatic expansion of its airlines.
"It is in Europe that the fiercest of critics have voiced their opinions. I have personally faced criticism from legacy carriers in Europe, falsely accusing Gulf carriers of using government money to subsidise growth."
Al Baker said that the complaining tactics used by legacy carriers demonstrated their ignorance of Gulf carriers' business models and that those who criticised with baseless arguments were afraid of the competitive threat posed by the region. "The region is no longer a follower, but a pacesetter that other airlines were watching closely with envy," he said.
He argued that in Europe, unions had taken over airlines forcing the industry to drastically change their business style to stay alive. As a result, airlines have had no choice but to cut capacity, scale back expansion, shed jobs and reduce service levels – quite the opposite of the Gulf business model.
Instead of complaining, legacy carriers needed to seriously look at their own backyard and get on with their business and focus on the customer, said Al Baker.
Opposing the attitude of European carriers, Al Baker said: "Critics have argued that Gulf petro dollars were being pumped into this region helping fuel our expansion. Having long realised the industry's potential to drive economic growth, our governments as shareholders have a right to inject equity. If we are questioned for government support then we should definitely be questioning the decades of support in the form of state-aid that legacy European carriers have been enjoying."
Al Baker went on: "Airlines have to be mindful of the volatile market situation. I had predicted that the global economy would hit rock bottom with another recession on the horizon. Events such as the Arab spring and economic woes in central and southern Europe have not made things easier for our industry.
"Being an optimist, I always keep looking for solutions to problems – whatever they may be. Qatar Airways has made best use of opportunities in challenging times and has managed to carve a niche for itself in the global aviation industry. We will continue with the same aggressive expansion."
He touched on the issue of the need for transparency in financing and processes at the leading aviation industry body, International Air Transport Association (IATA), which represents the interests of most of the world's passenger and cargo airlines. He said the new IATA guard was reshaping IATA to make it a better organisation for members.
Al Baker joins IATA Board of Governors
This year, Al Baker was voted onto the IATA Board of Governors, selected by fellow airline executives and this resulted in an increase in representation for Middle East carriers on the revamped 10-member IATA board.
"I am delighted that IATA, now under the new stewardship of Tony Tyler, understood my concerns and acted accordingly to reflect the demands for greater transparency and for improved membership representation from my region on its board," said Al Baker.
He ended his speech on a positive note that Qatar Airways planned to induct 15 new destinations next year, of which the airline had already announced three, including Chicago next April – its fifth North American gateway.
In just 15 years of operations, Qatar Airways has built up a solid international route network winning countless awards for high service levels on the way, including the Skytrax Airline of the Year Award for the second year in a row.
Qatar Airways currently flies a modern fleet of 111 aircraft to 119 key business and leisure destinations across Europe, Middle East, Africa, Asia Pacific, North America and South America.
Since the beginning of 2012, Qatar Airways has launched flights to Baku (Azerbaijan); Tbilisi (Georgia); Kigali (Rwanda); Zagreb (Croatia), Erbil (Iraq), Baghdad (Iraq), Perth (Australia); Kilimanjaro (Tanzania) and Yangon (Myanmar).
Over the next few months, Qatar Airways will launch services to a diverse portfolio of new routes, including Maputo, Mozambique (October 31); Belgrade, Serbia (November 20); Warsaw, Poland (December 5), Gassim, Saudi Arabia (7 January 2013); Najaf, Iraq (January 23); and Chicago, USA (April 10).