Hamad International Airport unveils plans for second expansion phase
Qatar's airport expansion plans include an indoor tropical garden, a water feature design and contemporary retail concepts.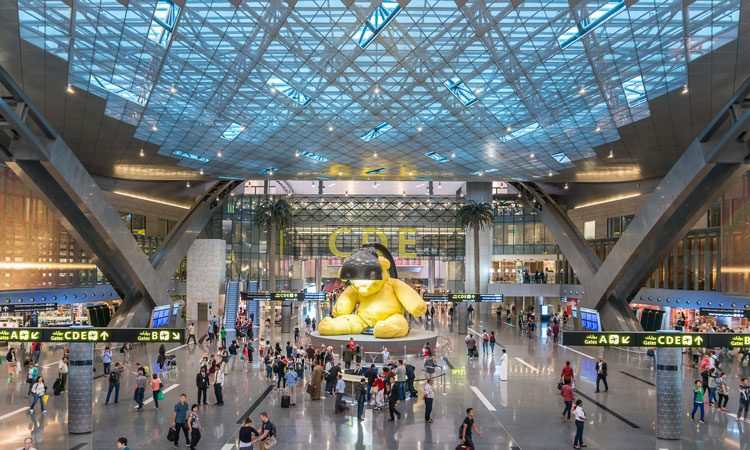 Hamad International Airport has revealed plans for two new phases of its expansion, with the aim for phase one to be completed by 2022 after an early 2020 construction commencement.
The expansion will increase the airport's capacity from 30 million passengers per year to 53 million, further increasing to over 60 million passengers once phase two is completed; the airport will see an overall increase of over 50 per cent by completion.
ENGR. Badr Mohammed Al Meer, Chief Operating Officer at Hamad International Airport, said: "Since we started our operations in 2014, it has been our goal to provide our passengers with a unique travel experience, keeping their needs as our top priority. Our expansion has been designed to seamlessly integrate with the existing terminal, allowing smooth passenger flow and improving the overall passenger experience by minimising travel distances for connections and providing clarity and intuitive wayfinding."
The focal points of the plans are a 10,000m2 indoor tropical garden and a 268m2 water feature; however, the expansion will also include 11,720m2 of landscaped retail and dining space, among other leisure attractions and facilities.
Above this space will be an Al Mourjan lounge, with spas, gyms, restaurants and business centres among other facilities available for passengers. Other significant features include a new transfer area to shorten connection times and a central concourse that will accommodate nine additional wide-body aircraft stands.
A new cargo terminal will increase the ability to handle an estimated 3.2-million-tonne capacity of cargo each year and is expected to be completed by 2023.
His Excellency Akbar Al Baker, Qatar Airways Group Chief Executive, said: "The expansion of Hamad International Airport is a vital part of the future success of the Qatar Airways Group. Plans for the phase two expansion focuses on capacity and passenger experience – we want to provide even better airport journeys to more people around the world".
The expansion comes as part of the country's preparations to host the 2022 FIFA World Cup, according to Baker, which will most likely see over three million people in attendance.