New automated baggage handling system unveiled at Miami Airport
Miami Airport has unveiled its new automated baggage handling system as part of its capital improvement programme to streamline services.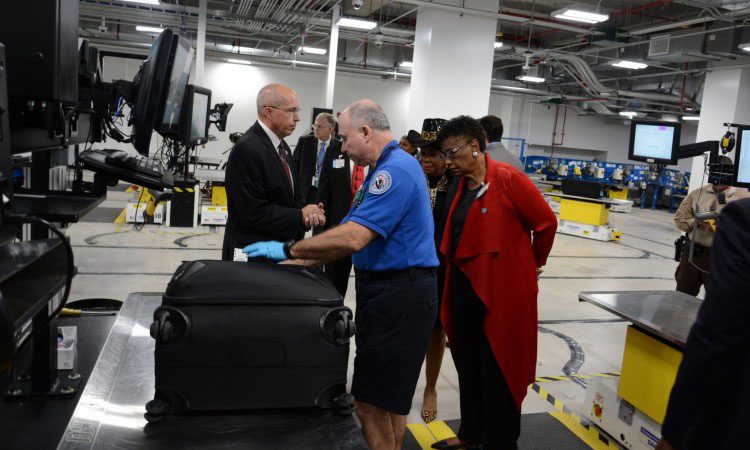 TSA Federal Security Director Daniel Ronan demonstrates the bag rescreening process for County Commissioner Barbara Jordan and Representative Wilson (credit: Miami Airport).
Miami International Airport (MIA) has unveiled its new $324 million state-of-the-art, fully automated baggage handling system which doubles the speed and efficiency of baggage screening and delivery for flights in MIA's Central and South terminals.
"This innovative system is a huge step forward in MIA's overall capital improvement programme to modernise and streamline all phases of passenger and cargo service," said Carlos A Gimenez, Miami-Dade County Mayor. "Installation of this new technology paves the way for quicker, smoother baggage delivery for our passengers, as well as more efficient operations for current and prospective airline partners."
The system features nearly nine miles of conveyor belt, 12 new CTX 9800 explosives detection system machines and 102 mobile inspection tables (MIT) in an 18,000-square-foot baggage reconciliation area – one of the world's largest airport installations of automated guided vehicle (AGV) technology.
The MITs autonomously receive bags that require additional screening and deliver them to 52 TSA inspection stations – eliminating lifting and pulling by TSA officers, improving tracking accuracy, reducing noise pollution and increasing the overall speed of the baggage screening process.
"The efficiency of MIA's new system allows us to perform state-of-the-art screening to keep its ever-growing population of passengers and the broader aviation system safe every day," added Daniel Ronan, Federal Security Director with the Transportation Security Administration.
The new facility, which began its first phase of operations in July 2019, can screen and transport more than 7,000 bags per hour – double the capacity of the previous two separate and outdated systems.
Eighteen airlines are already using the new system, with 30 more scheduled to make the transition between now and mid-2020.