Unpredictable weather requires reliable procedures
To ensure flight frequency is maintained during the winter season, Moscow Domodedovo Airport employs special technologies and measures across its operations. International Airport Review spoke to the airport to find out what can combat -54°C.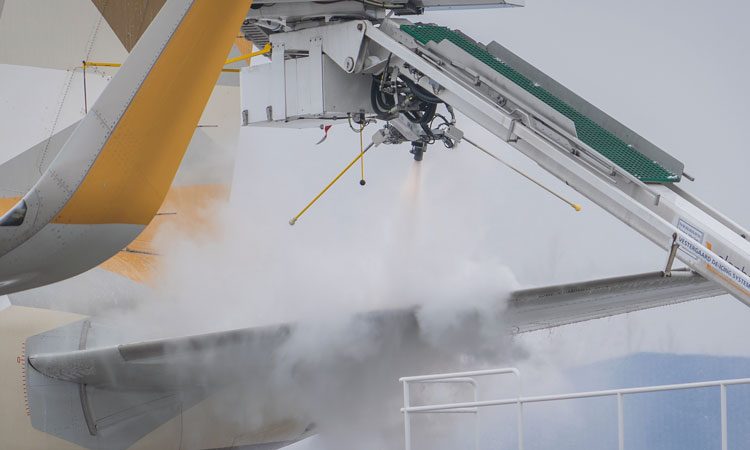 AT MOSCOW DOMODEDOVO AIRPORT, during winter we often encounter snow, rain and ice: The main hindrances of transportation systems. When the first frost comes, it is imperative that we take care of our runways, roads and safeguard aircraft safety.
Traditionally New Year holidays are the busiest times at Russian airports. Passenger traffic almost doubles compared to usual everyday operations. For instance, on 29 December 2018, Moscow Domodedovo Airport handled 87,000 passengers; half the average monthly traffic figures during the winter. But during this period, weather conditions can pose challenges for airfield services. For example, in January 2017, severe frosts gripped Moscow and it was the coldest Orthodox Christmas in the country for 120 years, with thermometers reading -30°C overnight. To maintain flight frequency and aircraft safety, Moscow Domodedovo Airport developed special technologies and procedures to ensure seamless passenger experiences despite weather conditions.
Preparation is the key to success
Every year, Moscow Domodedovo Airport starts planning for the following autumn-winter period as soon as the current one has passed. We maintain our special machines and restock de-icing and anti-ice fluids as well as chemical agents. Temperatures in Russia can drop dramatically in winter, so our custom vehicles run on Arctic diesel which is designed to withstand temperatures as low as -54°C.
Moreover, we conduct seasonal training for our staff to improve their skills in accident prevention on a regular basis. We seek to invest in employee training and education, ensuring both partner airlines and passenger comfort are at the forefront of everyone's mind. We have built a training base to allow the practice of innovative approaches to anti-/de-icing. We are confident that experience is the top priority in developing efficient de-icing procedures and ensuring aircraft safety in the autumn-winter period. We actively participate in a wide range of conferences and workshops to master discipline-specific skills and techniques. We are glad to show our technologies and exchange knowledge with a wide audience. For instance, in January 2018, Moscow Domodedovo Airport organised a special event for press, demonstrating how it handles more than 500 flights per day even during the heaviest snowfall. In 2019, together with Federal State Unitary Enterprise 'State ATM Corporation', we conducted a press tour exploring the work of an air traffic control officer under severe weather conditions.
De-icing/anti-icing procedures
In 2018, Moscow Domodedovo Airport didn't experience periods of massive delays and cancellations thanks to the procedures we have in place. However, technical delays of up to 20 minutes are possible in the winter period due to severe weather conditions. These delays arise from the necessity to complete de-icing procedures and clear ice and snow from runways and taxiways. De-icing is an essential process in aircraft safety as both snow and ice alter the aerodynamic shape of the wing and tail, changing their ability to create lift and increasing drag.
De-icing/anti-icing is a procedure geared to protecting aircraft from ice on the ground. The treatment itself may be performed in one or two steps with various types of fluid. Usually de-icing fluids are dyed different colours to aid application and identification on aircraft surfaces. Type I fluids are orange in colour while Type IV fluids are green.
We carry out a one-step de-icing/anti-icing process, employing a Type I heated fluid to remove frozen contamination. The one-step procedure protects treated aircraft surfaces for up to 45 minutes when no precipitation is falling. However, if precipitation occurs, the holdover time will run out after a few minutes.
We perform a two-step de-icing/anti-icing procedure using Type I heated fluid to remove frozen contamination to begin with. In addition, we can employ Type I pre-diluted heated fluid for preliminary handling to remove large amounts of frozen contamination. This trick allows us to lower fluid consumption. We carry out the second step before the first-step fluid freezes. At this stage, we apply cold thickened Type IV fluid to ensure longer anti-icing protection lasting tens of minutes amidst moderate snow.
Take-off preparations and holdover time
We perform anti-icing as near to the departure time as operationally possible, utilising a maximum holdover time. To accelerate the process, we employ several de-icing trucks to carry out procedures in designated areas close to a runway.
The holdover time varies depending on a wide range of factors including weather conditions, procedure and fl uid types, and aircraft type. Usually, crews rely on special tables to define holdover time. However, due to the many variables impacting holdover time, the actual time of protection may be extended or reduced depending upon the certain conditions prevailing at the time. Prior to take-off the pilot in command should calculate whether the applied holdover time is still appropriate.
Relying on modern technology
The airport possesses custom machines for handling aircraft, ramps, runways and other airport surfaces during snowfalls. Moscow Domodedovo Airport has 22 aircraft de-icing vehicles, including unique custom vehicles such as Vestergaard's Elephant Beta and Elephant Beta-15 as well as Safeaero's SDI 218.
We use 60 custom machines to maintain the airfield in the cold. These winter service vehicles include snow blowers, motor graders for removing packed snow and chemical spreaders. Two Wausau TURBO BLAST 500 cold-air blowers remove snow and ice from side row lights on runways and taxiways. These vehicles are the most powerful air blowers and are commonly used in Canada and the United States, however in Russia it is only Moscow Domodedovo Airport that employs the machine.
Moscow Domodedovo Airport performs de-icing procedures for all types of aircraft. The Elephant Beta-15 DeIcer has a specially designed boom system that lifts the spraying nozzle to more than 24m in height, minimises application time and reduces movement around the aircraft. This is incredibly helpful when de-icing the world's biggest passenger aircraft: The Airbus A380.
Moscow Domodedovo Airport resorts to precautionary anti-icing/de-icing chemicals to deal with ice on runways and taxiways. In cold weather, we use two types of agents to cover artificial turf at the airfield and adjacent areas: Liquid for icing prevention and granules for removing ice crust from surfaces.
Seeking to enhance ecological responsibility and sustainability, Moscow Domodedovo Airport strives to reduce the environmental impact of its winter operations. For instance, we created separate spaces near runway thresholds to perform de-icing procedures. Moreover, we have launched a wastewater treatment system for both storm water and industrial effluents.
Future growth plans
Moscow Domodedovo Airport machinery permits several de-icers to handle aircraft with engines running. De-icing spaces stand on both sides of Runway 1 reducing handling time and accelerating take-off preparations. Domodedovo was the first to establish de-icing spaces near the runway in Russia and among the CIS countries.
In March 2017, Moscow Domodedovo Airport completed a large-scale modernisation programme of its Resource Management System (RMS). This information system schedules airport resources in real time; managing parking slots, check-in desks, departure gates and dividing duties among employees.
We equipped our ground handling staff with more than 1,500 mobile devices. These gadgets automatically receive flight details and keep track of tasks to carry out during pre-flight preparations. We linked all devices to the HUB Control, an integral part of Moscow Domodedovo Airport's information system, gathering and monitoring data about task status. Furthermore, the service calculates aircraft readiness to take off in real time and accelerates ground handling to maintain flight frequency.
Winter is just a season. At Moscow Domodedovo Airport we know for sure that severe weather conditions are a fact of life. We understand all too well that we cannot change the weather. But we can change the way we perceive this season and face these challenges with as much preparation as possible. Thus, we seek to ensure (in advance) that we have restocked de-icing and anti-icing fluids as well as maintained our custom vehicles. The only thing we can rely on in unpredictable winter weather are our staff, our vehicles and our procedures.