Whatever the weather
Keflavik International Airport is Iceland's gateway, but, as Throstur Soring, Director of Airport Operations, identifies, the tough climate zone that surrounds the airport means they must be well prepared for adverse weather, always.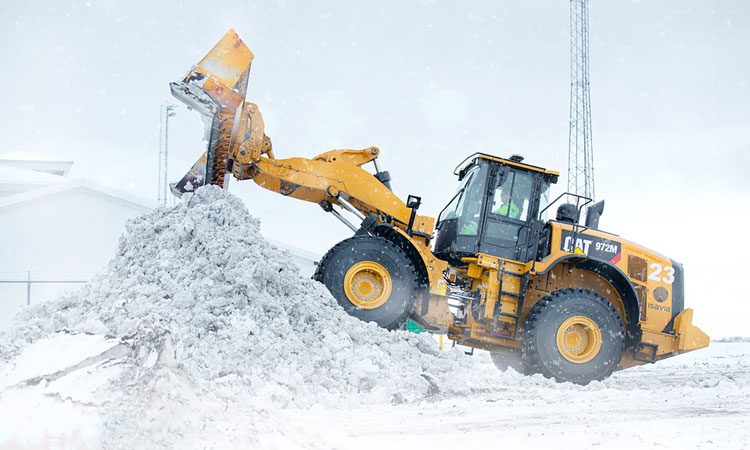 SNOWFALL, ice and strong winds frequently create hurdles for Keflavik Airport's operations during winter. But it is not the amount of snowfall that is challenging, but the unfavourable combination of snow, temperature fluctuations near freezing and winds.
Snow clearing preparedness requires continuous work around the clock, simultaneously on runways and the apron. Our winter organisation consists of approximately 100 people divided into four shifts and teams. When heavy or prolonged snowfall is forecasted, we mobilise additional resources from our passenger transport division where several bus drivers are trained for snow work. The fleet consists of 11 runway sweepers, nine loaders, four snow-blowers, a grader and six chemical or grit spreaders.
To accommodate the 100 per cent rise in daily movements at Keflavik Airport from 93 in 2014 to 186 in 2018, the apron has been expanded; increasing the area for snow-clearing action by 34 per cent – a challenge for the snow team.
Accumulated annual snowfall in Keflavik may differ considerably between years, ranging from 1,500mm to 5,000mm over the last five winters. Snowfall is the dominating factor concerning expenses to winter service, with the total working hours for the snow fleet being proportional to snowfall. However, the use of chemicals and grit are less dependent on the annual snowfall, due to different weather conditions claiming different strategies.
During continuous snowfall occurring at the busiest hour, the apron team may be directed from stand to stand to avoid disruptions and provide just-in-time treatment of stands for optimum safety. Due to snow compaction on the surface during ground handling and de-icing of aircraft on stands, ice may build up on the apron, rendering anti-icing chemical treatment useless. In those cases, we grit the surface and critical spots on the taxiways.
Frequent shift in wind direction calls upon good collaboration between the snow team and ATC, as the crossing runways often must be treated consecutively. Flight diversions due to runway conditions are rare, as the runway snow clearing takes less than eight minutes. We don't close the runway during snow operations, it is merely a rhythmic process orchestrated by the 'snow-king' and ATC, when aircraft movements are synchronised with regular clearing runs. Occasional low-visibility conditions associated with snow-blizzards may from time to time lead to occasional holding positions, or in rare cases pilots may have to divert.
The maritime climate presents frequent temperature fluctuations around the freezing point. For this, state-of-the-art weather and runway sensors are in place. To facilitate preventive anti-icing treatment, a runway temperature and icing prognosis system has been developed. The aim is to apply chemicals to the movement area punctually before freezing sets in, for increased treatment efficiency and safety. However, chemical use is a challenging task due to snow drifting in our windy environment, as the concentration of active substance is diluted when snow drifts onto the treated surface. Our experienced team leaders evaluate the situation continuously to decide the appropriate action.
The airport is subject to strict pollution control. For anti-icing chemicals we use biodegradable formates with low-oxygen demand, considerably reducing the risk of adverse effects. A groundwater surveillance programme is in place, where chemical content is regularly monitored in observation wells around the airport. As a member of the Airport Carbon Accreditation initiative, Isavia committed to off set all carbon emissions from the company's operations by supporting wetland reclamation in Iceland.
The Weather Safety Committee issues warnings and ensures coherent action among stakeholders during adverse weather with rules for bad weather. Whenever required, stakeholders are called in for arrangement of a relevant action plan. Weather extremes demanding special attention and preparedness include occasional extreme snowfall, freezing rain and storms. Our aim is to minimise disruptions in operations whilst putting safety first. For improved planning purposes, we have access to a custom weather forecast where chosen weather parameters are highlighted once their value reaches a predefined trigger value. For example, high wind gusts may limit or prohibit the use of passenger boarding bridges at the terminal. Every winter, passenger boarding bridges must be shut down on a few occasions due to wind gust. Such closures last on average for just over an hour. To minimise disruptions to apron operations due to wind, we installed numerous wind anemometers which analyse the wind pattern. Real-time monitoring and analysis of sensor data together with computer simulations of wind flow, enables us to locate favourable positions for aircraft handling in different weather situations, thereby reducing downtime and maintaining safety.
The weather in Iceland has always been known to be harsh, fluctuating and unpredictable. Over the last few years, measurements suggest that the frequency of storms has increased, and the number of freeze-thaw cycles is going up. Onset of winter is later, and spring comes earlier: On average, the snowy season starts late October or early November and lasts until March or April. However, experience tells us that snow ploughing is to be expected in September and as late as May. In statistical terms, it is therefore too early to pinpoint the possible effects of climate change on Keflavik Airport, but we are prepared for future challenges, whatever the weather.
Biography

THROSTUR SORING is the Director of Airport Operations at Keflavik International Airport. Soring is a civil engineer that has specialised in airport management and design and has been with Isavia since 2013. Before joining Isavia, Soring worked for the Icelandic Civil Aviation Aerodrome Department for three years.