Adapting airside operations for the world's largest passenger airliner
Following the successful arrival of the A380 at Glasgow Airport, International Airport Review, spoke to Mark Johnston, the airport's Managing Director, to discuss how airside operations and infrastructure had to be adapted to host the world's largest passenger airliner.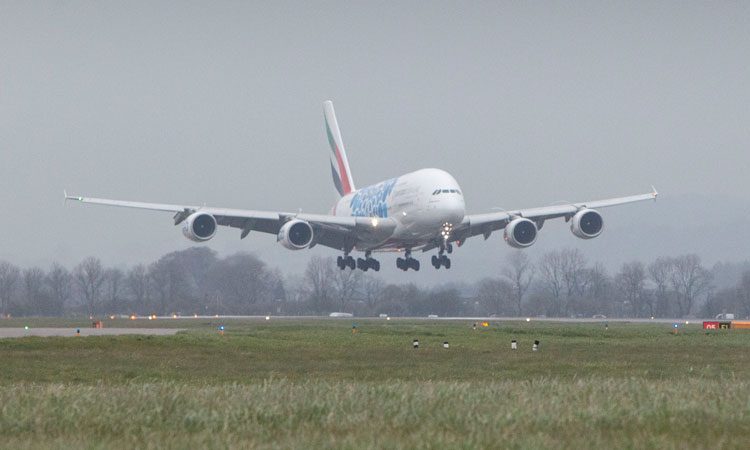 IN APRIL 2014, Glasgow Airport was the first Scottish airport to welcome an Airbus A380, which stands over 24m high with a wingspan of nearly 80m. To host such an aircraft, however, required structural adaptations and a review of airside operations.
What significance does Glasgow have as a destination to warrant use of the A380 for the direct route to Dubai?
Glasgow Airport's daily Emirates service to Dubai is Scotland's busiest long-haul route, by some distance. When launched in 2004, it was Scotland's only direct service to the Middle East and in the ensuing 15 years we've celebrated many milestone moments, from the introduction of the double-daily service in 2012 to the opening of the Emirates' Lounge in 2014.
Since 2004, the route has carried more than 4.5 million passengers between Scotland and Dubai. Dubai is not only a very popular visitor destination, but provides vital business connectivity to key markets in India, China, Hong Kong, Singapore and Australia.
In terms of high-quality customer experience, the A380's arrival was the final piece of the jigsaw.
How did the airport's infrastructure have to change to be able to accommodate the A380?
We invested more than £8 million upgrading our infrastructure ahead of the A380's arrival, including the installation of Scotland's only triple airbridge. 
The installation of the airbridge was critical to the success of the project. Given the A380 can carry over 600 people, we had to ensure we continued to meet the turnaround performance requirements while factoring in the challenges associated with boarding and disembarking an even greater number of passengers. Modifications were also made to the adjacent aircraft stands either side of the one serving the A380 to support the aircraft's huge wingspan.
Given the sheer size and scale that comes with operating the world's largest commercial passenger aircraft, we had to make significant changes to the airfield including widening our runway entry and exit points.
Modifications were also made to the runway hold points for low-visibility operations and a traffic light signal system was installed across the airfield road network to ensure the safe passage of the A380 between stand and runway.
Although we welcomed the A380 in 2014 to mark Emirates' 10-year anniversary, the airport wasn't Code F-certified at that time. Operations were essentially suspended due to the restrictions that were put in place to allow the aircraft to land and depart that day. Now, the A380 has been integrated into our live operations daily, which was a big step change, however the aircraft is settling in well.
What were the challenges in terms of adapting the airside equipment?
There were a number of challenges. The A380 project started five years ago, not long after the 2014 anniversary visit. We wanted to ensure the infrastructure – in particular the gate where the aircraft would operate – could support multiple carriers and aircraft types. To do this, we had to re-examine and adapt our terminal and airside infrastructure with support from our airline partners to develop a gate environment that could handle the arrivals and departure requirements of one aircraft with over 600 passengers, or three aircraft with an even greater number of people combined going through the same gate space. This improved our operating capability as previously we could only handle two aircrafts through this one gate area simultaneously.
The most significant challenge was ensuring construction was complete for the date of the first flight. Given this was the first time the A380 had been brought into regular operation on a Scottish route, we knew passengers would book on to the inaugural service to be part of Scottish aviation history. It was also critical to ensure the stand and gate area were back in service for our busy summer schedule. From the date Emirates confirmed the introduction of the A380, we had a short window to appoint the construction partners and build the facilities. This fixed end date of the first flight was tough to meet from the start, however, the Capital Projects team worked night and day with the builders to ensure we met it.
The airside construction work was phased to ensure there was no impact to operations, with much of it carried out during a scheduled night closure window during winter and thankfully the weather was kind to us. This allowed the electrical lighting changes and new extended runway links to be installed without delay.
During this project we took the opportunity to replace and refresh all of the stand equipment including lighting, fixed electrical ground power and passenger boarding bridges. These were sourced from multiple organisations and all required detailed installation, commissioning and training.
Glasgow has a fantastic 'one-campus' culture and our partners across the airport were very supportive of the project and their help instrumental when it came to tackling the challenges encountered.
Why is the A380 service limited to a short amount of time? How did you justify this in terms of cost?
As well as to accommodate the A380 aircraft, the £8 million investment was part of a wider improvement programme in the West Pier gate area.
Many of our international flights board and disembark in this area and the A380 project presented us with the perfect opportunity to expand and future-proof the infrastructure to allow us to better utilise our resources and improve operational performance.
The stand used by the A380 is a Multi-Apron Ramp System (MARS) stand, so it supports a wide variety of aircraft types including other long-haul aircraft – both Virgin's 747 and Air Transat's A330 aircraft have used it – and can offer separate business and economy boarding and disembarking.
It was also designed to allow us to board two Code C aircraft at the same time (something we do frequently) and this in turn helps to reduce ground time, improve on-time performance and increase passenger experience.
Does the use of the A380 contradict Glasgow Airport's sustainability strategy?
Not at all. In fact, the A380 is a great example of a cleaner, greener, modern aircraft. We have a robust sustainability strategy in place which covers a wide range of areas such as noise, waste, carbon, water and pollution prevention and we are committed to achieving our sustainability targets.
We appreciate the importance of being both a good neighbour locally and playing our part on a global scale. Glasgow Airport is a founding member of Sustainable Aviation and we firmly believe that growth in the industry can, and must, go hand-in-hand with action on the environment.
The positive improvements range in size and scope, but it's absolutely vital that everyone – whether on a professional or personal level – continues to take action. Our airlines continue to invest heavily in modern aircraft such as the cleaner A320 Neo, which we are seeing more frequently in operation at Glasgow.
From our own perspective, we've made significant progress such as the recent investment in a nine-strong fleet of plug-in hybrid vehicles for our airfield operations and the pending introduction of Scotland's first ever fully-electric buses later this year.
Glasgow Airport's electricity grid supply is also now 100 per cent sourced from renewable energy and we continue to work with our retailers and tenants to improve our waste performance. In fact, in the last year we've increased recycling across the entire campus by a further 10 per cent.
We achieved this through a number of local campaigns such as providing more than 5,000 reusable water bottles to staff.
Biography
MARK JOHNSTON, Managing Director, Glasgow Airport, joined Glasgow Airport as Continuous Improvement Project Manager in 2000. He then went on to hold a number of different roles within the airport, including Head of Terminal and Security, Head of Infrastructure and Technical services and latterly Operations Director, before being appointed Managing Director in May 2018. Johnston has a BA Honours in Electrical and Electronic Engineering from Heriot-Watt University and also an MBA from Glasgow University.