Thousands join Emirates and Glasgow Airport for Scotland's first A380 arrival
Posted: 11 April 2014 | Glasgow Airport
Emirates brought thousands of aviation fans together when it operated a one-off A380 service at Glasgow Airport to mark its 10 year anniversary and continued commitment to Scotland…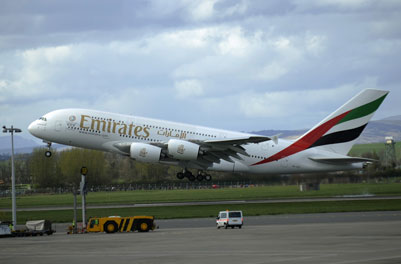 Airbus A380
It was the first time a Scottish airport has ever welcomed an Airbus A380, the world's largest commercial passenger aircraft, which stands over 24 metres high and with a wing span of nearly 80 metres. Thousands of spectators from across the country turned out to gather at the airport's perimeter and other vantage points for the event.
The aircraft arrived in Glasgow Airport captained by Iain Weir from Clydebank, who flew the aircraft over his home town on the final approach. Passengers included Emirates' Senior Divisional Vice President Commercial Operations West, Hubert Frach; and University of Glasgow graduate and Emirates' Vice President, Dr Brendan Carr. Both made the journey to Glasgow from Dubai.
Speaking at the official reception held at the airport, Hubert Frach said: "As the world's largest A380 operator, we feel privileged to mark this historic milestone in Glasgow, which also represents a historic milestone for Scotland, as it welcomes an A380 into the region for the first time. Scotland continues to be a vital passenger and cargo market for Emirates and we hope that today underlines our continued commitment to the region."
Amanda McMillan, Managing Director of Glasgow Airport, said: "Over the course of the last 10 years Emirates has established itself as Scotland's leading long-haul airline and we are honoured it has chosen to mark our 10 year partnership by operating Scotland's first commercial A380 service. This is a significant milestone for Glasgow and for Scottish aviation.
"We have worked hard with Emirates to ensure the success of its Dubai service and today is yet another example of its steadfast commitment to Scotland following the introduction of a second daily flight in 2012. While today is billed as a one-off, we hope it is the first step towards Glasgow Airport securing a daily A380 service with Emirates."
Councillor Gordon Matheson, Leader of Glasgow City Council and Chair of Glasgow City Marketing Bureau, said: "As the first Scottish city to welcome the world's largest passenger airliner, the arrival of Emirates' A380 in Glasgow is an historic and momentous occasion.
"It is a fitting way to mark Emirates' decade-long commitment to the city and Glasgow Airport, and it strongly reflects the popularity of the airline's double-daily Dubai service, which has provided a significant boost to Glasgow's global competitiveness and has been a major step forward in terms of forging greater business links and increasing visitor access from the likes of China, India and Australia.
Mike Cantlay, Chairman of VisitScotland, said: "This is a very special occasion as it gives us a chance to celebrate the crucial 10 year relationship between Emirates and Glasgow Airport, and the importance of such routes to the continued success of Scottish tourism. Emirates' second daily flight between Glasgow and Dubai further enhanced our opportunities to access and target both high yield travellers from the Middle East and UAE, as well as from India and further beyond.
"This is a fantastic one stop route to Scotland for our Commonwealth and ancestral tourism targets and we look forward to welcoming more visitors during 2014, the year Scotland welcomes the world. This is an exciting milestone in what will be an unforgettable year for Glasgow, and reinforces Glasgow Airport's position as Scotland's principal long-haul gateway."
Scotland's Transport Minister Keith Brown said: "The Scottish Government has been a supporter of this important link from the outset and you need only look at the passenger numbers to see how successful the route has become. The service provides a real boost for Scotland's economy, improving connectivity from both a business and tourism standpoint, and what better way to celebrate this achievement than welcoming the world's largest commercial airliner – the A380 – to Scotland for the first time."
Passengers on the one-off flights had access to a cabin that is two-and-a-half feet wider than a Boeing 777, a peaceful journey in the world's quietest long-range jet, on-board Wi-Fi; world-class in-flight menus and an award-winning entertainment system.
Since beginning operations at Glasgow Airport on 10th April 2004, Emirates has carried over 2.4 million passengers across its global network, which now covers 141 destinations. Emirates currently offers over 43,000 passenger seats per month to and from Glasgow, following the upgrade of its second daily service to a Boeing 777 in 2012.
In addition to passengers, over the past 10 years Emirates has transported over 50,000 tonnes of cargo to and from Glasgow, including 12 million kilogrammes of Scottish whisky and other popular commodities such as seafood, oil drilling machinery and electrical equipment. The airline has transported some unexpected items in this time as well including an Aston Martin Cygnet, flown to Cyprus as a birthday present, and two Mini Coopers, which made their way to the Middle East as part of a scientific project.
Emirates is also opening a new lounge facility at Glasgow Airport in time for the Commonwealth Games this summer for the region's First and Business Class passengers and Platinum and Gold Skywards members. In another first, this new addition will highlight Emirates as the only non-UK carrier with a dedicated lounge at the airport, signifying its ever-growing presence in Scotland.