Winter operations: Working together to keep the world moving
With below average snowfall, and above average ice conditions throughout the winter, winter operations at Ted Stevens Anchorage International Airport are evolving with the weather. Airfield Maintenance Manager, Zaramie Lindseth, reveals how with over 33,000,000ft2 of pavement to de-ice, the operation must be streamlined, succinct and most importantly, safe.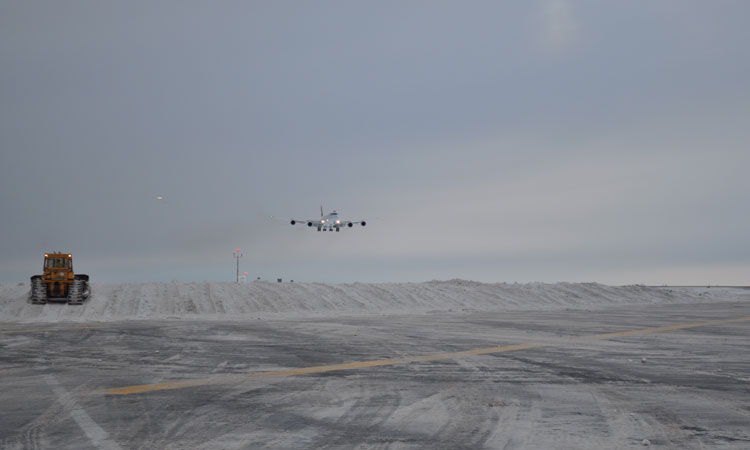 JUST 9.5 hours from 90 per cent of the industrialised world, Ted Stevens Anchorage International Airport (ANC) is the centre of the air cargo world. By the end of summer 2019 the world's fifth largest cargo airport will have two design group six runways measuring 200ft-wide and all three runways more than 10,500ft-long. The additional runway width will have no impact on active snow events. We will maintain each runway with the same persistence and proven methods we always have. Just one pass down and back, our snow teams are able to clear nearly the entire runway. The additional width will not impact cleanup operations either. The paved surface area remains the same, only the structural pavement is widening, the edge of pavement stays the same.
Contractors will complete the second and final phase of the runway 15-33 rehabilitation project, where the widening of the structural surface will accommodate the larger wingspan of the Boeing 747‑8 frequenting the centre of the air cargo world and meets the Federal Aviation Administration's runway specifications. The runway is also being shifted to the north, which will separate the 15‑33 safety area from the runway 7L-25R safety area. Separation of the runway safety areas will provide an additional layer of safety, and streamline operations, as by separating the runway safety areas snow crews will be able complete operations on the closed runway where the safety areas intersect without the additional ATC coordination and communication which is currently required.
Seasons have changed. Over the last five years ANC has seen below average snow and above average ice. More ice events have translated to increased runway de-icing and require more finesse as the maintenance foreman balances the use of solid de-icers with liquid anti-ice to maintain the safe surfaces that aircraft transit. A full snow removal team will still remain a necessity for the random snow events that occur throughout the season.
De-icing chemicals are shipped by barge from Seattle, taking approximately 20 days to travel nearly 2,000 miles. Inventory monitoring and benchmarking against archived consumption rates ensure adequate inventories and allow us to hone our forecast needs.
Winter also poses a challenge for the airfield electricians tasked with keeping the lights on. Inevitably water finds its way into the ground lighting system only to freeze at the most inopportune time. The expanding ice can wreak havoc on the can lights or stretch the wires beyond their limits forcing a break in the lighting system. Our expert airfield electricians have honed their radar skills, able to quickly narrow in on the break in the wire. If they find that the culprit is ice they deploy a system of hot water, steam and suction. A standard power washer provides a stream of hot water to clear out the frozen cans, and steam is funnelled into frozen conduit using an Arctic Blaster. The Artic Blaster is a portable steam generator that ejects steam through a hose that can be snaked down the conduit. A simple wet and dry vacuum makes quick work of the leftover water. On rare occasions a team of operators and electricians work together using a full size steam and vac-truck.
With three runways in excess of 10,500ft-long, 27 taxiways, and approximately 33,000,000ft2 of airfield pavement, planning remains paramount. Our comprehensive snow plan is simple by design and initiated with the imminent onset of precipitation. A predetermined primary snow fleet attacks the movement surfaces of the airfield as additional crews are dispatched for aprons, landside facilities and the road system. A predictable and well-choreographed rotation of plowing and sweeping begins with the highest priority surfaces. Storms that may begin to burden our resources, prompt the strategic action of focusing on only the most important taxi routes and maintaining all three runways to accept arrivals and accommodate departures at reduced rates.
Preparation is an ongoing process that begins at the end of each season. All units within the snow fleet receive an extensive annual preventive maintenance inspection. This essential aspect of a successful programme occurs throughout the summer months to ensure equipment is ready at the onset of winter. Operator training is yet another aspect that begins early. As September approaches the crews will begin running simulated snow and ice control exercises. This has a multifaceted benefit. It allows crews to shake out issues with the equipment early on and provides familiarity with equipment that has not been utilised in several months.
The snow team participates in in-depth meetings to ensure each participant is aware of their responsibility in the snow and ice control plan. Throughout the season operators are required to complete employee development modules comprised of both written and hands-on exercises which are intended to provide in-depth knowledge of machine functions and application. These challenging modules focus on improving responses to deficiencies as well as any recurring elements in our programme that need adjustment. Preparation also involves our stakeholders, whereby pre-season meetings are held to engage our stakeholders to include tenant contractors, air carriers and air traffic control. These meetings serve a critical function for us to hear from our users what their challenges are and how we may be able to best respond efficiently and effectively.
The execution of the plan is ultimately the measure of our success. Modern equipment with extensive technological advances are critical tools, but ultimately the team of skilled professionals at the controls is what allows us to achieve high levels of efficiency. Key personnel with years of knowledge and proven judgement are what make our programme great. Our equipment operators are cross-trained in all pieces of equipment, both summer and winter applications, which provides great flexibility within the department. With such a diverse snow fleet this reflects the talent we are fortunate to have. The constant exposure to winter weather and the opportunity to exercise the plan in real world conditions maintains the crews' performance at optimal proficiency levels.
Upon activation of continuous snow removal operations, a predictable flow is set in motion. With the exception of extreme variables, the same plan is followed with each event. Our processes for clearing runways has been fine-tuned and vetted by years of experience to yield the most efficient results. Routine is a positive attribute in the midst of a dynamic snow and ice event. This is extremely beneficial not only to our own crews, but to air traffic control and users alike. Communication and decision-making process are streamlined when all parties can predict the next steps before they even occur.
The airfield maintenance mission at ANC is to maintain safe aircraft movement surfaces, public roads, walkways and with other exterior airport infrastructure. Each winter is another opportunity to maximise and improve on the efficiency and effectiveness of the fleet management and snow removal operations. We accomplish this mission using accepted industry practices, innovative thinking, and years of experience to find alternative means to provide the highest level of service. Bring on the snow and ice!
Biography
Zaramie Lindseth joined Ted Stevens Anchorage International Airport in 2001 and has worked in commercial airport operations for over 20 years in various positions involving planning, coordination and oversight of airfield maintenance and operations. He has managed the Airfield Maintenance section since 2012. He was an Operations Officer for nine years before moving into a management role as the assistant manager. His airport career began as an Operations Supervisor with the New Orleans International Airport. He is a graduate of Embry Riddle Aeronautical University.