Keflavik International Airport – the capital of winter operations
Keflavik International Airport, also known as Reykjavik-Keflavik Airport, is the largest airport in Iceland and the country's main hub for international transportation. Airport Operations Director, Throstur Soring, provides details of how the airport copes during winter to ensure operations continue as normal.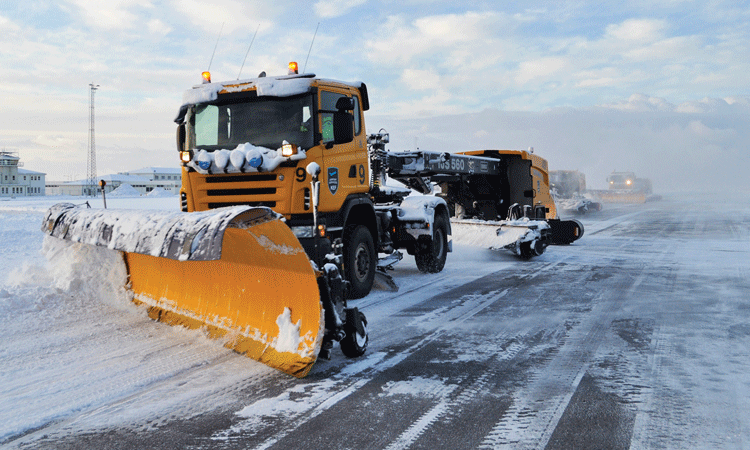 Keflavik International Airport in Iceland sits astride some of the principal transatlantic and arctic air traffic routes connecting Europe and Asia with North America. Daily, around 350 flights transit the Iceland Air Traffic Control area that extends all the way to the North Pole. Keflavik plays an important role in the safety of this important international transport route.
It is for this reason, and the thriving Iceland gateway and transatlantic hub and spoke operation at the airport, that Keflavik International never sleeps. With only a few short summer months and ever-changing maritime climate at the northern latitude, swift and effective winter operations come natural to the well-trained airfield operations staff.
Keflavik has two crosswise 3,000m-long and 60m-wide runways, North-South (02-20) and East-West (11-29) that are accessed by four main taxiways that connect to two principal ground operating aprons. The total aircraft operating area is in excess of 1,230,000m2 including the parking apron at the Leif Eiriksson Air Terminal and the former operation apron of U.S. Naval Air Station Keflavik.
The total annual movements of 70,930 in 2014 – a 16.2% increase from 2013 – include 24 hour scheduled international passenger and cargo flight operations with three main traffic banks, technical stops, unscheduled stops including medical and technical diversions, general aviation and training flights as well as periodic military operations including NATO air policing fighter jet training deployments.
However, missed operations are rare at this well-equipped CAT II airport and occur only during occasional times of low visibility in blizzard or fog or excessive crosswind rather than runway conditions. Traffic schedule is busiest in the morning and afternoon traffic banks between 6:00 and 8:00 and 15:00 and 18:00, with between 23:00 and 1:00 also being a pretty busy time.
Runway clearing operations are non-stop in snow and ice conditions and quick change of weather and change of runway in use sometimes requires swift response which takes less than 20 minutes to complete.
The airfield operations snow plan calls for priority clearance of runways and taxiways leading to the terminal, and parking aprons. The job is quite demanding with winter mean temperature hovering around freezing, and climatic conditions that make for constant change in wind direction and velocity as well as type and quantity of precipitation. Keflavik can have a complete change of weather several times during each work shift. Freezing or thawing occurs more than 360 times during the winter season and each time the crew must take action to prevent ice or snow from forming on the vast operating areas before the next freezing cycle sets in. The shift supervisor, alias the Snow King, keeps constant vigil to plan the next move of his crew with the aid of sophisticated weather reporting systems and runway temperature monitors.
Heavy snowfall is rarely a problem at Keflavik, but the constant wet and heavy slush kind is a great challenge for both men and equipment. This is overcome by intense vigil and greatly skilled and experienced operators. Sustained conditions of this type result in heavy snow bank build-up so special care must be taken to prevent obscuring runway lighting and other navigation aids.
A sustained 20% traffic increase over the last few years requires constant expansion of aircraft operating and parking areas. Increased use of remote stands requires added attention for the safety of aircraft, equipment, ground personnel and passengers.
The Airfield Operations Department is well equipped with seven snowplow/ice blade/sweeper combinations based on the Scania G-400 tractor vehicle and Schmidt TJS 560 Airport Jet Sweeper. In support are two Oskosh HB2518 and one Bucher Rolba 3000 snow blowers, two truck mounted Schmidt sand and chemical spreaders, four large wheel loaders with Ramp Hogs, four smaller loaders with snow blades and one Batts de-icer, plus numerous other support equipment including two Douglas Mu-Meter friction testers. Keflavik uses Clearway F1 and SF3 de-icing compounds as well as sand on runways and salt on service roads.
Equipment rework and preventive maintenance is conducted during the summer and when runway maintenance has been completed in September, the crew sets out in earnest to prepare for the rigors of winter operations. Crew training consists of both academic and on-the-job training with refresher courses run for regular staff and basic and advanced courses for newer employees. Keflavik runs an integrated operations programme with a cross-trained airfield operations workforce that is equally capable to perform rescue and fire services. The apprentice course includes a minimum of 620 hours and annual refresher training takes more than 150 hours. Winter training includes 40 hours of winter related subjects, general equipment operation and snow and ice prevention and removal operations. This is followed by specific equipment operation and close supervision for at least the first winter on the job. Qualified operators require a 10-20 hour refresher course in equipment operation.
Great emphasis is placed on safety, correct procedures and damage and accident prevention, plus daily equipment check, which is also the operator's responsibility. The equipment operators are also charged with minor maintenance support, e.g. oil change, lubrication, blade edge and castor wheel replacement as their regular operations tempo permits. Basic understanding of meteorology is also included as well as the functions of de-icing compounds and materials.
Shift supervisors review SNOWTAM and METAR message procedures and friction testing. The Mu-Meter equipment has been successfully used at Keflavik for many years with regular product upgrades.
Other winter preparations include game planning that is aimed at keeping the airport as snow and ice free as practicable under all conditions. Emergency flights and scheduled passenger and cargo service takes precedence. Feedback from airport users and lessons learned are studied to improve the service.
Last winter was no great exception from the average conditions despite many traditional but unorthodox forecasting such as observation of wildlife winter preparation, analysis of sheep intestines, etc. which our forefathers had to rely on. These indicated a cold winter with northerly winds, which normally means only light snow in the region of Keflavik International. Early fall gave this promising outlook also, but early December greeted with heavy snow fall that lasted intermittently through March. Roughly speaking, a wind of 40 knots (20m/sec) would blow up every four days or so. This is a special challenge in terms of cross wind and the de-icing material, especially sand, tends to get blown away all the time. Such winter conditions mean that the airport snow and ice removal operations must be maintained non-stop for several weeks at a time so as not to lose in the battle for the black top.
The airfield configuration of two 3km-long and 60m-wide cross laid runways makes for safe operations in nearly every wind condition. Although excessively high winds are not too frequent in Iceland, it is for this reason that Keflavik International Airport is the choice of all the major aircraft manufacturers for safe heavy cross wind testing of their new products during 'favourable' conditions.
Biography
Throstur Soring is the Director of Airport Operations at Keflavik International Airport. Throstur is a civil engineer that has specialised in airport management and design. He has been with Isavia since 2013 and has held his current position since the 1 March 2014. Before joining Isavia, Throstur worked for the Icelandic Civil Aviation Aerodrome Department for three years, after working in Iceland's then booming construction industry for several years.