Security in-depth focus: Next-generation security
Aéroports de Paris (ADP) recently announced that automated border control gates will be trialled at Paris-Charles de Gaulle and Paris-Orly airports. The project, which will be carried out as part of the French PARAFE programme, will involve the installation of 87 e-gates at the airports.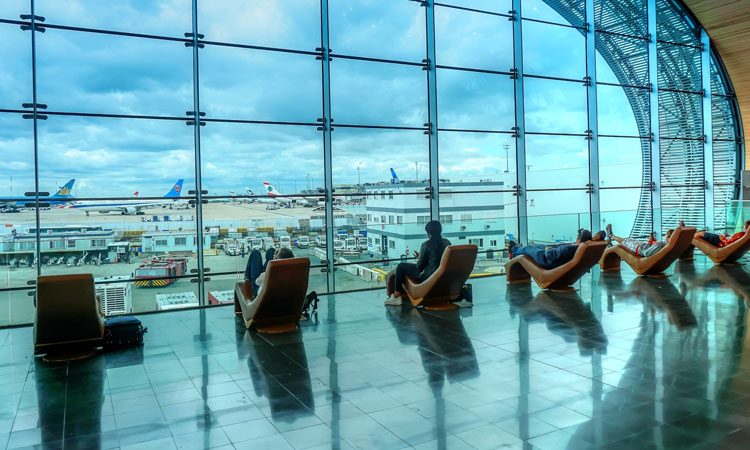 Almost 180,000 passengers pass through Paris-Charles de Gaulle airport every day, with an aircraft landing or taking off every 30 seconds. And the heart of this finely-tuned engine is in Terminals 2E and 2F, where 112,000 passengers are handled each day.
One of the three priorities of ADP's Connect 2020 strategic plan is to ensure that we optimise and make the most of our facilities and organisation so as to help our passengers regain control over the time they spend at the airport. And new technology plays an important role in this; helping us to take the next steps forward, especially with regards to border control.
On 16 November 2009, ADP introduced the very first PARAFE e-gate, enabling passengers to pass through border control quickly and independently using their passports and biometric fingerprints.
Today ADP deploys the very first next-generation e-gates. They are unique in that, in addition to using new facial recognition technology, they are more reliable and much faster than their predecessors.
In fact, these new gates are a combination of two different technologies: traditional biometrics, which takes digital fingerprints from passengers, and facial recognition software, which has not yet been used by the French authorities.
Eighty-seven of these new e-gates will be installed in the Paris airports between now and 2021 with around half these installations taking place during 2017. To ensure this happens as quickly as possible, the ADP Group has decided to purchase the gates using its own funds at a total cost (purchase and maintenance) of €6 million.
It should be noted that in the context of the increased security measures that have been put in place since the incidents in France and Belgium, ADP is working in close collaboration with all public authorities – after all, we have a duty to ensure the highest levels of safety and security at our airports.
Gates with facial recognition software
Some airports, including London Heathrow and Amsterdam Schiphol, are already using this type of gate.
A trial of the facial recognition technology is currently underway at two checkpoint clusters at Paris-Charles de Gaulle (five devices at each):
Sas Vision Box in Terminal 2E-F (for transit passengers)
Sas Morpho in the 2A-2C connecting building (for departing passengers).
When using these latest-generation PARAFE e-gates, passengers will no longer need to place their fingers on a screen to be identified, but will instead just look into a screen. The system will assess the similarity between the passport photo and the facial image on the screen. Naturally, if the machine is having difficulty confirming the identity of a passenger, it will send an alert to the border police agents who will arrive promptly to speak to this person.
The results of this trial should be available during the first half of 2017 and it will then be up to the public authorities to decide whether or not to approve the roll-out of this technology. Regardless of their decision, the new e-gates will be compatible with both technologies; digital fingerprints and/or facial recognition.
The use of the PARAFE II system would help achieve the dual objective of improving passenger flow at border control while guaranteeing a very high level of reliability.
About PARAFE
PARAFE (in French) stands for Automated Fast Track Crossing at External Schengen Borders.
In accordance with European Union provisions, this system was approved by Decree on 3 August 2007 and meets the challenges of a modern and efficient administration in its service to the public. With this facility, passengers can, if they wish, cross the border using automated passport control. Using biometric authentication technology based on fingerprinting, this system makes it possible to carry out border crossing formalities simply, quickly and without any hold-ups. It is an extremely practical alternative to the manual controls used at present.
The PARAFE system is free of charge and entirely voluntary. The system can be used by any adult passengers who are citizens of the European Union, European Economic Area (EEA) or the Swiss Confederation, and who are in possession of a current machine-readable passport. Before use, passengers need to register on a specific national database. Citizens of non-EU countries who reside in a European Union member state and who hold a residence permit marked 'family member of European Union citizen' can also register. Holders of French biometric passports can use PARAFE immediately with no prior registration.
To find out more visit: www.parafe.gouv.fr
Aéroports de Paris' Connect 2020 Project
In order to address competitiveness, attractiveness and growth challenges the ADP Group established three priorities for the 2016-2020 period, collectively known as the Connect 2020 Project.
These priorities, which encompass the Group's various activities, are broken down into nine commitments which ADP is making to all stakeholders (airlines, passengers, employees, shareholders, local areas and authorities), thus assuming its role as an integrator to connect all players to enhance the competitiveness of the air transport sector and the local areas.
The nine commitments are to:
Ensure operation performance
Enhance structural performance
Improve financial performance
Become the first choice for its customers
Encourage the development of employees
Promote the Group's brand
Become an integrator of solutions
Grow with territories
Conquer new markets.
To find out more visit: www.parisaeroport.fr/en/group/group-strategy/strategy