Context-awareness revolutionising airport apps
Renaud Irminger, Director of SITA Lab explores the use of airport apps and how valuable they can be to enhance the passenger experience.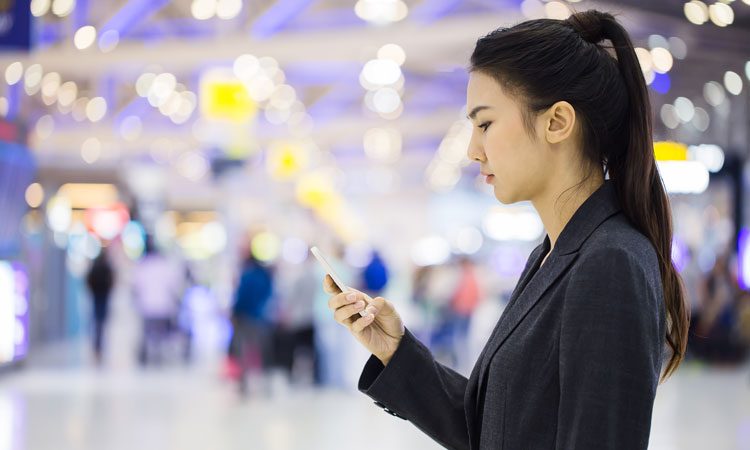 Travelling by air is viewed by some passengers as a stressful experience, full of uncertainty. Even simple things such as navigating the airport can seem daunting. An airport might have installed ample wayfinding signage, but navigating a way through the airport can still be challenging. And passengers who are stressed about time pressure are unlikely to take advantage of the ever-growing list of things on offer in the terminal, even if it's just to pause for a meal or to do some shopping. In fact, most aren't even aware of the full range of options available to them within the airport complex.
So how do we ensure passengers are well-informed and fully-equipped to better organise their airport journey?
For some time, airport apps have become a great way for airports to keep their passengers informed. But – as is the case for the first generation of most technologies – there was room for improvement. For instance, traditional airport apps don't know when you're flying or where you are, how you're getting to the airport, if you are just picking someone up or what you want to do once you arrive. They're passive.
But passive apps are increasingly being relegated to the history books. SITA is harnessing emerging technology to create bespoke, context-aware airport apps built to each airports' unique requirements. Using geo-location technologies and integrating data derived from many different internal and external sources, this new style of airport app anticipates passengers' needs by providing things like up-to-the-minute information on flight status, contextual promotions based on their location, and automatically generated routes to their gate based on distance and intermediary factors such as queue wait times.
Ultimately, context-aware airport apps are designed to enhance the passenger experience. If you can provide passengers with useful, personalised and contextual airport information, they can better organise their entire journey; from their trip to the airport, through check-in and boarding, right to arrival. Armed with accurate information and with their travel uncertainties eliminated, passengers are more likely to explore shopping, eating and lounge possibilities while they wait for their flight.
Don't forget passengers are a valuable demographic target for advertisers as well as retailers. Ad placements in the app will not only inform passengers on nearby deals but can also deliver a new source of revenue for airports.
There are many airports exploring the benefits of context-aware airport apps, but two of the early adopters stand out for the benefits they are already delivering for passengers at their airports.
Miami International Airport
Miami International Airport (MIA) is one of the most enthusiastic supporters of airport apps, Application Programming Interfaces (APIs) and beacons. SITA helped MIA become the first airport in the US to use emerging technologies in a mobile app – including beacons – to ensure it could get the right information to the right people, when and where they need it.
The airport's latest mobile app, designed for passengers and all airport users, gives travellers personalised updates, directions and tips based on their location and needs – all through a highly intuitive interface. The app can be used on iOS and Android devices from anywhere in the world. Once opened, it offers options based on location, so a user in Miami will get a different experience from someone opening it in London, Bogotá or New York.
As travellers make their way through the airport, the app provides information and support relevant to their individual journey. It includes updates on gate, flight times and baggage collection, as well as nearby food and retail outlets, prioritising suggestions based on current location.
The app presents the most accurate and up-to-date indoor maps from SITA technology partner LocusLabs, and with 'blue-dot' functionality, map rotation, turn-by-turn directions, 'walk times' and a 'near me' feature, they allow passengers to quickly locate virtually anything inside the airport
It helps you travel through the airport step-by-step, to get from point A to B and on to C, with everything in between. We also looked at geolocation services. As you arrive at the airport, before stepping into the airport premises, the app is triggered and sends a welcome note, asking how it can help and providing options. If you open the app while at home or leaving your hotel, Google Maps displays to show you the easiest way to get from where you are to the airport, avoiding traffic and any other snarl-ups. The home page of the app is contextual, displaying different information depending on whether it's opened on departure or arrival levels or in the transit area.
SITA drew on decades of experience working with airlines and airports and collaborated very closely with the team at MIA to deliver the world's most technologically advanced airport app. It recognises the user and makes sense of the vast amounts of data that are available at the airport adding real-time business intelligence to create an outstanding user experience. The app uses data delivered via SITA's APIs at www.developer.aero to present users with a seamless experience on their device of choice. SITA's APIs give developers exactly what they need to build up their own apps.
MIA's app was designed to make use of the latest beacon technology based on the Common Use Beacon Registry standards. The Registry is a repository of information describing the beacons deployed at an airport. Accessed through the Common Use Beacon Registry API, it allows app developers to use the detection of a beacon to trigger the provision of contextual information. 
Nice Côte d'Azur Airport
Nice Airport is also leading the charge by using beacons to place real-time information and new services at the fingertips of passengers, as they increasingly demand a personalised approach.
With beacons installed throughout the terminal, the airport is using its recently-developed app to deliver real-time information and retail offers to its passengers, particularly to facilitate its frequent flyers' journeys.
Jean-Pierre Torres, Head of IT at Nice Côte d'Azur Airport highlights one particular aspect of passenger behaviour which drove the demand for this type of airport app: "Increasingly passengers are demanding more control over their airport experience. They want to personalise the services they receive from the airport to their own requirements or needs. SITA's beacon technology allows us to deliver on this expectation and offer a highly tailored experience to our passengers, in particular our frequent flyers."
Airport Premier Club passengers, for instance, will automatically earn points if they use the app as they pass through the airport. Also, the app facilitates access to Fast Track Security for Airport Premier Gold members, allowing them to use their frequent flyer card integrated into their Wallet app.
The new app was developed to coincide with the opening of Nice Côte d'Azur Airport's newly-refurbished Terminal 1 retail area and it will also support the brand-new refurbishment of the commercial area in Terminal 2.
To receive these offers, passengers have to opt in by downloading the airport's app or sign up for the 'Club Airport Premier' loyalty programme. The airport has spoken of its desire to dematerialise its Gold Member cards and transfer management of the loyalty programme entirely to the app.
What's next for tech-savvy passengers?
Delivering highly-personalised products and services requires an understanding of passengers' travel behaviour, preferences and requirements. It may sound daunting, but much of this information is already available to airlines and airports through their Customer Relationship Management databases, social media, reservation systems and numerous other sources of information.
The more airports are able to integrate these sources of data, the more personalised an experience they can deliver. The natural progression is for airport apps to recognise what passengers are likely to want before they actually get there. Imagine arriving at the lounge and your gin and tonic (cucumber, not lime) is already waiting for you because the app has informed the bar of your imminent arrival. Or your favourite coffee shop has your latte waiting for you. And those examples are just the tip of the iceberg.
Biography
Renaud Irminger is Director of SITA Lab, the company's strategic research and development arm. He is responsible for overseeing projects and programmes that explore new solutions and technology for the air transport industry – identity management, baggage tracking, disruption warning systems, contextual mobile applications and wearables, robots and drones, and many other initiatives.