Dealing with drones
Drones are here, and they are here to stay. There are a myriad of exciting and smart ways in which drones can be used for both commercial activities and public service – from delivering medical supplies to remote locations, through to surveying pipelines and delivering parcels – as well as just for fun. But the increasing volumes of drones in the sky brings with it challenges, as well as exciting opportunities, writes David Harrison, Safety Director at NATS.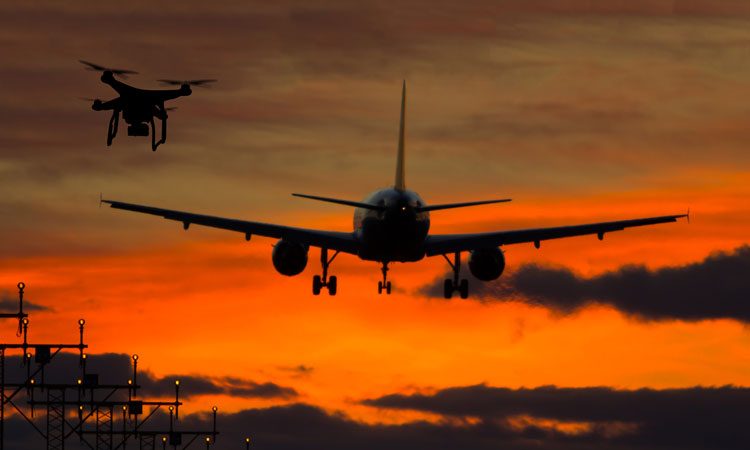 How to safely integrate an entirely new category of airspace user into our already crowded skies, particularly when much of that user base comes from outside traditional 'aviation' communities, is one of the biggest questions facing air traffic service providers like NATS today.
We start, clearly, from the position that safety is our number one priority. Ensuring the safety of everyone using the skies is in our DNA; it is what we set out to achieve and deliver 24/7, 365 days a year, with almost 2.5 million manned flights flying through our skies.
The task of delivering this safety every day does not occur by accident and as well as the commitment and dedication of our air traffic controllers, it has come about because of the hard work and commitment of governments, regulators, the industry, airspace users and air traffic service providers working together to put in place the rules, regulations, infrastructure, technologies and people needed to make this happen.
Drone volume increase
The sheer volume of the increase in the use of drones over the last few years has taken many by surprise. Their everyday availability and the lack of significant barriers to entry, particularly when compared to traditional forms of aviation, present new challenges when it comes to establishing the same levels of safety that we have established in today's manned aviation industry.
This presents us with a challenge, but it's an exciting challenge: to play a part in safely incorporating a new airspace user in to the sky, providing them with the freedom to enjoy the airspace like others do and to deliver the benefits to members of the public that we know they can, whilst at the same time ensuring today's manned aviation can continue to operate safely and without disruption.
The recent incident at Gatwick airport, where a drone sighting on the final approach in to the airport caused the runway to be closed for two separate spells, is a reminder of this challenge.
To date, much of the focus has been on education, and rightly so. We have worked hard to try to engage with many drone users who, we believe, simply aren't familiar with how our airspace is structured and the rules that are in place for the benefit of all airspace users.  
We have worked with the CAA to create a simple, accessible website1 which provides all the information drone operators need to fly safely; we've partnered with retailers to increase promotion of this information at the point of sale; and we've developed and launched a free app called 'Drone Assist' which provides drone operators with an interactive map of areas of airspace used by commercial air traffic. This now has over 25,000 registered users and shows the appetite amongst drone operators to ensure they are flying safely. And we're building on this with the launch of a new drones portal, where users will be able to access airspace information and plan their flights ahead of time, as well as access a free online training course introducing them to the rules of the sky.
How to build on all of this?
The government's recent announcement that it plans to introduce mandatory registration for all drones over 250 grams and competency tests for all, is a welcome and timely next step.
Registration is an important starting point. It will, when combined with the mandatory competency tests proposed by the government, provide an opportunity to ensure that all drone operators are made aware of the rules before they take to the skies. But it's also right that the government acknowledges, as it does, that this is the start of a long journey.
To really deliver significant benefit and enable us to begin safely integrating drones into our airspace, registration needs to be combined with electronic identification – the ability to see where drones are flying at a given point of time.
Combining these would enable us to know where and for what purpose a drone was being flown, which in turn would make it easier to offer a form of dynamic airspace service, where operators could be offered access to certain areas of airspace based on their level of competency, the drone they are operating and the purpose and duration of their flight in a way that could build on today's Non-Standard Flight Planning process which NATS operates.
This is important: drone registration will be very different to commercial aircraft registration, both in terms of the numbers of aircraft being registered and the dynamic nature of operators' airspace access, which will depend on who wants to fly what, where and why.
Combining registration and electronic identification would form the basis of an unmanned traffic management system and lay the foundation for enabling the commercial and public service that drones can offer, in a safe and sustainable way.
And whilst a full unmanned traffic management capability – in terms of active control and separation – might not be required immediately, the numbers of infringements we are seeing mean it's important that coordination across different areas and classes of airspace is enabled as soon as possible. The notion of dynamic airspace access linked to registration is important because, in many cases, we may not want to have drones excluded entirely from pieces of airspace, even airport sites. Whilst clearly no-one wishes to see unidentified drones flying in the vicinity of an airport, an Airport Operator itself may well want to make use of a drone at low levels within the airport perimeter –  perhaps for security reasons, runway inspections, building maintenance or for many other reasons.
There's no reason for this not to be allowed
But what would be helpful – for airport operators and for air traffic control – is to know that event is happening, to have the chance to consider it and perhaps authorise it, all in real-time, as happens with today's air traffic control.
In the meantime important steps can of course be taken to continue to improve awareness and to increase safety.
Defining drone-no-fly zones around airports and areas of critical infrastructure will provide the foundation on which consistent and accurate geo-fencing – whereby drone manufacturers pre-prevent drones from entering certain areas of airspace via the drone's GPS – can be based. We'll be supporting the government pilot project (Project Chatham) looking into this.
Encouraging drone operators to voluntarily submit flight plans is another important strand of activity. We've been working on this area for some months and have already received over 20,000 voluntary flight notifications via our 'Drone Assist' app. These currently give us useful information on where drone flights are occurring, which can be matched against any reported sightings but could also be shared with airports to give them greater operational insight as to what activity is occurring around their airfield.
The government stated in its consultation response that it is interested in running some trials around using apps to notify pre-flights and we will be speaking to them to see how we might be able to support their initiative, building on our existing work.
The important thing now is for work to continue apace; the UK can be at the forefront of creating a safe and successful drone industry but it's important that the proposals advocated are implemented safely and swiftly.
The safety of UK airspace will always be our number one priority but we also want to use our knowledge and expertise to ensure new industries can grow and flourish, safely and successfully, alongside the UK's existing, world-leading aviation industry.
The aviation industry has also found ways to innovate and rise to new challenges; I am confident that this time will be no different.  
Reference
Biography
David Harrison brings more than 20 years' experience of working at NATS to his role as Safety Director. Reporting to the CEO, David is responsible for championing activities that support front-line safety benefits and performance. Prior to his appointment, David was General Manager of the Manchester Area Control Centre. He has also been in charge of the Chief Scientist's Division, incorporating Operational Analysis, Research and Development, and Human Factors. David also led the Architecture and Integrity function in Technology and Programmes.