Safety series: Breaking down barriers for a holistic solution
Safety is key to all airport operations, but with various stakeholders each using their own systems and complying to their own ideas of best practice, it's not simple. David Cross, Ground Operations Quality & Safety Manager at easyJet, explains in this, the first article from our safety series to be published in July, how to ensure safety across the airfield, all parties need to break down barriers and discuss safety openly.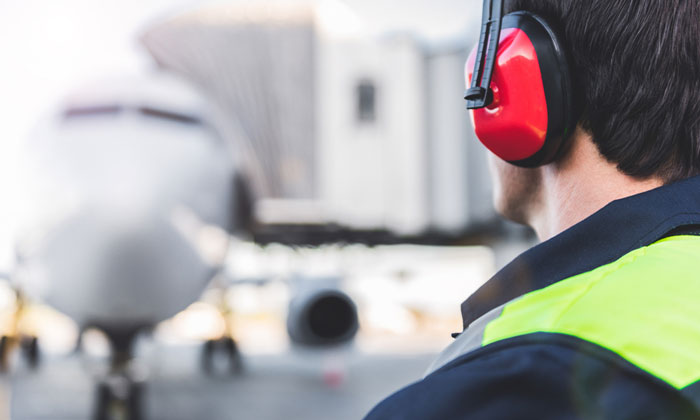 IMPROVING PICTURE: 2017 was the safest year in aviation history
Air travel today is one of the safest forms of transport. According to Dutch aviation consulting firm, To70, and the Aviation Safety Network, which tracks crashes, airlines recorded zero accident deaths in commercial passenger jets last year, making 2017 the safest year on record for commercial air travel. That said, ground damage is estimated to cost the aviation industry $4 billion per year. And this figure does not include indirect costs such as EU Regulation 261 compensation and crewing replacements. So while travel for the paying customer has become cheaper, more efficient and safer, there is still much more work to do for airlines.
E-commerce expert, VeriFone, states that "against a backdrop of changing regulation and rapid digitisation, financial organisations and fintechs must collaborate if they are to evolve, innovate and remain competitive". Is this not true for all industries?
I believe that the airline industry should take note. New regulations within Europe have been implemented requiring the reporting of mandatory occurrences for all organisations. This regulation lays down rules on the reporting of occurrences which endanger or which, if not corrected or addressed, would endanger an aircraft, its occupants, any other person, equipment or installation affecting aircraft operations; and the reporting of other relevant safety-related information in that context1. Even the unregulated ground handling is included in this requirement and further regulations muted.
With compliance brings complication for the staff on the rock face. Every airline has their own Safety Management System (SMS), with its own inbuilt reporting system either supplied by bespoke SMS system suppliers or designed and built in-house. So how do all these systems communicate, share learnings and best practice and improve safety standards in the industry? The quick answer is they don't.
We Are Safety encourages all of us to work towards a common goal, by adopting standardised practices.
At easyJet we are working to resolve this by looking at the larger picture and developing close working relationships with our large suppliers. We want to share our safety experiences and vice versa. Success has been driven by the results gained with our contracted catering supplier gategroup, when the supplier suffered several incidents whilst working the easyJet contract. It took both parties to sit down and take a dive into the operations, processes and procedures to address the problem. This was not a typical approach, though. Traditionally,
an airline would brandish the big stick and have a parent-child relationship with their suppliers. At easyJet we had to be open and honest and admit that some of our own procedures didn't match theirs.
As an airline, easyJet is very good at flying but is not a caterer, and yet we insisted on telling the experts how it should be done. gategroup guided us to adapt safer operations, while easyJet guided gategroup in building a more aligned safety culture. On a regular basis both parties meet and discuss all incidents and potential incidents and look for solutions together. We also look to the future to develop a more proactive management of safety. The success of this new way of working is having tangible results, with ground damage incidents, staff incidents and serious safety reports all reducing. The next part of the journey came with the 'We Are Safety' plan.
From the very start, it was clear that many of our industry partners experience the same challenges and therefore need to communicate the same messages, to the same audiences. While every organisation has the best of intentions when producing safety material, the unintended consequence can often resemble wallpaper in the crew rooms and on our ground service providers' noticeboards. Therefore, the concept of collaborative and consistent safety messages must be of benefit to those producing and receiving them.
Founded by industry professionals in 2016, We Are Safety has already been adopted by many airlines, airports and ground service providers. In an industry where standardisation and consistency are in high demand, traditional customer, competitor and regulatory organisational barriers can be broken down to enable cross-organisational teams to work on common goals and produce common material for industry, as safety partners.
We Are Safety aims to:
Enhance safety performance on the ramp by promoting a partnership approach
Make connections that would otherwise not be possible, ensuring that cross-organisational teams can work on common challenges and share common solutions in a more efficient way of working and with a common-sense approach
Create shared safety material for the industry which only features the We Are Safety logo and branding, so it can be used by any organisation. The material produced will be written by industry professionals and steering groups and will include alerts, good practices, learnings, notable news and other safety-related publications which are relevant to the industry.
We Are Safety has now been adopted by the UK CAA GHOST (Ground Handling Operations Safety Team) and a working sub-group of airlines and airports has been created to manage and develop the initiative. Members of this group include British Airways, Royal Air Force, dnata, Swissport, Menzies Aviation, Alpha LSG, Southend Airport and London Heathrow Airport, with many others joining.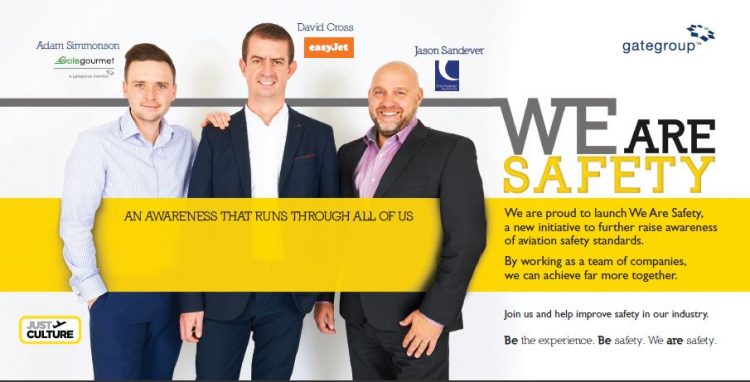 This initiative's success and effectiveness depends on the contribution and cooperation of all  stakeholders involved within the aviation industry. No matter how insignificant an issue may seem, it can lead to uncertainly and in time, to accidents and incidents occurring. We Are Safety encourages all of us to work towards a common goal, by adopting standardised practices.
London Luton Airport has taken this one step further with the introduction 'Safety Leaders'. A Safety Leader will be a recognisable representative for safety whilst performing their day-to-day role, and are empowered to challenge any behaviour or intervene in any situation in the name of improving safety. Other aerodrome users will recognise the intervention of a Safety Leader as a positive element. Safety Leaders will act as mentors to their colleagues, guiding them in safe behaviour and promoting the cooperative spirit of the Safety Stack. A significant part of the role will be offering guidance to new staff.
As an airline we are now looking to replicate this integrated model of safety management with other suppliers, airlines and regulatory authorities. Exploring opportunities to break down the barriers and sit together discussing safety openly can only lead to a safer operation, for all ground service providers. The by-product of this is more efficient operations, which in turn, can reduce the costs incurred through incidents and accidents. Regular central corporate safety reviews now take place between easyJet, Swissport, Menzies and Portway in addition to the continuing safety discussions at regional level between easyJet and all its suppliers.
Further developments have also been achieved using the working together model with the introduction of autonomous steps. easyJet approached GSE manufacturer Mallaghan GSE in Northern Ireland with a proposal for fully autonomous steps, for example. The two companies had previously worked together on the successful extendable belt loader 'bendi-belt'. Now on trial at Belfast International Airport, this project has had to include many partners to ensure success. Airbus, SAE, Boeing, other GSE manufacturers and airlines developed together international standard aircraft markings. For the trials themselves easyJet has worked closely with ground handler Swissport and Belfast International Airport.
Airports 20-30 years ago had to find a way to accommodate every airline's computer departure control systems with space at a premium and facilities having to be shared between different operators, both airlines and ground service providers. This led to the development of common-user platforms, which enable more efficient use of check-in and boarding facilities. With all operators now having to develop SMS systems, isn't it time the industry looked for systems that could communicate with each other? A more holistic approach to safety is needed to really see the big picture of what is going on during these operations.
Reference
1. REGULATION (EU) No 376/2014 OF THE EUROPEAN PARLIAMENT AND OF THE COUNCIL of April 3, 2014 on the reporting, analysis and follow-up of occurrences in civil aviation, amending Regulation (EU) No 996/2010 of the European Parliament and of the Council and repealing Directive 2003/42/EC of the European Parliament and of the Council and Commission Regulations (EC) No 1321/2007 and (EC) No 1330/2007
Biography
David Cross is Ground Operations Quality & Safety Manager at easyJet. He is responsible for delivering end-to-end compliance oversight in relation to all ground operations areas and providing specialist support covering all core 'back of house' functions. He is also responsible for owning and delivering development, change initiatives and strategic engagement with handling partners and equipment suppliers to drive key safety, compliance and efficiency improvements. David has over 20 years' experience in the aviation industry, having previously worked in various roles at Continental Airlines, Menzies Aviation and Monarch Airlines. David is also the Co-Chair of the UK CAA GHOST.
Related airports
Related organisations