Remote towers are the future of ATC efficiency in Norway
Despite Norway's harsh arctic climate, Avinor Air Navigation Services is implementing the world's largest Remote Tower Services (RTS) programme. More than 36 sites in Norway have been designated for RTS, and implementation at the initial 15 airports is underway. Here, Assistant Programme Director Hans Støen Lie provides more details.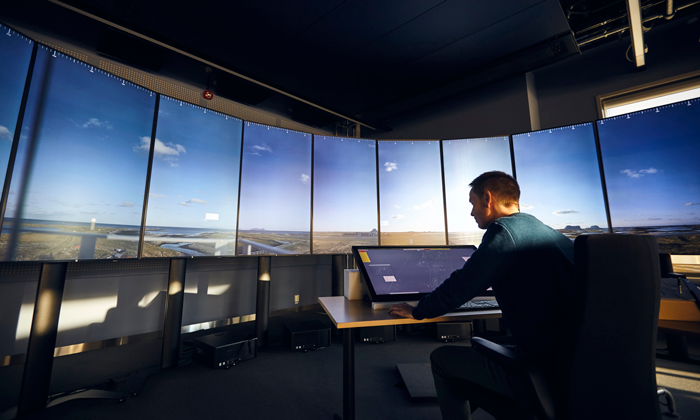 REMOTE towers are an important focus area that offers great possibilities both for the Avinor Group and the Norwegian aviation industry. The technology allows for safe and efficient operation of Norwegian airports, and will help us to maintain the extensive aviation services we have in Norway.
In 2015, Avinor Air Navigation Services contracted Kongsberg Defence & Aerospace, together with team partner Indra Navia, for 15 airports in Norway, with an option of additional 21 airports. The NINOX concept has been developed in partnership, and the first airport will be operational and controlled by the Remote Tower Center (RTC) in the town of Bodø in 2018, with the 15th airport implemented by the end of 2020.
Increased efficiency
Avinor operates 45 small and large airports in Norway. Many airports have lengthy periods with very little traffic, or significant variations in traffic volume during the day. Similarly, several companies operate their own information service for helicopters, including on offshore installations in the North Sea. Here too, the amount of traffic varies throughout the day and week. There are airports all over the world with limited traffic, many of which could benefit from remotely operated air traffic services.
The introduction of remote towers will primarily facilitate greater efficiency. Operating air traffic services for several airports from one working position could cut costs by 30-40 per cent. Investment in new towers can also be avoided. This in turn will result in lower costs for the airport and reduced charges for the airlines.
In addition to lower prices, the remote towers will also facilitate a better tower service than today. For airlines and airports, remote services can offer more flexible opening hours than we have today, because it will be easier to open or close the tower service. For employees, it provides opportunities to work in a larger working environment with more variation of daily tasks and consequently a higher degree of job satisfaction.
A strategic approach
The NINOX programme is a result of a strategic approach. The system requirements are based on a well-defined Concept of Operations and Avinor's Safety and Human Performance assessments.
NINOX is a new Remote Tower System that has been designed and engineered from the top down to provide exceptional performance; drawing on decades of operational excellence and research in cutting-edge camera technologies, real-time systems with high network security based on open international DDS standard, and sensor technologies.
NINOX Remote Towers is a complete system covering all necessary functionality to provide Air Traffic Control Service for multiple airports, including Indra Navia's highly flexible InNOVA AIR Tower System. The NINOX Remote Towers is based on a true Service-Oriented Architecture (SOA), where the NINOX 360 Camera presents the panoramic sensor coverage, and the NINOX PTP (Pan Tilt Platform) provides zooming and tracking capabilities. The Air Traffic Controller (ATCO) can remotely control all local navaids, airfield lights, met sensors and other ATC systems on the airports from the RTC. All components are tied together into a fully real-time integrated system. Each airport requires about 50 mbps bandwidth – at most.
The NINOX system is designed to replace the ATCO position in the conventional TWR, at any airport, with a controller working position in a Remote Tower Centre – or in an operations centre at the airport (the Virtual Tower). All systems operated from the cabin in the conventional TWR are available from the RTC, including the Out the Window (OTW) view. All system requirements fulfill the ICAO Doc 4444. A particular requirement is documented in ICAO Doc 8964, that the ATCO must have a 20/20 vision. This means that the ATCO must have the same quality view as viewed by his/ her own eyes if sited in a conventional TWR.
Impressive camera capacities
The NINOX 360 Camera can present an image with a spatial resolution that corresponds to the human visual acuity – which is 0.28 milliradians (mrad). A 0.28 mrad resolution equals resolving 28cm details at 1km range. The sensor provides an impressive vertical field of view of 60°, and with one seamless 360° uniform image, the NINOX Heads-Up Display (HUD) is the leading OTW view in the market. Moving Target Indicators (MTIs), information overlay (weather/terrain info), augmented reality, track/flight data from the ATM system and Artificial Intelligence features reinforce the situational awareness to enable the ATCO to make safe and correct decisions.
The NINOX 360 Camera is mounted on a rotating platform incorporating two cameras. One line scan camera for visual light, VIS 360°, and one line scan camera for Long Wave Infrared Light, IR 360°. The platform rotates up to 5Hz and provides five eye resolution 360° images per second. The 5Hz update rate on 100Hz flicker-free screens draws the operator's attention to moving objects such as planes, cars, animals and people.
Both the NINOX 360 Camera and the NINOX PTP are positioned on a mast construction so that the ATCO's 'eyes' are positioned in a similar position, as a conventional TWR cabin would be. For an airport, NINOX offers significant savings in terms of space, power consumption and maintenance, when replacing a conventional tower.
The NINOX Remote Tower concept is young, however it is based on well-proven, safe and mature technology. With its open architecture, NINOX is well prepared for growth, further new technology inserts and mission expansion, and NINOX provides scalable and cost-effective solutions for all customers and applications.
Biography

HANS STØEN LIE is Assistant Programme Director of the remote tower programme at Avinor Air Navigation Services. He has an education background from management and telematics, and years of experience in tower systems and army operations.