Creating the 'world's most liveable airport'
Posted: 28 September 2016 | Andrew Brodie, Brisbane Airport Corporation's General Manager Aviation and Retail Management | 1 comment
Brisbane, the capital city of Queensland, Australia's 'Sunshine State', so when its International Terminal was ready for redevelopment, capturing the sense of place was as important as operational efficiency…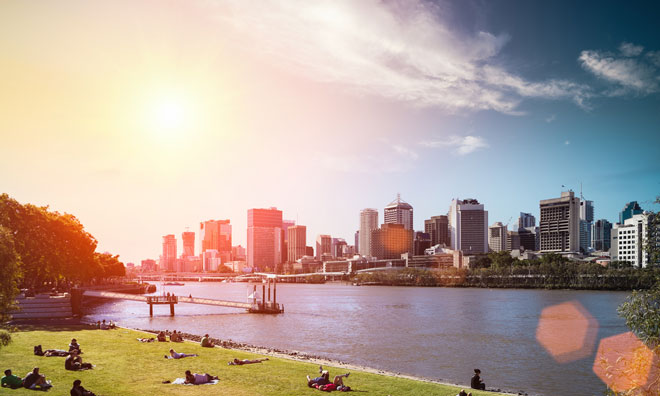 Brisbane, the capital city of Queensland, Australia's 'Sunshine State', boasts a laid-back lifestyle and stunning outdoor landscape so, when its International Terminal was ready for redevelopment, capturing the sense of place was as important as operational efficiency.
Andrew Brodie, Brisbane Airport Corporation's General Manager Aviation and Retail Management, outlines how the transformation was achieved.
A picnic between the palm trees or reclining on sun lounges is not how you would expect to spend time waiting for a flight departure but that's exactly what passengers can do at Brisbane Airport's International Terminal since its $45 million redevelopment was completed last year.
Brisbane Airport (BNE) is the gateway to Queensland and such iconic tourist attractions as the Great Barrier Reef, as well as to the rest of Australia, for more than 5 million travellers passing through its international terminal each year. It is also the gateway to an increasing number of international destinations accessible direct from BNE as more of the world's leading airlines add new routes and services from the port to growth markets in China, North America and East Asia.
With passenger numbers forecast to more than double by 2034 almost $4 billion is being invested in critical infrastructure at the airport over the next decade, including construction of a new parallel runway, new aprons, aeronautical facilities and terminal expansions.
The success of the International Terminal is integral to the airport's future and the contribution it makes to the broader Queensland economy, which is estimated to be more than $3 billion per annum, and its redevelopment is the most ambitious carried out since the terminal opened 21 years ago.
Work was carried out over 18 months, following a bold plan to break the mould for traditional airport design. Instead of focusing on sterile operational infrastructure, Brisbane Airport Corporation (BAC) set out to create an environment that would authentically reflect the unique character of our home base, popularly considered to be one of the most liveable places on the planet. That provided the guiding central concept for BAC to create 'The World's Most Liveable Airport'.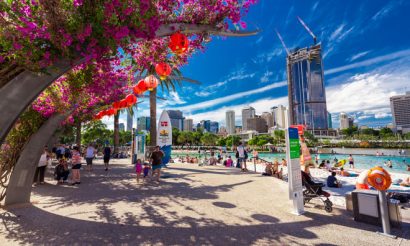 The project included a refurbishment of the arrivals and departures halls not only to maximise operational efficiency but also to make the airport experience less stressful, more enjoyable and something passengers could look forward to, and make BNE a preferred choice for passengers and airlines.
Every part of the redevelopment focused on incorporating a sense of place that is uniquely Brisbane, inspired by its enviable climate and laid-back, outdoor lifestyle. To create a 'liveable' environment that would reinforce the city's friendly and inviting personality and its reputation as one of the healthiest cites in the world, the design balanced elements drawn from great civic plazas, reimagined for the airside setting, with a connection to nature.
In the Departures Hall the application of civic elements – high street-style shopping boulevard, central plaza, defined seating areas, hospitality pavilions, street-style lighting, perimeter water features, planting and a clock tower – combine to help create an 'Outdoor Room'. At its centre a Village Green with picnic and play 'lawn', surrounded by locally sourced tropical plants, seamlessly merges with defined work and relaxation areas as well as cafés, bars and restaurants to encourage passengers to spend more time in the central dwell zone.
A large scale, wall-mounted artwork 'Keep the Sunshine' by Brisbane artist Sebastian Moody was commissioned to evoke the feeling of what a 'good' Queensland goodbye is…
Types of seating, including 'sun lounges', working areas with free charging stations and Wi-Fi, large digital screens displaying retail offers and popular shows and sports games are key features that contribute to a comfortable experience and maximise dwell time in the main retail area.
The external structure of the terminal has not changed. Instead, internal theming creates a new terrain under the distinctive single parasol roof of the original building, making the most of natural light pouring in from a 13m glass façade and panoramic views which bring the feeling of the outdoors in. The outdoor mood is reinforced by the choice of natural materials and a colour palette influenced by the city's great civic buildings and landscape.
Furniture and fittings, made from locally sourced stone, wood and tiles are hard wearing and designed to improve with age and use to avoid repetitive and costly maintenance repairs. Materials, such as Spotted Gum used for timber lounges, seats, tables and stools, were selected so that minor marks and scrapes will simply add to the character of the space over time.
Environmental sustainability
Materials were also chosen to ensure minimal environmental impact with an emphasis on local and recycled materials such as re-claimed Brisbane Tuff stone, the locally and sustainably sourced Spotted Gum timber and recycled telegraph poles which were fashioned into stools and side tables.
LED lighting has been used throughout the terminal, reducing power consumption by approximately 50%, lights only operate when required, also reducing power consumption, and the new design's open spaces which allow natural light to flood in also enhance air circulation and replenish oxygen levels within the building.
Sensory signals
Art is a significant element of the terminal's redevelopment and Queensland artists were selected to create key pieces that would provide travellers with memorable first and last impressions of their visit. A large scale, wall-mounted artwork 'Keep the Sunshine' by Brisbane artist Sebastian Moody was commissioned to evoke the feeling of what a 'good' Queensland goodbye is, a bright and cheerful message as passengers pass through the Customs area.
Similarly, the 'Sensory Hug' is an installation of an enlarged integrated artwork by acclaimed Indigenous artist, the late Sally Gabori, which extends the full length, floor to ceiling, of the 750-metre Arrivals concourse, providing a vibrant 'welcome mat' and first connection to Queensland for arriving passengers.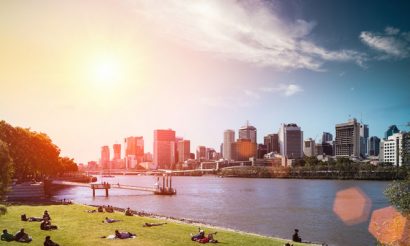 While construction was in progress, a number of technology improvements were also made to improve efficiency and the customer experience at the terminal. These included the addition of self check-in and bag drop which has almost eliminated check-in queues and lengthy waiting times; upgraded digital way-finding signage throughout the terminal; the launch of an innovative 'Digital Departure Card', removing the necessity of hand-writing the official 'outgoing passenger card' (Departure Card) required for immigration purposes; and automated outbound Smart Gate kiosks so passengers can skip the customs line and 'self-process' through passport control.
Beyond Customs, an Orientation Zone contains practical facilities such as currency exchange, as well as departures information, trolleys and a directory board. This zone has been designed to allow passengers to complete all necessary departure procedures before entering the retail zone, so from this point on there are no more 'official formalities' and they can enjoy shopping, eating, relaxing and enjoying the comfortable and tranquil new terminal space before their flight.
Retail transformation
Building a first-class shopping precinct was integral to creating a complete customer experience at the terminal but it also had to boost non-aviation revenue for BAC. While the terminal's processing capacity had been expanded many years earlier, no aesthetic changes had been made to the retail area in the Departures Zone. Since then the retail environment, passenger demographic and passenger expectations had changed substantially so it was time to transform the high traffic spaces within the International Terminal into more vibrant, interactive and engaging areas to fulfil the retail truism that people who are happier stay longer and spend more.
However, to ensure the redevelopment would remain timeless and useful in a continually changing commercial landscape the scheme was developed around a strategy of creating an infrastructure base for retail that would endure long-term, rather than be just a 'fit-out'.
4,600m2 of retail space now houses 24 new retail tenancies in a combination of perimeter high street shopfronts and individual kiosks at the edge of the 'Outdoor Room'. The retail square promotes maximum retailer exposure within a neutral framework that is able to house the fluctuating retail and hospitality outfits long-term without compromising operational requirements for safety, maintenance, security, fire and access.
Recycled telegraph poles which were fashioned into stools and side tables…
The layout, which includes bilingual signage, also addresses the changing passenger profile within the terminal, which is seeing a rapid growth in Chinese visitors and a re-emerging Japanese market. A new walk-through duty free precinct, encompassing a number of concept stores, is airy and open, spread over approximately 1,900m2 square metres (and repeated over 1,050m2 in Arrivals) and designed to encourage every passenger to walk past every store while new specialty retail and food and beverage outlets offering the best of local produce and products also engages passengers in the heart of the retail area.
BAC worked closely with retailers to ensure, as much as possible, fit-out of stores supported the uniquely Brisbane and Queensland ambience and products promoted and celebrated the state's suppliers, growers and producers.
Overall, the redevelopment has achieved a significant increase in productivity and revenue from the retail space, provides a greater breadth of product choice that can be tailored to multiple customer groups and the walk-through Duty Free concept provides 100% passenger penetration.
Seamless operation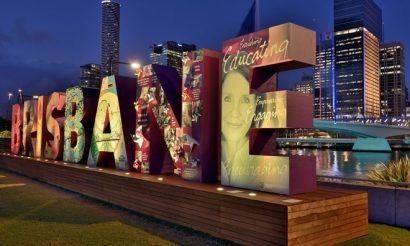 As an international airport operating 24/7, servicing more than 5 million international and 17 million domestic passengers each year, it was essential the terminal remain functional throughout the construction period with little disruption to travellers. The project was rolled out in stages with considerable planning and communication with all stakeholders ahead of each stage.
Visibility or access to retail stores or food and beverage tenancies was not blocked and additional signage provided easy passage around the airport with information display boards detailing the new improvements during construction. Consequently, all current retail and dining services continued to operate during normal trading hours while the renovations took place, while new retail, dining, relaxation and play areas were steadily introduced during the works.
Great effort was taken to make sure the terminal did not look like a construction site (even during the G20 Summit in November 2014 when many world dignitaries came through the terminal). Work took place during the quiet times of the day, with major construction scheduled late at night and early in the morning. Nevertheless construction posed many challenges including keeping noise, vibrations and dust to a minimum (for example, special noise buffer rooms were built for certain tasks such as cutting tiles), security processes had to be maintained, requiring all building materials and tools to be individually scanned (or signed in and out) before being taken into the secure zone, hundreds of contracted staff working on the project needed special clearance and ID to work in the sterile area, yet there was no impact to passenger check-in, screening and security processes.
Success
The Brisbane Airport International Terminal redevelopment set out to provide a unique, world-class experience for passengers and airlines to leverage the city's ability to attract international carriers, visitors and world class events in the future. Since the project's completion, is has been recognised with the Queensland Property Council's Award for Excellence in Design, new airlines have launched direct routes from Brisbane to the world and several airlines have increased flight services and upgraded passenger lounges.
The redevelopment has been done in such a way that it will retain its relevance and beauty for many years to come and the layout for dwell areas, retail and food and beverage zones provides enough capacity to cater for passenger numbers now and well into the future.
It has so successfully established an unmistakable sense of place that captures the essence of Brisbane and Queensland that the vision is being extended to the Domestic Terminal. Already the commercial team at Brisbane Airport is drawing closely on feedback from the International Terminal to fine tune its design guidelines for the next phase of its redevelopment.  
Biography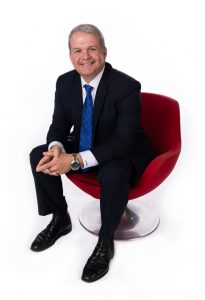 Andrew Brodie is General Manager – Airline and Retail Management Group at Brisbane Airport Corporation.
He joined Brisbane Airport Corporation (BAC) in January 2011 and leads the main commercial revenue earning business unites of the airports. Andrew's teams include the Aviation Business Development Group, Retail and Commercial Management Group and Advertising. In 2015, Andrew's team were responsible for AU$355 million of revenue and completed a major redevelopment of the International Terminal. Andrew has over 20 years' experience in commercial management, having spent 15 years with GPT/Lend Lease and AMP in senior executive portfolio management roles responsible for the management and leasing of many leading Australian shopping centres. He also held the position of GPT's Retail Capital Transaction Manager responsible for acquisition and disposal of retail assets both into and out of the GPT Core and Wholesale Funds.
Related topics
Related airports
Related organisations