Growth amid headwinds: Basel Aero
Despite a deepening economic downturn in Russia, airports in southern cities of Krasnodar, Sochi, Anapa and Gelendzhik have seen a significant growth in passenger numbers. The latter three are famous Black Sea resorts, increasingly popular among Russian vacationers hit hard by low ruble…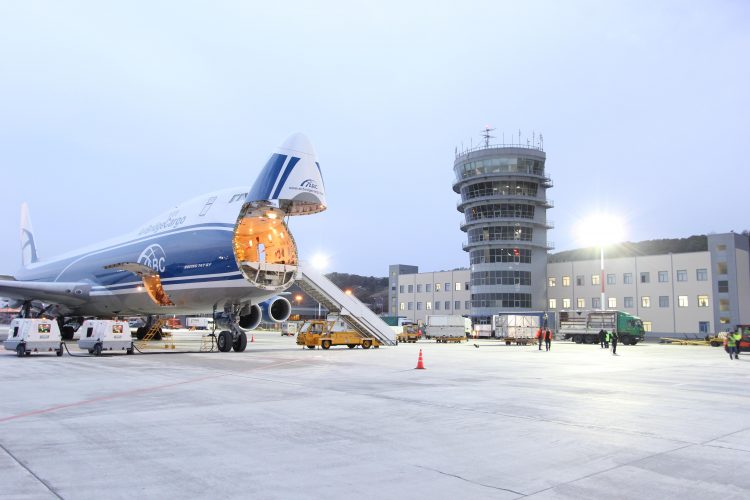 Leonid Sergeyev, CEO of Basel Aero, operator of Russia's four airports in the southern Krasnodar region, explains why the company benefits from economic crisis and how it manages airports' overloads during the peak summer season.
The Russian aviation sector is in a period of transformation following the bankruptcy of Transaero. The airline had been ramping up toxic debts and was prone to predatory pricing – its bankruptcy has consolidated the market and cleared the path for competition among other Russian carriers. For example Aeroflot, Russia's number one and most commercially-successful carrier, now occupies 50% of the market. In January-February 2016, 15 Russian carriers served 90% of passengers on domestic routes.
Devaluation of the national currency together with the suspension of flights to Egypt and Turkey have played into the hands of the industry as more and more tourists headed to local Russian resorts. Basel Aero, whose three out of four airports are located off the Black Sea coast, has significantly benefited from this situation.
A new centre of gravity
The current tourist season in Russia is influenced by the expensive euro and dollar, making the Russian seaside cities of Sochi, Anapa and Gelendzhik more accessible for the majority of vacationers. Tourist infrastructure in these cities has also significantly improved. Hundreds of hotels, restaurants and amusement parks were built for the 2014 Winter Olympic & Paralympic Games in Sochi, and now offer brand new amenities and top notch services. As an all-season resort, Sochi has also seen a passenger flow increase in winter as vacationers flock to Krasnaya Polyana in the mountains, to the ski competition spots of the 2014 Games.
The airports in these cities, operated by Basel Aero, have seen a 21% surge on domestic routes, from 6.5 to 7.9 million in 2015. In January-April 2016 all four airports handled 2.1 million passengers, a 20% increase year-on-year. Sochi International Airport demonstrated the largest growth in 2015 by serving 40% more passengers year-on-year.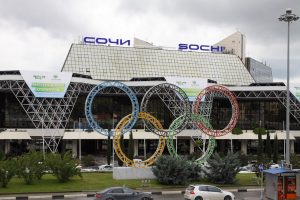 Key factors behind Sochi's popularity are its Olympic legacy and a number of high profile events including the Formula 1 Grand Prix race and the International Investment Forum, which attracts business visitors.
Gelendzhik and Anapa airports have also shown a steady growth over the last two years – the latter having been a children's resort for a long time boasting a large number of summer camps off the Black Sea coast.
Basel Aero is the only Russian airport operator that has seen a large increase in passenger numbers, witnessing a threefold increase over the past nine years. In 2006, when the company began consolidation of the airports in southern Russia, it handled 3.1 million passengers; in 2015 that had grown to 8.7 million.
Apart from the economic and political factors that contributed to the growth of passenger traffic in Basel Aero airports, the company has also made huge efforts to attract new carriers by increasing client services' quality and streamlining business processes.
In 2015 the airports' revenues increased by 15% while net profit grew by 20%. Revenues from domestic traffic have offset losses from a 36% international traffic decline in 2015.
A wide range of routes offered by the airlines adds to the appeal of the local holiday destinations and maintain a moderate level of costs for the carriers.
Coping with summer overloads
Sochi International Airport was the main gateway to the 2014 Winter Olympic & Paralympic Games, and gained invaluable experience coping with Olympic overloads when it served 615,000 passengers, a quarter of its 2013 annual passenger traffic, in January-March 2014. There were traditional peak periods on the days of the opening and closing ceremonies when the airport successfully handled 24,000 passengers per day.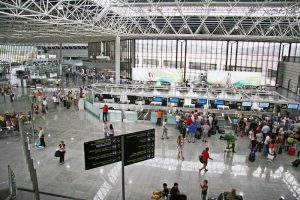 Sochi is now facing a bigger challenge with over three million passengers expected to visit in May-October 2016 on board domestic flights during the summer tourist season. It means the airport will face Olympic-sized overloads every day within at least four of its busiest months. A situation where the airport's Olympic feats must become a daily routine requires smooth operation of the airports' systems, processes and people.
So what is the plan? Firstly, the airport will re-create the terminal's sector division. Secondly, it will adhere to the passenger and baggage handling standards adopted during the 2014 Winter Games: For example, stipulating that the waiting time for check-in does not exceed 15 minutes and that check-in of an economy class passenger takes no longer than 45 seconds. Thirdly, the airport will attract additional staff from other Basel Aero airports as it did during the Games. The core team will be strengthened with local volunteers with whom the airport has continued to work since the Games.
Due to the growing number of tourists from all over Russia heading for Sochi, the airport has introduced passenger segmentation. The first category includes passengers who arrive in Sochi onboard private jets. They require tailored services all the way through arrivals to departures. The second – and most widespread – category is regular passengers who are sensitive to all the flaws of airport operations. And the third category is organised tourist groups with the majority of people being first-time travellers to Sochi. The latter require a special approach, including help with navigation and check-in.
New destinations to come
As the summer tourist season is in full swing, Sochi is expecting a growth of international traffic from Commonwealth of Independent States (CIS) countries to Sochi. The airport has recently attracted CIS-based carriers that will perform both charter and regular flights from Kazakhstan, Kyrgyzstan, Tajikistan and Uzbekistan. Additionally, there will be new flights to Israel, Greece and Belarus. Among the most exotic destinations that will be added to Sochi are regular flights from the Iranian capital of Tehran, performed by Mahan Air, Iran's second largest carrier.
One of the most challenging tasks for Basel Aero is establishing a direct air service with China. Basel Aero is in the final stages of talks with three Chinese carriers – Sichuan Airlines, Urumqi Air and Tibet Airlines – who will perform Chengdu-Sochi and Urumqi-Sochi flights. It is a complicated process that involves many stakeholders including both countries' governments, Chinese travel agencies, carriers and airports.
If these flights prove lucrative for Chinese carriers, the world's second largest airline, China Southern, will launch regular air links with a Russian Black Sea resort. Krasnodar International Airport will also expand its destination map by adding flights to Greece, Spain, Czech Republic and Austria.
Revamping the airports
Basel Aero is currently undertaking three large-scale construction projects in Anapa, Gelendzhik and Krasnodar airports.
In Anapa, construction has recently started of a new 11,800m2 terminal building with a handling capacity of 600 passengers per hour that will cater the needs of the increasing number of tourists visiting the city. It will operate along with the existing 5,000m2 terminal that currently serves up to 400 passengers per hour. The project is expected to be completed by the end of 2016. Part of the $18.6 million investment will also go to the construction of new engineering and sewerage facilities.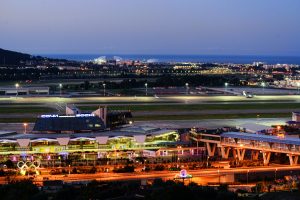 Gelendzhik will also have a new 5,500m2 terminal but construction has yet to begin. A $7.2 million project, the new facility will have a capacity of 300 passengers per hour; twice as many as it currently hosts.
As the main business hub in southern Russia, Krasnodar International Airport will also be upgraded with a new terminal. A contractor is currently being selected to design an apron and terminal. This will be the largest and most expensive project of the three, due to the airport's significance in the region and its role in the development of the tourist potential of southern Russia. Basel Aero will invest at least $300 million to the project, which is expected to be launched after the new terminals in Anapa and Gelendzhik are put into operation.
Basel Aero has ambitious expansion plans and is working to ensure that the infrastructure at all airports has no limitations within a 15-20-year time period. Sochi International Airport is a role model for the rest of Basel Aero's airports – it was totally revamped ahead of the 2014 Winter Olympic & Paralympic Games and is now capable of handling all types of aircraft and serving up to 2,500 passengers per hour.
In March 2016 Sochi International Airport was ranked the Best Airport in Europe in the Over 2 MPPA (million passengers per annum) category, as well as the Best Airport by Size and Region in the 2-5 MPPA category by the world's most coveted passenger service benchmarking programme for airports, the Airports Council International's Airport Service Quality (ASQ) Awards. Additionally, the Skytrax World Airport Awards 2016 named Sochi International Airport as one of the 10 best regional airports in Russia and CIS.
Basel Aero asks for feedback
Growing the passenger traffic in all of Basel Aero's airports requires not only advanced infrastructure, but also high quality services.
Basel Aero is part of Russia's largest industrial diversified group, Basic Element. As such it has a long history of using 'lean principles' derived from the Japanese manufacturing industry and Toyota Production System – a principle used by many companies within the Basic Element family. Lean principles of continuous improvement in the airport mean that all of the processes are as efficient as possible. For example, the sector's segmentation allows aircraft handling to be carried out in a more precise and efficient manner. Passenger segmentation is a way to enhance customer services and reduce passenger and baggage handling times. In other words, Basel Aero has adopted a tailored and personified approach with a focus on continuous customer feedback.
Among the tools that help the airport operator obtain the feedback is the so-called Service Blue Printing project that Basel Aero has recently introduced together with partner Changi Airports International. Blue Printing includes professional training of the airports' personnel and development of the standards for all types of airport employees.
In late 2015 Basel Aero also introduced an SMS-based complaint management system in Sochi and Krasnodar Airports. Here passengers were given the chance to send their queries via SMS, which turned out to be very efficient as they were able to receive immediate help and airport staff were kept up-to-date with any minor problems being experienced in the airport.
Register for the next issue of International Airport Review to read more articles like this one.
About Leonid Sergeyev
Leonid Sergeyev is the CEO of Basel Aero. He joined the Basic Element group in 2008 and between 2008-2010 he headed the Strategic Projects Department of United Company RUSAL and was involved in preparing the company for IPO on the Hong Kong Stock Exchange.
Following the successful IPO, Leonid became Director of Strategic Projects at En+ Group and headed Basel Aero Supply and Handling, one of the fastest growing companies in Russia's aviation refueling industry, and United Oil Group, the oil and petroleum products sales company, which is part of En + Group.
Related organisations
Related people