Aerotropolis: The economic engine of the 21st century
The railway may have been the economic engine of the 19th and first half of the 20th century. But the aerotropolis – specifically, an airport and its cluster of aviation-linked businesses and commercial operations – is destined to be the economic engine of the 21st century. But compared to other world regions, the U.S., has been slow to embrace the aerotropolis model. Exclusively for International Airport Review, journalist Phil Fine has conducted an interview with Prof. John D. Kasarda, Director of the Centre for Air Commerce at the University of North Carolina, and world-renowned authority on the aerotropolis concept.
Asia, the Middle East and much of Western Europe have eagerly adopted the aerotropolis concept. The U.S. has not. Why?
For starters, commercial aviation in America has faced an antagonistic mindset. U.S. airports have long been viewed more as environmental nuisances and sources of noise pollution than as critical business infrastructure fueling local and regional economies.
Moreover, American airports were for many years prohibited by the U.S. Federal Aviation Administration from using their property for commercial development beyond the passenger terminals.
Only in the last decade have U.S. airports begun to put money into such non-aeronautical sources of revenue as hotels, office buildings, as well as retail and entertainment complexes. In addition, America's airports have been hobbled by their governance structures. Almost all of them are run by departments of city governments, or political appointees. Conversely, many major airports abroad have been corporatised so they can operate more flexibly using private-sector principles, doing business the way businesses do business.
And all this bodes ill for the U.S.?
To some extent, yes. With international gateway airports increasingly determining economic winners and losers, the U.S. can't remain complacent toward modernising and expanding its major air gateways. Today, these gateways act as routers of the physical internet of airline networks that move high value products and high value people quickly around the world, anchoring them to their regions.
Our aerotropolis age is one in which parts and components are made in, say, six different countries, put together in a seventh and then distributed rapidly to 100 more. And to manage these value chains, executives must travel. A lot.
New economic realities call for new government policies that will lend much more political support to growing, modernising and upgrading America's airports. But if this doesn't happen, Asia, the Middle East and elsewhere will leverage the huge amounts capital they now pour into their airports to out-compete the U.S. in capturing tomorrow's global business.
And those rivals already have a good lead?
They do. Take Amsterdam Schiphol, the Netherlands' main airport. Not only does its airport area include more than 1,000 multinational corporations, it's also the world headquarters for two financial heavyweights: ABM AMRO Bank N.V. and Intl. Netherlands Group.
Indeed, many multinationals now have offices at or near Schiphol because of the ease with which their executives can access the terminal. It's only seven minutes or less away from these companies' headquarters.
And that's crucial because in our globally networked, speed-driven economy, time is not only cost but also currency for many firms and their executives. Economies of speed have become as important as economies of scale and scope.
But the U.S., you say, is getting airborne…
It is. America's airports are finally beginning to be viewed as key economic engines. Dallas-Fort Worth in Texas is one of the most advanced in this regard, having been on the aerotropolis trail for the last 15 or so years. Dallas-Fort Worth also benefits from having 6,000 acres of land available for commercial development. In addition, Las Colinas, just east of the airport, now boasts the headquarters of four Fortune 500 companies, as well as nine companies on the Fortune 1000 list.
And although Denver International Airport long faced local opposition to any commercial development on its property, it too is now following the aerotropolis model.  Still, it has a long way to go before it catches up to Dallas-Fort Worth.
Memphis International Airport is yet another example driving an expanding aerotropolis, but mainly as a major air logistics hub – specifically, for Federal Express.
Other U.S. airport areas that are now evolving into strong aerotropolises include O'Hare in Chicago and Dulles outside Washington, D.C. Not only does O'Hare's backyard boast more office and convention space than many U.S. cities, it's become one of the biggest class-A office markets in the U.S. Midwest.
Dulles, meanwhile, has seen its catchment area grow to become the second-biggest retail market in the country – just behind Manhattan.
And let's not forget Atlanta. Roughly two years ago, civic leaders there launched the Atlanta Aerotropolis Alliance to enhance that city's position as an economic leader.
Detroit is another city where the powers that be came together to make the aerotropolis a reality – thanks in large part to Robert Ficano, former chief executive of Wayne County, who mobilised local politicians.
So getting all the players on board is obviously key?
Yes, since putting together a coordinated effort across various jurisdictions is seldom easy. Politicians, remember, usually serve for short terms so they're necessarily concerned with what will happen in their relatively brief time in office, rather than what will happen 10 or more years down the road.
But an aerotropolis typically takes a long time to develop – 15, 20 even 30 or more years. Progress must be measured in decades, rather than in months or even a few years. Put another way, aerotropolis development is much more of a marathon, than a 100-metre dash.
As such, the aerotropolis model really needs to be thought out?
Indeed. Any airport whose surroundings lack a coherent development plan usually runs into trouble. A case many point to is New York's JFK. So, it's crucial to put development in place where airport planning, urban planning and business site planning all come together to make the airport area more economically efficient, attractive and sustainable. But if there isn't this meshing, problems will invariably arise and you'll end up with the mess we see around so many major airports. Not only will this detract from the airport's image, it will detract from the image of the cities the airport serves.
Biographies
Phil Fine, journalist

Phil Fine, who's based in Israel, has over 16 years' experience as a professional journalist, most recently as editor of Investor's Digest of Canada in Toronto. Perhaps more important, he's had a lifelong fascination with airports – particularly now that air travel is exploding across Asia and mega-airports are becoming the norm in cities such as Istanbul, Dubai and Singapore.
Professor John D. Kasarda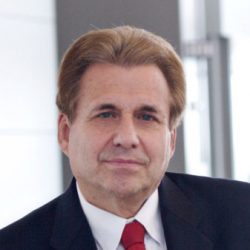 Prof. John D. Kasarda is the leading developer of the aerotropolis concept defining the roles of aviation and airports in shaping 21st century business location, economic development, and urban growth. He is Director of the Center for Air Commerce at the University of North Carolina's Kenan-Flagler Business School and President and CEO of Aerotropolis Business Concepts LLC. 
Dr. Kasarda has published more than 100 articles and 10 books on aviation infrastructure, logistics, and urban development. His book Aerotropolis: The Way We'll Live Next (co-authored with Greg Lindsay), was featured in Time Magazine in 2011 as one of the "10 ideas that will change the world".  In 2013, Kasarda was listed among the "Top 100 City Innovators Worldwide" by Future Cities magazine. In 2015, he was named to The 1,000 Foreign Talents programme in China by the State Administration of Foreign Experts Affairs for his aerotropolis development work in Zhengzhou and elsewhere.
Dr. Kasarda has offered numerous workshops on airport city and aerotropolis development, logistics infrastructure, and global supply-chain management to airports, governments and multinational firms. He chairs the annual Airport Cities World Conference and Exhibition, and is an advisor to airports around the globe.
Dr. Kasarda obtained his B.S. and M.B.A. (with Distinction) from Cornell University and his Ph.D. from the University of North Carolina. Receiving many grants and awards from such organisations as the U.S. Federal Aviation Administration, the International Civil Aviation Organization, and the World Bank, he has been elected a Fellow of the American Association for the Advancement of Science for his research on airport-driven economic development and is a former Senior Fellow and Trustee of the Urban Land Institute.
Related topics
Related people