Vienna Airport: Building on success
Vienna Airport, located in the heart of Austria's capital, has experienced record growth in recent years. Passenger figures in 2015 surpassed 22.7 million, driven by new long-haul routes, new flight connections and frequency increases. The airport also achieved a 4-Star ranking and the award for Best Airport Staff in Europe by Skytrax. To build on this success, the airport is hoping to exploit the further considerable growth potential in the region and establish itself as a multinational location…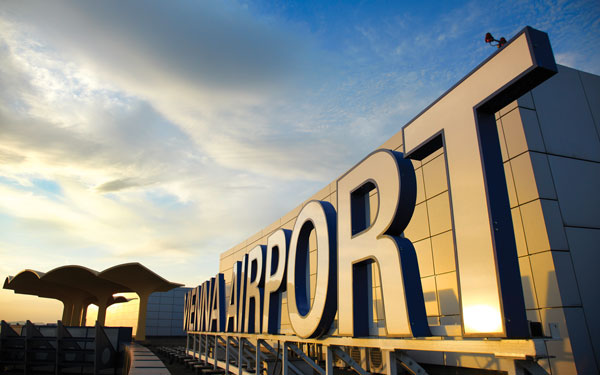 Vienna Airport is one of Central and Eastern Europe's leading hubs owing to the numerous destinations it serves in this region. In the 2015 financial year revenue was up by 3.8%; EBITDA climbed by 10%; the net profit for the period rose 21.8% and net debt was reduced to €466.0 million.
2015 was a challenging year for the aviation sector, which was shaped by developments in various crisis regions and strike situations, but the year also witnessed growth. Vienna Airport reported a total of 22,775,054 passengers for 2015, representing a 1.3% rise over the previous year. In particular, new long-haul routes, new flight connections and frequency increases had a positive impact on passenger volume. Passenger traffic to North America expanded notably well by 9% compared to the previous year, which is mainly due to Austrian Airlines' addition of Miami and its increase in frequency to Newark. Additionally, there was passenger growth of 8.2% to the Middle East and 3.8% to the Far East. Vienna Airport also showed an increase of 5.3% in passenger traffic to Africa. In contrast, passenger volume to Western Europe was up by 1.9%. In 2015 Vienna Airport was regularly served by 75 airlines, offering flight service to 181 destinations in 73 countries.
Four stars for Vienna Airport
Vienna Airport has finally attained listing as a '4-Star Airport' by Skytrax. The basis for receiving the 4-Star ranking was an evaluation by an international team of Skytrax experts over a period of several days. Skytrax assessed and rated the quality of service, the terminal infrastructure, the shopping and culinary offering as well as useful services for the benefit of passengers.
Over the past few years Vienna Airport has achieved much within the context of a service initiative. For example, a new guidance system was introduced, along with barrier-free information monitors; special services for families including the Family Fun Gate and family security checks; dedicated service counters and electronic waiting time displays at the security checkpoints along with other services. The airport is continually working on expanding and upgrading its offerings. The 4-star rating puts Vienna in line, from a quality perspective, with just nine other European airports: Amsterdam Schiphol, Barcelona El Prat, Copenhagen, Düsseldorf, Frankfurt, Helsinki, London Heathrow, Paris Charles de Gaulle and Zurich. There are a total of 35 4-Star Airports around the world, including large sites such as Abu Dhabi International Airport and Kuala Lumpur International Airport.
The 4-Star Airport seal is the second Skytrax award Vienna Airport has received. In spring 2015 it was acknowledged as having the 'Best Airport Staff in Euorpe'. A global survey of more than 13 million travellers evaluated the service orientation and service quality of all employees in passenger-related areas, such as the terminal, at security checks and information desks, in the shopping and gastronomy facilities and many other customer-oriented interfaces. More than 550 airports around the world were assessed.
Expanded retail offerings
Vienna Airport is continually expanding its shopping options. For example, the C-Gates shops and restaurants have been modernised and upgraded. Recently the HEINEMANN Duty Free Shop was renovated and now boasts an appealing new look. Vienna Airport features a diverse offering of shops which consists of more than 80 stores, including both international luxury brands and domestic products. Vienna Airport puts great emphasis on ensuring a balanced mix of local specialties and international products. On an area of about 1,200m², travellers will find a huge range of international brand-name products at low prices, Austrian specialties, delicacies and surprising service innovations.
Real estate development an important part of the airport's business strategy
At present 20,000 employees in more than 230 companies ensure the smooth functioning of airport services. Accordingly, Vienna Airport is already the largest single employer in the eastern part of the country. More than 4,000 employees work at the airport operating company Flughafen Wien AG or its subsidiaries and such figures confirm the potential of the airport as a real estate location. An area of more than 1,200 hectares is owned by Flughafen Wien AG, which opens up many opportunities for commercial use. For example, a commercial property of over 140,000m² near Fischamend is ideal for companies that require close proximity to the airport, for example logistics services providers. The proximity to Eastern Austria's largest transport hub with all the services it offers – short distances to local suppliers in Fischamend and at the airport and the closeness to the A4 Highway and the B9 Federal Road – make this industrial park a perfect location for setting up business operations. Kühne & Nagel recently relocated its corporate headquarters to the Office Park and a large new fitness studio has opened. Eurowings and EVA Air moved into offices at the airport site and two new companies, Makita and Car-Partner, set up business operations in close proximity. Moreover, the ground-breaking ceremony for the new MOXY hotel at the airport has already taken place. On balance, the number of new employees has risen to approximately 500.
The airport city is growing
There is a current trend for 'airport cities'. Airports have, for a long time, not only offered the infrastructure to handle aircraft and passengers but also other services, from a wide range of shopping opportunities and culinary delights to conferencing and event facilities and overnight accommodation. They also include new services, such as medical and fitness centres. Vienna Airport is also moving in this direction. One third of the airport's revenue is already derived from the non-aviation segment such as parking, leasing of commercial properties and shopping/catering. Considerable growth potential still exists in the Eastern Austria region, and Vienna Airport hopes to exploit this. The aim is to establish the airport as a multinational location.
New sustainability report
Sustainability is an important business objective for Flughafen Wien AG. The successful development of the airport in recent years shows that it is possible to operate in a much more economically productive manner, while simultaneously enhancing customer satisfaction and service quality, improving energy consumption and environmental compatibility and pursuing positive social goals on behalf of its employees, despite implementing restructuring and productivity enhancement measures. Examples include more flexible working hours and projects to promote a better compatibility of family and career. The sustainability management system installed at Flughafen Wien AG is designed to ensure that the ambitious future targets are achieved. More than 100 different measures have been implemented in the field of energy and environmental management. These steps have resulted in a significant reduction of energy consumption, CO2 emissions and an increase in energy efficiency. Another package of measures documented in the sustainability report of Vienna Airport is designed to ensure that the highly ambitious targets are actually achieved in the coming years. Furthermore, Vienna Airport has recently been certified by EMAS – the 'Eco-Management and Audit Scheme' – which aims at the continuous improvement of environmental performance. This accompanies the certification Vienna already submitted for Level 2 Mapping of Airport Carbon Accreditation and will certainly furthermore focus on a reduction of CO2 emissions.
New flight offerings for 2016
Numerous new flight offerings at Vienna airport have already been published for the 2016 summer schedule. Accordingly, Austrian Airlines will add a new long-haul route to Shanghai (China) and Hong Kong (China), as well as new routes to Havanna (Cuba), Bari (IT) and Isfahan (IR). Air India will begin operating flights to Delhi and NIKI will add Faro (Portugal) to its existing flight programme, in addition to Split and Dubrovnik (Croatia). easyJet will increase its offering by increasing frequency to Amsterdam (Netherlands), Edinburgh (Scotland), Berlin-Schönefeld (Germany) and London-Luton (Great Britain). Transavia is expanding its flight service to Rotterdam (Netherlands) and Vueling will launch a flight service to Paris-Charles de Gaulle. ASL Airlines will resume its flight connections to Bordeaux and Toulouse (France), while the Greek carrier Aegean Airlines will, this summer, once again offer flight service to Heraklion (Greece). Furthermore, SunExpress is expanding its flight frequencies to Antalya (Turkey).
Positive forecast on passenger growth in 2016
New long-haul routes will continue to be an important growth factor as Vienna Airport has noted a strong increase over the last five years. Vienna Airport expects the number of passengers handled to increase by up to 2% year-on-year for 2016.