Sydney Airport: Improving the passenger experience
In an article for International Airport Review, Sydney Airport reveals why and by what means it is investing in new technologies and innovations to enhance the airport passenger experience…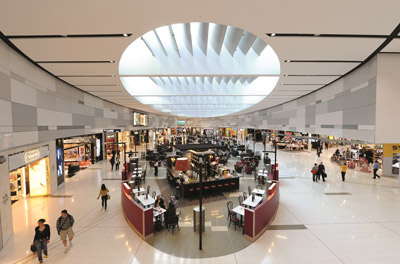 Sydney Airport is investing in new technologies and innovations to streamline and enhance the experience of passengers.
We have launched a new online video designed to aid travellers in preparation for their journey. The friendly and informative video will help infrequent travellers by following a couple from kerb to gate, providing tips on a seamless airport experience from check-in to departure. The latest technology complements the Sydney Airport app, social channels, mobile and web presence.
Together with the NSW Government, Sydney Airport has invested $500 million in ground access improvements around T2/T3. We're currently undertaking works to decrease congestion, deliver more 'green light time' and reduce the time it takes to get to and from the airport. Travellers have choice of convenient options to get to the airport, from parking using our online pre-booking offers to public transport with the short 8km between the city and the airport serviced by regular train services. Valet parking is also available at each of the airport's three terminals.
Check-in is faster than ever with self-service check-in kiosks. These make the process on average 25% quicker, speeding up the passenger's journey. Sydney Airport was also the first airport in Australia to introduce international automatic bag drop with Qantas, which is capable of processing more bags at a faster rate.
" Sydney Airport aims to provide our customers with a positive airport experience "
Speaking to International Airport Review, Kerrie Mather, Sydney Airport Managing Director and Chief Executive Officer, said: "Sydney Airport aims to provide our customers with a positive airport experience.
"We're focused on improving the passenger experience through upgrading terminal facilities, offering more choice and value in retail, and implementing new technologies to enhance our passengers' journey."
In collaboration with the Australian Government, Sydney Airport was the first airport in Australia to install outbound SmartGates. Departing travellers now experience the benefit of automated technology using ePassports and face recognition technology to significantly improve their processing time, complementing inbound SmartGates.
These improvements allow passengers more time to enjoy the range of food and beverage and retail options at the airport. Travel essentials can be purchased at refreshed tenancies, together with excellent coffee and food options at T1's new casual dining precinct. Sydney Airport has focused on improving its retail offering, providing passengers with more choice and greater value.
Sydney Airport has focused on improving its retail offering
Heinemann Tax & Duty Free has refreshed five stores across T1, enhancing the passenger experience through a  compelling selection of over 400 new brands set within a contemporary store design.
In partnership with Australian chef Luke Mangan, two new dining concepts deliver a strong sense of place and an opportunity for passengers to sit and relax within the store. 
More recent retail announcements include Kate Spade New York, Michael Kors, TUMI and Tiffany & Co. to join the new luxury precinct, all first to Australian airport brands.
Launch of the Sydney Airport app
Those connecting to the Internet benefit from free Wi-Fi at the airport. Sydney Airport was the first Australian airport to offer the service, which has recently been upgraded, helping passengers to access the internet faster and connect with the Sydney Airport app to receive real-time flight and airport information. New software delivers travellers tailored news, retail offers and competitions on digital screens and their devices, with destination information also shared through a partnership with TripAdvisor.
Dynamic new wayfinding and e-directories are helping travellers make their way through their terminal more easily. Chinese wayfinding is also provided throughout T1, targeted at high number of Chinese visitors, Sydney Airport's largest international visitor group based on residency.
Related topics
Related airports
Related regions