Foreword: Innovation – From buzzword to implementation at airports
Posted: 26 January 2016 | Todd Hauptli, President and CEO of the American Association of Airport Executives (AAAE) | No comments yet
Innovation is integral to aviation. It's what drove two bicycle makers from Ohio to become the famous flying Wright Brothers. It's what pushed us beyond the sound barrier, and it will continue to push us to places in flight we can't even imagine. Innovation can also drive the modern airport economy. It can help passenger satisfaction and retention, track and recover revenue from app-based transportation services, and lower operating costs through reduced energy usage. It can improve safety by putting better, smarter cameras on the runway and through interactive training of critical employees. President and CEO of the American Association of Airport Executives (AAAE), Todd Hauptli, explains how the AAAE is working to facilitate airport innovation…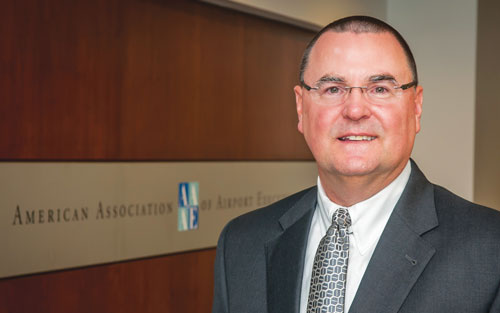 Innovation is exciting in theory, but it's meaningless if it's not being put to use. It's just another buzzword doomed to fade into obscurity unless it's being applied to improve the current aviation system. A great technology that improves passenger flow isn't worth much if it's not being installed and used. An idea is nice, but measureable results are what counts.
Bringing innovative technology to an airport might seem like a daunting task for an airport official more used to reading FAA reports from Washington than WIRED updates from Silicon Valley. But it doesn't have to be that way.
That's where AAAE comes in. Innovation is a key part of both our heritage and our future. It's a pillar of what we strive to deliver to our members every day. Service. Innovation. Results.
Most recently, we have been striving to foster innovation in the airport marketplace through our Airport Innovation Accelerator, which focuses on assisting emerging and major companies that are new to the aviation sector and want to bring new, innovative ideas to the airport marketplace that is unfamiliar to them.
Having served airports for nearly 100 years, AAAE has a unique perspective on effective innovation in airports. We believe that innovation is a combination of creative thinking and results. With the creation of the Airport Innovation Accelerator in 2015, AAAE is working to bring better solutions to airports more efficiently and drive innovation in the airport environment.
The Accelerator recently announced a new service – Airport Market Match – that helps innovators navigate the airport marketplace to achieve broad market acceptance. The Airport Market Match is intended for innovators with a mature product, strong references and a demonstrated investment to serve the airport market. Market Match participants will be able to access industry experts and real airport customers to rapidly assess market need, generate market awareness and connect directly with airports to rapidly refine the solution for airports and uncover powerful piloting opportunities. The service will also benefit airports and AAAE members in providing assistance, guidance and expertise that will in turn lead to better products and services in the airport marketplace. At the close of the application deadline for Airport Market Match, we had more than two dozen companies apply.
The Market Match was announced in San Francisco, at our inaugural Airport Innovation Forum over two days in San Francisco in November 2015. At the Forum, airport executives met with innovative company leaders, venture capitalists, and government partners to discuss the future of airports. Speakers explained how 3D printing, self-driving cars, and drones are going to affect airports sooner than you think. But the majority of the Forum centered on how innovation can improve the passenger experience in airports – essentially, practicing innovation instead of just preaching innovation.
CEOs from some of the leading airport solution companies, including AirIT, Daon, SilverCar, and Area360 stood on stage at the Forum to paint a picture of a unified, catered passenger experience from door to gate. Imagine having the equivalent of an electronic concierge that directs you to the best parking space and shortest security line, or way-finding that guides you to your gate even if it changes. Don't forget to check out the variety of dining and shopping options with the time you saved along the way. It might seem like something out of a movie, but it's all very real and very near.
Passenger experience is one area where innovation can help an airport, but it's far from the only one. In 2016, we are dedicated to driving innovative concepts throughout the process from idea to delivery. In our view, the airports of the future are close at hand. The time for airport innovation is now, and we at AAAE are excited to be on the leading edge of the change.
Biography
AAAE President and CEO Todd Hauptli is the third CEO in the Association's history. Todd joined AAAE in 1991 and prior to becoming CEO was responsible for overseeing AAAE's interactions with Congress and the Executive Branch agencies. Before joining AAAE, Todd held positions at the White House, the Department of Transportation, the Department of Commerce, and Capitol Hill. Todd is married with three sons. He and his family reside in McLean, Virginia.