Ground handling at Dublin Airport: Enabling growth from the ground up
Posted: 26 January 2016 | Aidan Fidgeon, Head of Capacity Solutions and Capital Programmes at Dublin Airport | No comments yet
To enable and assist growth, Dublin Airport has begun an extensive airfield upgrade programme. Aidan Fidgeon, Head of Capacity Solutions and Capital Programmes at Dublin Airport, outlines the €80 million investment which, when complete, will upgrade and rehabilitate some critical airfield assets…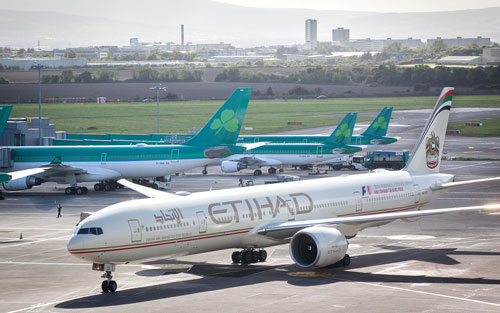 Dublin Airport made history on 4 December 2015 when it broke its previous record for the number of passengers processed in a single year. On that date passenger numbers reached 23.5 million for the first time, beating the previous record for passenger traffic which was set in 2008. Final passenger numbers for 2015 will set a new record, which is a significant milestone in the airport's 75th anniversary year.
Following a deep recession in the Irish economy which saw passenger numbers decline by five million between 2008 and 2010, passenger traffic at Ireland's key international gateway has grown steadily over the past five years. Aircraft movements had declined by almost 25% during the period of recession meaning a number of planned airfield capacity enhancements were temporarily put on hold. However the opening of Dublin Airport's Terminal 2 at the end of 2010 meant that the airport had sufficient terminal capacity to allow room to grow and passenger numbers and aircraft movements have been growing at Dublin every year since 2011. A return to strong passenger growth during the past two years in particular has brought those airfield capacity enhancements to the foreground again.
The rapid recovery in passenger numbers, particularly in the past two years, is due to a combination of almost 50 new routes and services, significant additional capacity increases on a number of existing routes and nine new airlines operating at Dublin. Total longhaul connectivity has grown by more than 65% since the new terminal opened, while short-haul connectivity has increased by 16%.
The new airlines include Vueling, WOW Air, Transavia and Ethiopian, while Dublin Airport's two largest customers, Aer Lingus and Ryanair, have also been expanding. Aer Lingus has grown its transatlantic network from Dublin, while Ryanair has significantly expanded its operations at Dublin over the past two years, with new routes and increased frequencies on many of its existing services.
During 2015, with 23 new routes and expanded capacity on existing services, Dublin Airport was one of the fastest major growing airports in Europe. Further traffic growth is expected in 2016, as 11 new scheduled services have been unveiled for this year, with four new transatlantic routes and seven new short-haul services.
To cope with increased demand, Dublin Airport is investing over €80 million on a number of key developments to upgrade and rehabilitate some critical airfield assets.
Dublin Airport's airfield comprises two runways. Runway 10/28 which lies in an east/west direction is just over 2.6km long and is the airport's main runway accounting for 95% of all aircraft movements. Runway 16/34 lies in a north/west, south/east direction, is just over 2km long and is mainly brought into use when the acceptable crosswind component is exceeded, or when essential maintenance is required on the main runway. The airport also has 35 taxiways that assist with the movement of aircraft to and from the runways.
Dublin Airport has two terminals and four piers with 62 contact stands and 53 remote stands. The airport has direct flights to about 170 scheduled and charter destinations in 38 countries on four continents.
One of the largest airfield projects in the programme is a €20 million development to boost airfield capacity with the addition of 10 new aircraft parking stands and three aircraft taxiing lanes. The new stands, which are located at the northern end of the airfield, are the largest single capital investment at the airport since the opening of Terminal 2 in 2010. They are required due to the significant passenger growth that has been experienced at the airport over the last two years.
The new apron area, known as Apron 5G, covers 67,500m2, which is equivalent to 15 football pitches. Initial works involved two months earth moving and drainage works, and following this contactors started laying the concrete that forms the top layer of the new aircraft parking area.
The parking stand project also includes the replacement and upgrading of drainage infrastructure, and the provision of underground surface water attenuation and storage. These environmental measures will ensure that all surface water run-off from the new parking stands will be collected and released in a controlled and carefully managed way back into the local water system.
Dublin Airport takes its environmental responsibilities very seriously and this project – like all of our apron works – is being delivered to the highest environmental standards. The Apron 5G project is due to be completed in April 2016, and includes additional high-mast lighting and a new electrical substation.
Other airfield works that are planned for the short-term include a major overlay to the airport's main runway, which is over 26 years old. This is a sizeable project which requires a substantial amount of planning. The project is scheduled to start later in 2016 and is particularly challenging as the work – which is weather dependent – must take place at night and during a short timeframe to ensure the runway can be reopened for its first wave of airport operations the following morning. The work will continue for approximately 18 months.
A significant upgrade of the airfield's ground lighting system is also required which includes runway edge, centreline, touchdown zone, runway approach and taxiway lighting. A new pit and duct system with new primary and secondary cabling will also be provided to serve the upgraded runway lighting infrastructure.
Two airfield taxiways are also in need of a structural overlay to extend the pavement life.
Dublin Airport is also undertaking a project to significantly extend the life of some existing pavement areas, which are more than 40 years old in certain places and are in need of significant rehabilitation. This work, which will run on a phased based until 2019, will be undertaken in a highly sustainable and strategic manner to minimise waste and ensure resources are used as efficiently as possible. We will be looking at the various recycling options for materials, as this reduces the quantity that has to be taken off site.
Once complete, the minimum anticipated lifespan of the new fully constructed apron pavement is approximately 30 years, with 10 years before its first scheduled maintenance.
Given that the airport is 75 years old, we are constantly investing to maintain and improve the airfield area for our airline customers, which in turn helps improve their efficiency and provides a better experience for passengers.
Traffic growth is set to continue in 2016, as Dublin Airport prepares to welcome 11 new scheduled routes. Four of these are transatlantic services to Los Angeles, Newark, Hartford, Connecticut and Vancouver and there are eight new short-haul destinations to cities such as Athens, Pisa and Montpellier. In addition, two new long-haul charter services will commence direct flights to Cancun in Mexico and Montego Bay in Jamaica.
Our airfield upgrade programme is helping to enable this growth. The travelling public understandably focuses on new routes and improvements to passenger facilities such as terminals, piers and retail areas, but the work that we carry out on the airfield is essential to keep Dublin Airport operating smoothly and to provide the capacity for the business to continue to grow into the future.
Biography
Aidan Fidgeon is a structural engineer. He qualified at the College of Technology, Dublin, in 1988 and joined the DAA, formerly known as Aer Rianta, where he has held a wide range of positions – from Airfield Design Engineer, to Project Manager for the proposed Northern Parallel Runway between 2001 to 2006. Aidan worked as Airfield Workstream Manager, responsible for delivering €120 million of key airfield projects from 2006 to 2009, and more recently as Head of Capital Projects from 2009 to 2013; responsible for delivery of the Capital Programme at Dublin, Cork and Shannon Airports (circa €60 million investment annually). He is currently responsible for providing solutions to capacity constraints at Dublin Airport and defining and managing the Dublin Airport Capital Programme for 2015 to 2019.