Rajiv Gandhi International Airport
Posted: 29 September 2009 | Mr P Sripathy, CEO, GMR Hyderabad International Airport Ltd | No comments yet
GMR Hyderabad International Airport Limited (GHIAL) was formed to design, finance, build, operate and maintain the Greenfield Rajiv Gandhi International Airport (RGIA) on 5,495 acres in Shamshabad, located 25km from the city centre of Hyderabad. The airport is the first Public Private Partnership in the Indian airport infrastructure sector between GMR Infrastructure Ltd (63%), Malaysian Airports Holdings Berhad (11%), Airports Authority of India (13%) and Government of Andhra Pradesh (13%).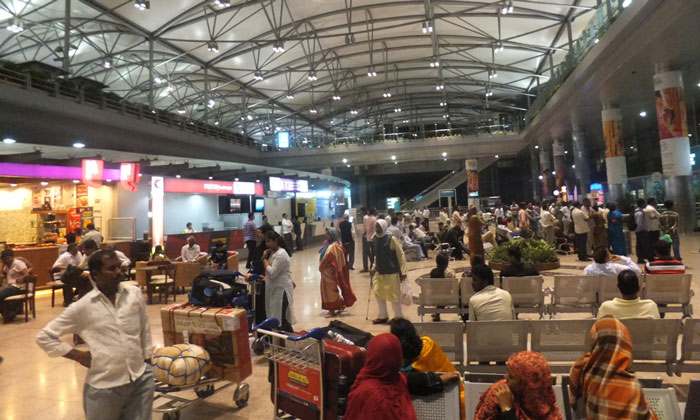 The Rajiv Gandhi International Airport, which opened to commercial traffic from 23 March 2008, provides world-class facilities and infrastructure, in accordance with ICAO standards and practices to handle large aircraft and international traffic. Its integrated domestic and international terminals are equipped with 12 contact boarding bridges, 30 remote stands, Common User Terminal Equipment (CUTE), self service check-in kiosks (Common User Self Service – CUSS) and 46 immigration counters. It also incorporates modern IT systems, including Flight Information Display Screens (FIDS), Baggage Handling System (BHS), and Airport Operational Database (AODB) technology for the first time in India. RGIA is the first Indian airport to have the Airport Operations Control Centre, which acts as the nerve centre for all coordination within the airport.
The airport provides two Animal Quarantine Stations. The first Quarantine Station is located at International arrivals and the second in the Cargo Satellite Building. GMR Hyderabad International Airport Ltd (GHIAL) provided 10 square metres of space at International arrivals and 40 square metres of space at the Cargo Satellite Building for these stations.
The Animal Quarantine facility will not only help in facilitating clearance of pet dogs and cats, after carrying out necessary quarantine tests, but will also help the livestock and pharma industry for import of lab animals etc. Hyderabad is a major centre for the biotechnology sector and this facility will be of great benefit to this industry.
The airport is designed to handle 12 million passengers per annum in the initial phase and more than 100,000 metric tonnes of cargo per annum. In the final stage, it will be able to cater for over 40 million passengers per annum and one million tonnes of cargo. The total project cost for the initial phase was Rs. 2478 crore and is estimated to touch USD $3 billion in the final stage.
The major access points to the airport are from National Highway NH-7 and Outer Ring Road (ORR) from the West side and Srisailam State Highway on the Eastern side. Also a first of its kind, an 11.6 km long Elevated Expressway is under construction to enable passengers to reach from the city centre to the expanded six lanes NH-7 road, and arrive at the airport within 30 minutes. Besides these, Multi-Modal Transportation System (MMTS), Mono Rail Transport System (MRTS) and other alternative modes of transport are being actively explored in collaboration with the State Government.
Located strategically at the geographical centre of India, within a two hour flying time to all the major cities in India, Hyderabad is well positioned and within a four hour radius from all major cities in the Middle East and South East Asia. Thus, it has the potential to not only become one of the main air travel hubs in India, but also as an important centre for destination-cum-transit location for travel between the East and the West. Currently, there are 14 international and eight domestic airlines operating from Hyderabad, flying to over 35 destinations. Lufthansa Cargo also operates a weekly freighter service from Frankfurt via Mumbai. This flight returns to Frankfurt via Sharjah.
The Rajiv Gandhi International Airport at Hyderabad is well set to establish the city prominently on the global aviation map, contributing to the prosperity, growth and economic development of the region.
GHIAL plans to build a world-class fully-fledged Aerospace Park, which would have design and engineering services, manufacturing facilities and aviation training facilities. It is already in conversation with leading aerospace players interested in establishing facilities at this park. The anchor of this Aerospace Park will be the 50:50 MRO Joint Venture Company, MAS-GMR Aerospace Engineering Company Limited, for which an agreement was signed with Malaysia Airlines in the last week of February, 2009. It has also signed an MoA with CFM International for the setting up of a CFM56 Maintenance Training Centre.
Another significant development is the proposal for setting up a fully-fledged Aviation Academy. Talks are on with major aviation institutes of repute from across the world, to become part of this academy. India has a large talent pool of engineering students waiting to be tapped and channelised into the aviation industry.
RGIA is the first airport in the world to be awarded the Leadership Energy and Environment Design (LEED) silver rating for its eco-friendly design. It has also been nominated as winner for the 'Outstanding Concrete Structure' of Andhra Pradesh by the Indian Concrete Institute. GMR Varalakshmi Foundation, the CSR wing of the GMR Group, has won the ORBIS award for enhancing the quality of life in the communities living around the RGIA.
For all queries relating to the upcoming Aerospace Park at RGIA, please contact Mr D. Ravindran, COO, Aerospace and Aviation Business, GHIAL: [email protected]
For all queries pertaining to the Cargo Logistics Hub at RGIA, please contact Mr A. Viswanath, COO, Logistics, GHIAL: [email protected]