CEO of Bologna works to ensure a good employee experience with good perks
Nazareno Ventola, the CEO and Managing Director of Bologna Airport, spoke to International Airport Review about his airport's recovery, passenger trends and the innovative benefits his employees receive in this exclusive CEO Series.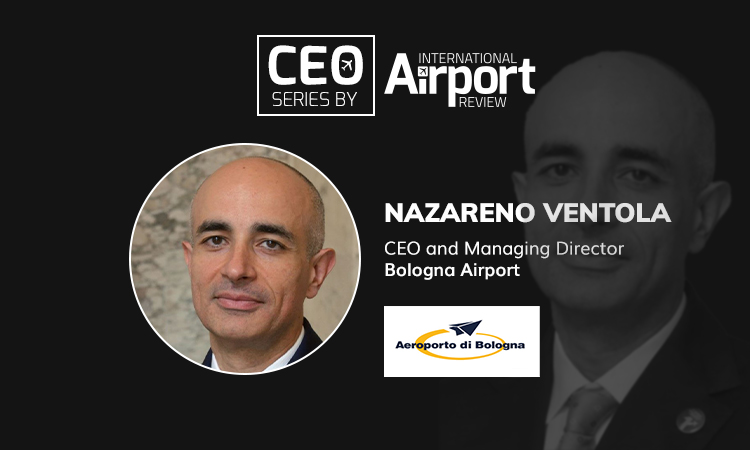 Nazareno Ventola for International Airport Review's CEO series.
How is the recovery of the airports going post-pandemic?
Recovery has been even better than we expected. Last year we achieved about 90% recovery as compared to 2019, and this year we were already above 2019 figures in early May. So, we're very happy; recovery has been booming thanks to our buoyant catchment area.
How have the passengers coming through airports changed?
The funny, or interesting, thing is that the laws of economics no longer seem to apply to traffic demand because despite the massive inflation concerns all over Europe, demand is very, very strong. It's almost like travelling is a necessity. It's no longer a luxury for people. They must travel.
You seem to be experiencing continued success with Ryanair and Emirates Airlines. Why do you think this is?
I think the basic reason is the reliability and the vitality of our catchment area, which is a very vibrant mix of business and leisure traffic which is driving this growth. Today, our mix is about one third leisure, one third business and one third VFR. So, it's quite balanced. All major airlines have decided to establish their operations in Bologna over the last 10 years, most of them – 95% of them – have  been successful.
Are there any other exciting routes that you have in the pipeline for your passengers?
Well, we are working on continuing the connection with the eastern part of the world outside Europe. For this summer, we have been increasing our connectivity in Northern Europe with Norwegian and also starting connections to Copenhagen, so the market expands. Of course, we already have a very good connectivity within Europe, so it's hard to find new destinations, both hubs and point to point, but we're working on it.
You recently wrote for International Airport Review for our Big Sustainability Issue, and you mentioned the People Mover that connects Bologna airport to the city railway station in just seven minutes. Do you have plans to integrate other modes of transport within an intermodal strategy?
Well, the People Mover connection between the airport and the city is established, and we will probably need to increase the service in the future. In fact, we need larger trains, because the ones we have now are simply too small for the demand, which has been much greater than expected. From an intermodality point of view, we have built a new bike station at the airport for the benefit of the airport community and for a specific segment of passengers. So, people are really travelling to the airport by different modes.
People actually arrive at the airport on a bicycle to go on holiday and park their bicycle for a week?
Yes! Passengers and employees are asking for them – especially during the good weather season. From April to November let's say, people like to use their bicycle, not the car. It's also more sustainable because it reduces CO2 emissions and is also good for their health. And of course, you can bypass the traffic!
You have worked with transport operators to provide an integrated ticket to commute from home to work at an accessible price for all airport employees. It is, therefore, possible to travel to the airport using a combination of regional train, electric car sharing and monorail service just with one ticket.
This is really innovative; what other innovative practices have you developed to improve the experience of your employees?
Like you said this integrated ticket is really innovative and we are probably the only airport in Italy to offer this. A one-year ticket normally costs 700 euros, but for employees it's only 120 euros – so for only 10 euros per month they can use every means of transportation within the city. I think it is of great value for our community and they can use this travel pass outside of work as well, even if they want to go and visit their friends on the weekend or go to the discotheque! It is a nice perk that our employees receive, and it helps with our attractiveness as an employer.
What has the story been with your workforce during the pandemic and beyond? Have you struggled to rebuild? Do you find it difficult to attract work to the airport?
Well, it becomes harder let's say. We have been able to keep almost 90% of our workforce during the pandemic; mostly due to the furlough scheme set by our government. However, at the moment, it is a bit harder because the unemployment rate in Bologna is 3%. With unemployment levels being so low, attracting people is sometimes difficult. The other difficulty is that the people who are joining the airport and the handling companies, it's sometimes the first time that they have worked in an airport. Around 30% of our operations workforce is new; this is not because we have to replace people who left the airport during the pandemic, but because we are growing more now than in the past, we need more people than we have access to.
What do you do to retain your workforce? What do you think it is that the younger generation wants from their career?
I think the approach has changed and they want to have a purpose and be part of a successful story which is social and sustainable. Money is not always at the top of the list – instead work-life balance is a greater priority. We've also seen, after the pandemic, that people really want to work from home for some days, on a regular basis. And for some kinds of jobs, this is possible.
How do you try to engender a sense of purpose for your employees?
We involve people, for instance, we have different working groups for people in innovation projects. This is not just solely for what they do for their job, we also want to motivate and enable our employees to participate in cross-functional projects which is such an opportunity, especially for young innovators.
About the author

Nazareno Ventola is CEO of Bologna G. Marconi Airport since July 2015. Before joining the Bologna Marconi Airport team, in 2000, Nazareno was a strategic planning analyst at Enitecnologie (ENI group).
He has been a Chair of the ACI (Airport Council International) Europe Economics Committee from 2012-2013 and a member of the Board of ACI Europe from 2014-2020. He is currently in the group of representatives for Europe on the ACI World Board.
Nazareno Ventola graduated with honours in Chemical Engineering from the University of Trieste. He has attended specific training courses at SDA Bocconi (Milan, Italy), MIT (Boston, USA), London Business School and University of Cranfield (UK).
Related airports
Related regions