Issue 2 2023 International Airport Review
In this 'Big Sustainability Issue' of International Airport Review we feature articles from industry experts on a range of topics including: the Airport Carbon Accreditation, net zero, indoor air quality, health and wellbeing of passengers, security, social responsibility, ingraining sustainability within your culture and passenger experience, plus an In-Depth Focus supplement on baggage handling.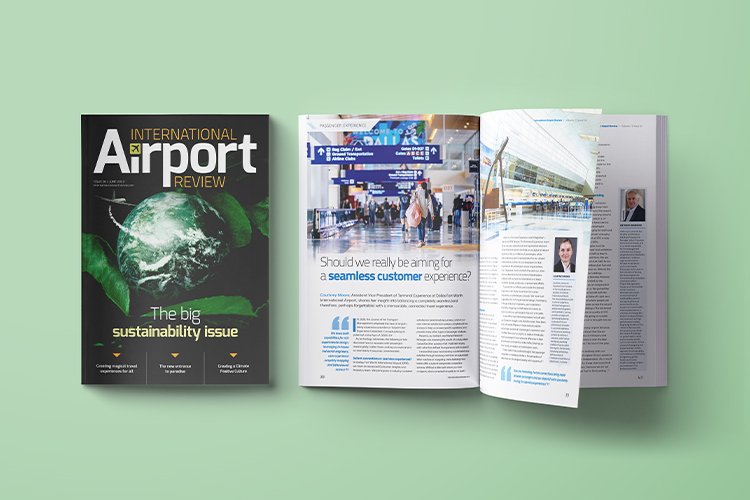 Subscribe to International Airport Review today to read all the articles about sustainable airports from our expert contributors in this issue.
In this issue: 
Voice of the Industry     
What is next for sustainability and airports?
Alexandre de Joybert, Director of Sustainability, ACI Europe
Airport Accessibility
Creating magical travel experiences for all
Ralph Cutié, Director and Chief Executive Officer, Miami-Dade Aviation Department
Sustainable business
Integrating sustainability into business strategy at Bologna Airport
Nazareno Ventola, CEO & MD and Giorgia Colella, Programme Management and Transformation Office, Aeroporto Guglielmo Marconi di Bologna
Airport security
A call to action: The critical role of airport leaders in the fight against human trafficking
Michael E. Camal, Senior Advisor at U.S. Department of Homeland Security's (DHS) Blue Campaign
Project file
Aeropuertos Mexicanos: The new entrance to paradise
Alejandro Altamirano, Chief Financial Officer, and Juan Calderon, Chief Operations Officer, Aeropuertos Mexicanos
Net zero
London Gatwick's updated approach to sustainability
Mark Edwards, Head of Sustainability, London Gatwick Airport
Smart airports
Thinking Smart at Edmonton International Airport
Tara Mulrooney, Vice President of Technology and Innovation, Edmonton International Airport
Passenger experience
Should we really be aiming for a seamless customer experience?
Courtney Moore, Assistant Vice President of Terminal Experience, Dallas Fort Worth International Airport
Healthy Airports
The importance of healthy and resilient buildings for airports
Anthony Bernheim, Healthy and Resilient Buildings Programme Manager, San Francisco International Airport
Sustainable airports
Creating a Climate Positive Culture
Andrea Carroll, Group Head of Sustainability, Dublin Airport Authority (DAA)
In-Depth Focus…Baggage Handling
The challenges of the new era of baggage handling
Sara Branco, Baggage Handling Expert, Geneva Airport
Optimisation of baggage infrastructure at Copenhagen Airport
Samuel í Hjøllum Rude, Senior Director, Copenhagen Airport
Read about sustainable airports for free today!