Advanced Air Mobility (AAM) and drone integration into airports
Jean-Sebastien Pard, Senior Manager Facilitation, Passenger Services and Operations ACI World, was interested in discussing AAM and drone intergration with senior intellects of the industry. He caught up with Sanjay Suresh, General Manager APAC, Skyports Drone Services, and Pedro Cascales Dominguez, Senior Vertiport Planner, Skyports Infrastructure to consider this.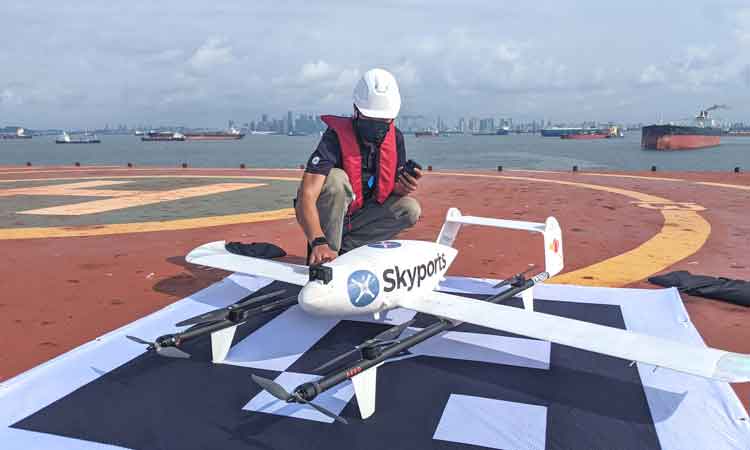 Drone deliveries background information
Skyports Drone Services have been conducting trials on ship-to-shore deliveries with drones in Singapore waters since 2021, including technical trials and proof of concepts (PoCs), from aircraft performance to scaled commercial trials, with shipping partners. In 2022, Skyport Drone Services established a consortium with ST Engineering and Sumitomo Group, partnering with over 10 major shipping companies and extending its operations to cross-island and rural flights in locations, such as Japan and the Republic of Korea.
Today, Skyports Drone Services carries out daily flights that connect vessels anchored in the Singapore harbour with essential materials at a faster pace and with reduced costs, complementing other existing delivery modes. The gradual scaling up of their operations will continue to contribute to the safety, efficiency and productivity of the industry.
With maritime cargo drone deliveries, how is Skyports Drone Services ensuring safety in the shared airspace?
Operating safely in the shared airspace is one of Skyports' top priorities and key areas accounted and planned for in their work.
Sanjay: "In the maritime space, we must account not only for manned aircraft operating in the low- to mid-level airspace, but also for the ships at sea level, both in transit and anchored. We are also cognisant of low-level weather conditions that could differ between the shore side and over waters. With the scaling up of drone flights, we will also need to incorporate airspace awareness and management systems to capture an accurate picture of other drones in the area."
These multi-stakeholder operations will be more critical when operations are scaled up to accommodate the hundreds of drones flying simultaneously on delivery and surveillance missions. In order to achieve this in incremental steps, technology providers, amongst other key aviation stakeholders, must meet common standards related to drone technology, internal standard operating procedures (SOPs) and regulatory requirements.
 Drone technology
Sanjay: "As a drone-agnostic operator, we partner with leading drone original equipment manufacturers like Swoop Aero, ST Engineering and, most recently, Pyka, to build a fleet of reliable state-of-the-art drones, capable of executing a variety of missions that encompass payload capacities, flight distance, speed, and take-off and landing formats to meet the varying requirements of our customers. The drones used in our operations must meet a range of essential safety requirements. These include positioning, power supply and communication redundancies, detect-and-avoid or collision avoidance systems, and operational procedures."
 Internal SOPs
Sanjay: "The people behind the machines are the first and last lines of defence when it comes to safely operating the drones. Pilot training, strict operating procedures, risk assessment and management is essential to uphold the highest safety standards in all our operations… that all three must continue to evolve with each new challenge and opportunity encountered. We have already made great progress over the past year of operations, but we are acutely aware that the industry is still standing near the start point of where we all want to be, i.e., to have large-scale drone operations seamlessly integrated into everyday business operations and life."
Regulatory requirements
In the quickly developing aviation industry, Skyports believes that it is also their responsibility to support the practical and sound development of regulatory framework and policies.
Sanjay: "A wait‑and‑see approach is not in our DNA! We can advance our collective work as an industry and ensure free and open discourse with regulators to provide real use-cases and data for regulations to be formed in a timely and meaningful manner."
Could you share some of the challenges Skyports faced with ship-to-shore drone deliveries?
Two of the main challenges that Skyports are working on are enhancing stakeholder communication towards on-demand flights, and advancing end-user education and buy-in.
Sanjay: "Communicating quickly and accurately to be able to make real-time decisions is essential, and this must occur between individual pilots, operators, the authorities and any other users of the shared airspace (such as commercial aircraft and vessels). At the industry's current level of maturity, these communication channels and processes are still being developed with each step we take forward. Through our work, we are looking to support the industry in creating a streamlined approach to these vital communications. This will lower or even remove current speed humps such as permit applications, flight clearances, and pilot registrations."
As Skyports pushes to introduce a novel technology, a level of uncertainty and resistance is to be expected. Educating current and potential customers is always important, as Skyports wants them to be able to extract the best impact from working with them.
Sanjay: "Unfortunately, when drones first became commercially available, the lack of understanding, regulation and responsibility gave this technology quite a poor reputation, but we are working to change that. Encouragingly, we are already receiving immensely positive feedback from the customers we are working with and are excited to build on that momentum. It only takes a handful of forward looking and innovative individuals and companies to take that plunge, and prove that drone operations has true transformative power."
How can these deliveries in the maritime industry serve as learning points for larger scale operations and integration into airport environments? 
Sanjay Suresh emphasised that each PoC is an important step forward in fine-tuning their approach and processes, showcasing the safety standards adopted and familiarising key stakeholders with the industry across different markets. Furthermore, these drone flights provide them with the opportunity to test and validate new technologies and applications that in turn contribute to their roadmap for determining the viability and scalability of each individual operation.
Sanjay: "For instance, in 2021, we flew Beyond Visual Line of Sight (BVLOS) drone delivery flights for FedEx from Shannon Airport, Ireland's third busiest airport. These flights were taking off and landing at a location adjacent to the airport within controlled airspace, flying to three different locations at least 20km away. With our airspace management tools, and active deconfliction with Shannon ATC, we were able to operate these drones at the same time as manned aircraft. This demonstrated how future manned and unmanned aircraft can co-exist alongside each other and paves the way for operational processes that can enable this.
"In 2022, we made further progress in expanding the range at which we operate drones. We executed our longest single-leg flight to-date, covering more than 70km with a single flight and enabling an air transportation corridor to connect two islands in Korea. This provided an initial approach to studying alternative means of transferring cargo to remote communities living on these islands."
These Skyports PoCs serve as case studies for potential plans to integrate drone operations into airports. The involvement of aviation authorities and regulators is always necessary for each PoC. Early engagement with stakeholders is extremely important to build awareness and understanding of drone operations, thereby promoting their integration into airport operations.
Ultimately, by demonstrating the feasibility and safety of drone operations through a variety of PoCs, Skyports looks forward to integrating its operations into the airport environment on a larger scale.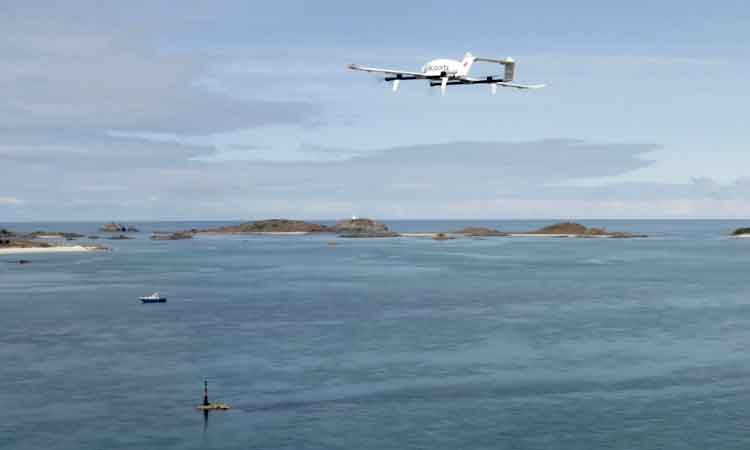 Turning into building a vertiport within an airport environment, could you tell us about your design considerations?
As per Pedro Cascales Dominguez, Skyports follows a site evaluation process that encompasses different aspects such as design and operations, airspace, constructability, local stakeholders' engagement, regulations and planning, and environmental and network ecosystem. Although building vertiports in dense urban environments brings significant advantages such as transport connectivity, it also presents challenges due to land availability and complex obstacle environments.
Pedro: "Airports are living cities on their own with constant air traffic operation, which is why the integration of vertiports adds additional design considerations. Vertiports should serve as a quick and efficient transport mode for passengers, thus the location of the vertiport (airside vs landside) is critical to ensure an optimal passenger journey and seamless connectivity between the airport and other nodes in the network."
As per Skyports, airport airside and landside locations should be considered in order to choose the best vertiport site. It will depend on its use, network routes, airport configuration and airspace availability. Vertiport placement and proposed routes will also define the facilities needed, e.g., security screening, customs and passport checks (if applicable). Airspace integration is also an important consideration in the airport environment where coordination with air traffic services is needed to support drone operations.
Pedro: "Agnosticism is a key Skyports design characteristic. Although Original Equipment Manufacturers (OEMs) have different certification timelines, vertiports at any location should be designed to be able to accommodate the majority of OEMs. This will not just allow vertiports to succeed, but also ensure the continuous growth and development of the industry in the upcoming years."
What are the key challenges that the industry is facing and immediate areas of interest?
The main challenges faced by the industry today are regulatory development, electrification and airspace.
Design regulations for aerodromes and heliports provide a foundation on which to build specific vertiport design requirements. However, they must be adapted to meet AAM industry challenges such as sizing requirements, electrification, and obstacles surfaces.
Pedro: "Skyports is highly involved in vertiport design guidance development, with principal aviation bodies and aviation regulators from different countries. The challenges with developing performance-based vertiport design standards are largely associated with the state of maturity of the industry, the lack of aircraft performance data due to slow testing programmes, or the lack of clarity on how eVTOL operations will be integrated with existing heliports and aerodromes."
Electrification is another area of interest for the industry as a whole, especially for Skyports, where its strategy aligns with the wider AAM sustainability goal. Vertiports require a high amount of power to operate. However, in most cases, the potential locations do not have the power needed available from the grid or, at least, not at a feasible cost and reasonable delivery timescales.
Pedro: "On top of that, the vertiport locations must account for suitable space and access for substations and power systems which can be challenging, especially in elevated sites. To achieve our goals, we work closely with different OEMs to capture the eVTOL operator requirements for charging operations and the charging limitations for OEM batteries in order to facilitate an initial launch phase."
Finally, access to airspace is another key industry challenge, especially when vertiports are located in the vicinity of airports.
Pedro: "eVTOL aircraft are expected to operate in visual conditions in the early stages, utilising existing helicopter routes or fixed routes agreed upon with the local aviation authorities. However, as the industry matures, instrument operations will take place, and the eventual development of a UTM system will manage increased traffic to allow the industry to scale to its full potential."
Finding ways to add to the connectivity of airports without negatively impacting their capacity and operations is a key challenge that must be addressed incrementally, on a case-by-case basis.
In summary, airports have an important role to play in the development of the AAM ecosystem, not only for the additional service to be offered to the passengers, but also because airports have the knowledge and expertise to make this a reality. Airport connectivity is anticipated to be a high priority use case in the early days, and eVTOL flight demand to and from airports is expected to be strong from the start. Now is the time when airports must consider evaluating applicable use cases for AAM in their environment as it may stimulate growth of existing airports. This visioning and use case mapping exercise is a critical first step of the journey.
About the interviewees

Sanjay Suresh is the General Manager (APAC) for Skyports Drone Services. Sanjay was appointed to expand the company's drone services business in APAC and has since grown the flight operations team to over 15 employees, serving operations in over three countries within the region.
At Skyports, he leads the APAC team in bridging the gap between drone technology and potential end-users, to bring a range of drone-enabled services to life. He is a strong believer in the transformative potential of Advanced Air Mobility (AAM) and works closely with key stakeholders and businesses in the region, and across Skyports' global network, to reimagine traditional processes empowered by drone technology.
Sanjay has over 15 years of experience in the aviation industry and is a trained drone, or Unmanned Aircraft pilot with over 1000 hours of flight time on various aircraft types. Owing to his technical expertise and domain leadership, he continues to be an active advocate for the incremental development of AAM technologies to benefit society.

Pedro Cascales is Senior Vertiport Planner for the global Advanced Air Mobility (AAM) infrastructure developer, Skyports. He is responsible for the planning and design of vertiport infrastructure across Skyports' portfolio of projects. In this role, Pedro also contributes to the company IP development and industry operational research.
Pedro is an aviation professional with an airport design background. He has been involved in remarkable airport expansion projects worldwide and also has experience as a consultant working in airport management and operations at Madrid Barajas Airport.
Pedro holds a Master's degree in Airport Management and a Bachelor's degree in Aeronautical Engineering from the Polytechnical University of Madrid.