CEO of London Southend Airport is focusing on long-term recovery and growth
As part of International Airport Review's exclusive CEO series, John Upton, CEO of London Southend Airport discussed his career, his key focus areas for the future and how they are working to deliver a high-quality airport experience for both passengers and staff.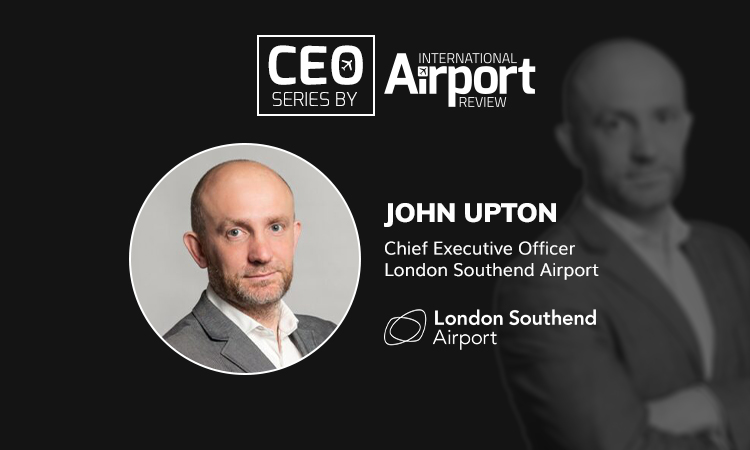 How did your career in the aviation industry begin?
After 20+ years' experience in a range of senior commercial and operational roles, my journey in aviation began as Chief Executive Officer for No1 Lounges (the leading international airport lounge operator) which I joined in 2018. 
Having led No1 Lounges through the pandemic, and its subsequent successful disposal, the role with London Southend Airport came along. The opportunity to get stuck into regrowing this business was just too good to miss. 
What is the most rewarding aspect of being an airport CEO? On the other hand, what is most difficult?
Working alongside our people is incredibly rewarding. We've got a tremendous team here who are, quite frankly, inspiring and it is crystal clear that everyone at our airport is deeply passionate and committed to our success.
However, it is challenging right now given that we're still recovering post-pandemic. We're effectively a 're-start up' project on a mission to get back to the 2+ million passengers we had travelling to over 40 destinations in 2019.
What are your key focus areas going forward?
Right now, all our activity is focused on recovery and our long-term growth. 
A lot of the airports around us have congested airspace and terminals, are expensive, have slow taxi and turnaround times with only limited available slots. We are up to 50-75% cheaper than a number of our local London neighbours in terms of operating costs. 
We are also considerably quicker in terms of turn around and taxiing times. We have in-house handling, so we are a one-stop-shop for airline partners. We are naturally close to Europe, so our airline partners don't have to navigate through the 'spaghetti junction' of airspace over London when they fly with us. 
Given this, we are a natural place for growth for airlines, with our low-cost base, an efficient operation and in close proximity to London, only 50 minutes away by train. 
How does the airport provide and pivot to accommodate a personalised passenger experience?
We don't need to pivot as an outstanding passenger experience is in our DNA. Our award-winning passenger experience is a real point of difference for us, and airlines and passengers can choose London Southend safe in the knowledge that they will get industry leading service.
For seven consecutive years we were recognised as 'Best Airport Terminal in London' awarded by Which! magazine's airport Passenger Survey (2013 – 2019).  
Looking to how we can improve going forward, we're working on a range of options. This includes making improvements to our online platforms as well as our in-terminal journey, to make the experience even more relevant and valuable to our customers.
How crucial is the workforce to the airport environment and overall ecosystem, and how can we abate the current issues around the lack of staffing and skilled workforce?
Yes, there are challenges across multiple sectors in the UK in terms of access to, and retaining, the best people.
Without our fantastic people, our airport wouldn't be able to operate let alone provide the experience that we want to deliver for our customers. It's that binary.
We are addressing this head on through living and breathing a positive culture right across our business and providing progressive career opportunities for our people.
In our people plan, we focus our efforts to attract and develop local talent, so that we can grow our own highly skilled team to enable us to thrive over the coming years. 
At this moment in time, what do you see as the biggest disruptor to the aviation industry?
Near-term, the primary headwinds are cost inflation, recessionary concerns and the ongoing geo-political challenges that are creating real turbulence for our industry. 
Given this backdrop, we are a solution for airlines to address these challenges with eight million passengers within one hour, our low operating costs and highly efficient operations.
Alongside this, customers and other stakeholders are increasingly keen to see the industry lead and activate its environmental plans to deliver its journey to Net Zero.
At London Southend, 25% of our energy usage is already being met by renewable sources generated onsite from our solar farm. In fact, since commissioning our solar farm, our total carbon saving equates to the planting of 40+ million trees. We are also currently working with our fuel suppliers to make sustainable aviation fuels (SAF) available to all those who fly with us.
What would you advise other smaller, regional airports to capitalise on the most?
Be a growth enabler, not just for airlines but for your neighbours in terms of jobs, opportunities and contribution to local activities and organisations.
In your opinion, how does the aviation industry need to adapt to secure its place in the future?
By demonstrating how we will continue to grow value sustainably to maintain and increase trust in all areas of our industry.
As I said earlier, customers and other stakeholders are looking for aviation to lead by example on the environment and to embrace new technology or ways of working for the benefit of current, and future, generations.
When I say the 'future of aviation' what is the first thing that comes to mind?
London Southend Airport!
Related airports
Related regions