The Circle: Zurich's second centre
Posted: 8 December 2014 | Beat Pahud, Project Leader, 'The Circle' Project
Switzerland's biggest commercial property development is taking shape on Zurich Airport's doorstep. 'The Circle' Project Leader, Beat Pahud, reveals how the project is set to revolutionise Zurich The Circle – a breath-taking plan which envisages a small town all in one building – is currently Switzerland's biggest commercial property development.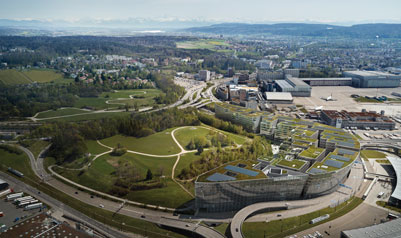 In walking distance of Zurich Airport's terminals, the new complex will take shape covering 37,000m2 of land and offering 180,000m2 of usable space. 'The Circle' will be a business and lifestyle centre that will include offices, catering, hotels, a large congress centre, new ways to showcase brands, a medical centre, educational and cultural services and entertainment. Owned and developed by Flughafen Zürich AG, Zurich Airport's operating company, with a co-investment from Swiss Life AG, the total investment in The Circle is SFr 1 billion.
Setting the stage for growth for the next generation
The Circle will be a bold statement at Switzerland's gateway to the world but it's also a project of strategic significance to Flughafen Zürich AG. When, in 20 years' time, aviation capacity has reached its limit, The Circle will provide a motor of growth for the company and the generations ahead. Opportunities for commerce and flight operations are finite, but to generate value, the company needs to grow. And combining Zurich Airport's existing commercial and aviation businesses with the largely service-orientated activities of The Circle will be a key move and will boost the overall quality of the region.
Zurich's second centre
The Circle will add a further piece to the Greater Zurich puzzle. It will create a second centre for Zurich. In recent years, the city has grown incredibly fast and has reached metropolitan dimensions but now it's crying out for a second centre. A new, expanded urban area will take shape in northern Zurich with The Circle playing a key role. Even today, thousands of commuters alight or change trains there, and not always because they're catching a flight, but because the airport has already become one of Switzerland's busiest mobility hubs. As well as meeting connections, people come to shop and because they are drawn by the presence of others. After all, the airport is today surrounded by offices and service providers.
One of the aims of The Circle is to give this already, somewhat informal, centre its own face and position in the market. Hence the urban style chosen by architect Riken Yamamoto and the range of services and attractions from stimulating showrooms to gourmet delights open to the public. The Circle will be a true town centre that's available for everybody.
Seven modules
The Circle is divided into seven modules: Health & Beauty, Hotels & Convention, Headquarters & Offices, Brands & Dialogue, Education & Knowledge, Counsel & Arts and Culture & Events.
Health & Beauty and Hotels & Convention together comprise around 60,000m2 and have been fully let to Zurich University Hospital and the Hyatt hotel chain. The globally renowned hotel group will operate two hotels, a Hyatt Regency with 250 rooms and a Hyatt Place with 300 rooms. A Convention Centre, also Hyatt operated, will be linked to both hotels, offering capacity for functions involving up to 2,300 people.
The Headquarters & Offices module will comprise around 75,000m2, while at the heart of the Brands & Dialogue module will be space for companies and representational facilities to foster contacts between businesses, customers and other partners. All entrances will be on the main level, alongside the avenues and squares, meaning they're at the most frequented and popular parts of the complex. The plans also foresee 'vertical spaces' – so called 'Brand Houses', which can rise over several floors.
The Swatch Group, as first tenant, is planning a two-floor brand house right on the main plaza. With its Omega brand, the Swatch Group's presence in The Circle will focus on innovations and Swiss watchmaking in addition to their variety of products. This concept makes the Swatch Group a perfect fit in the Brands & Dialogue module, which still has space for more tenants.
Two further modules – Education & Knowledge and Counsel & Arts – will house facilities for education and training, executive courses and art services and galleries. And the final module – Culture & Events – will include a multifunctional events area along with 10 different gastronomic concepts around the complex.
Not just a vision
Zurich's second centre is already taking shape, and it is expected to be complete, with the first phase of tenants moving in, in 2018.
To keep up-to-date with developments at The Circle, visit: www.thecircle.ch
Biography
Beat Pahud was appointed overall Project Leader for The Circle in February 2014. With a degree in rural engineering and management from Switzerland's Federal Institute of Technology (ETH), Beat worked for Zurich Airport in various roles between 1995 and 2004, including acting as Project Leader for overall central planning. After the airport was privatised, he headed the cargo business unit and was a member of Flughafen Zürich AG's Leadership Team. With Swiss International Air Lines as a key account, Beat was on the front line in the airline's revival as Zurich's home carrier. He subsequently took responsibility for the expansion and management of the airport's landside shopping centre. After leaving the company, from 2004 to 2011 Beat worked for Germany's Aldi supermarket group and in 2012, moved to Straumann, the Swiss medical technology group, overseeing its training academy until 2013.