Abu Dhabi Airport: A world-class experience
Posted: 7 August 2014 | Tony Douglas, CEO, Abu Dhabi Airports | No comments yet
Abu Dhabi Airports is a highly diverse business with two central themes – exceeding passenger expectations and achieving economic diversity, explains Chief Executive Officer, Tony Douglas.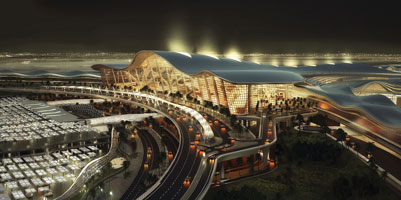 Abu Dhabi Airport Entrance
Visit any airport on any given day and you will see passengers embarking on holidays and business trips to different parts of the world. The larger the airport, the more airlines that operate there and the greater the number of destinations served. In the case of Abu Dhabi International Airport, its growing status as a major global aviation hub is being achieved not only through its location connecting the East with the West as the epicenter of world travel moves from Europe to the Gulf; but also through the massive ambitions of the UAE's national carrier Etihad Airways, which has been expanding at an exponential rate. The result has been an unprecedented rise in the number of passengers. In 2014, 16.5 million passengers passed through Abu Dhabi International Airport – 12.5 per cent more than the previous year and more than triple the number seen in 2006. 
As an airport operator with ambitions to be the best in the world, Abu Dhabi Airports needs to ensure that all its passengers are properly looked after. Our objective is to make the passenger's travel experience as memorable and enjoyable as possible, especially as they become increasingly affluent and their tastes become more discerning. Abu Dhabi Airports has therefore introduced a broad range of initiatives to cater for the different ways a passenger may choose to spend their time – be it food and beverages (F&B), shopping or rest.
To this end, an increasing number of leading brands have been attracted to Abu Dhabi International Airport. Abu Dhabi Airports has a long-standing relationship with Duty Free Shoppers (DFS), one of the world's leading luxury travel retailers offering products across the four pillars of luxury (fashion and accessories, beauty and fragrances, watches and jewellery and wines, spirits and tobacco). In March 2014, Abu Dhabi International Airport opened its new 'Fragrances by DFS' boutique. Located in Terminal 3, it is luxuriously designed over 2,726 square feet and displays a range of fragrances from all around the world, many of which are exclusive to the Middle East. The number of luxury clothing stores has also increased during the last year with the likes of Emporio Armani, Burberry, Hermes and Fendi, among others, all opening stores or expanding existing shops.
Other features recently introduced to improve the passenger experience include the future opening of a new VIP Terminal, where passengers can experience new heights of luxury and exclusivity. The VIP Terminal will be located next to the existing passenger terminals, and will transform the airport into a luxurious home-away-from-home. Abu Dhabi International Airport has also become the first airports in the world to offer transit passengers the opportunity to catch up on rest in sleeping pods that fold flat. They are available on a first-come, first-served basis for $10-13 per hour (depending on the length of stay). For those wanting a longer sleep, there is a Premier Inn Hotel conveniently located adjacent to Abu Dhabi International Airport, with direct access to Terminals 1 and 3. There is also a Golden Class Meet & Greet Service available to passengers with a personalised fast track guide to welcome passengers and take them through the entire airport including check-in, security, passport control or immigration, baggage and customs.
For passengers wanting a bit of excitement, Abu Dhabi International Airport offers a range of prize draws and other promotions. In January 2014, Abu Dhabi Duty Free launched a 'scratch and win' promotion offering shoppers the chance to win prizes of more than AED 500,000 in value, including diamond rings, cosmetics, perfumes, confectionary and gift vouchers. Abu Dhabi Duty Free's Big Ticket Millionaire, the long-running and extremely popular prize draw hosted at Abu Dhabi International Airport, has also launched a new location at the airport where anyone who purchases a ticket stands the chance of winning between 1 and 5 million Emirati Dirhams.
Abu Dhabi Airports' commercial offerings are not confined to duty free, though. In an effort to offer a broader shopping experience, Abu Dhabi Airports is expanding the range of customer services offered in its Skypark Plaza, adjacent to Terminal 3 and has invited new tenants to provide additional services and retail options, including spa services, gifts and souvenirs, optical services, hair dressing, fashion and accessories. The creation of the additional space is also in recognition of the needs of the surrounding neighbourhoods and business community, and the market potential.
The impact of this constant improvement in offering to passengers is evident in the numbers: retail revenue at Abu Dhabi Duty Free reached a record AED 912.7 million (US$248 million) in 2013; an increase of 13 per cent compared to 2012. While sales figures at Abu Dhabi International Airport in December 2013 alone were AED 92 million (US$25 million), making it the busiest month of the calendar year.
Looking ahead, Abu Dhabi Airports is intent on making the passenger experience even more memorable. This ambition will be significantly realised when the iconic Midfield Terminal Complex (MTC) megaproject becomes operational in July 2017. With a capacity of 30 million passengers per year, the MTC is unlike any airport terminal project that has ever previously been conceived. Its scale and design are awesome and once operational it will deliver a travel experience that passengers will find hard to replicate anywhere else.
The process for bringing this about has already started, not only with construction of the terminal itself (which is rapidly progressing) but also with the procurement of operators of the duty free and F&B outlets in the Midfield Terminal Building (MTB). The tender process commenced in May, and the revolutionary nature of the RFP reflects Abu Dhabi Airports' desire for bidders to reinvent the duty free experience: one example is the iPads contained in the RFP pack, which are installed with innovative technology, animation and augmented retail reality, enabling potential bidders to interact with the terminal through a three dimensional experience. The responses should, as a result, include commensurate 'Wow Factors' to tell product stories in new and exciting ways and give the spaces real personalities of their own. The MTB will incorporate the very latest designs and systems in all aspects of its operation, and the duty free areas will be no exception. With over 30,000m2 of available commercial space, there should be ample opportunity for the world's leading brands to meet this challenge.
Another area where Abu Dhabi Airports is looking to diversify its business model is through the establishment of the Abu Dhabi Airport Business City, which has a mandate to create additional Free Zones and to provide all the required Free Zone services at several of Abu Dhabi's airports, beginning with Abu Dhabi International Airport.
The Business City's jurisdiction spreads across more than 12km2 around Abu Dhabi International Airport, covering five commercial districts, namely the Logistics Park, T3 Business Park, Southside Destination Village, Al Falah District and Airport City. The past year saw the Free Zone master plan for Abu Dhabi Airport Business City completed and approved by the related authorities, accomplishing a major milestone. The purpose of the Abu Dhabi Airport Business City is to establish a unique and preferred business destination for international and local organisations in the aviation, aerospace, defence, airport services, logistics, cargo, freight, it and telecommunications, pharmaceuticals, consultancy management and trade industries, as well as other service providers engaged in aviation-friendly and light industrial activities seeking to gain advantage from close proximity to the airport for import and export purposes.
The Airports' Free Zone and Property Divisions provide numerous services including quick and easy registration of companies, assistance in obtaining all trading, services and light industrial licenses, leasing and Musataha agreements, employee services and visa-related services in a 'one-stop shop' environment. It offers value-added services specific to logistics, storage, freight and light industrial sectors. All tenants of the Logistics Park, Business Park and Business Centre – which make up the Abu Dhabi Airport Business City today – will be provided with a full spectrum of integration services including company registration, licensing, leasing and rapid visa processing for employees. They also will be able to enjoy duty and tax exemptions, foreign ownership, and repatriation of capital and profits.
Abu Dhabi Airports is a highly diverse business, with a wide range of commercial activities. However, each of these activities is bound together by two central themes: the desire to make passengers' experiences memorable and rewarding through the provision of high quality services and offerings at its airports; and a recognition of the important role that Abu Dhabi Airports has to play in achieving the economic diversity that is one of the aspirations of Abu Dhabi's Economic Vision 2030.
Biography
Tony Douglas joined Abu Dhabi Airports as CEO in March 2013 to spearhead the development of the airports' infrastructure in the Emirate of Abu Dhabi, including the iconic 700,000m2 Midfield Terminal Building. Prior to this appointment, Tony was CEO of Abu Dhabi Ports Company for three years. Before moving to the UAE, Tony was the CEO and Group Chief Executive for Laing O'Rourke, and prior to this he held many senior executive positions at BAA, culminating in his appointment as Chief Executive in charge of London Heathrow Airport. He was also an executive member of the BAA Group Board. During his career, Tony has also been Managing Director of Heathrow Terminal 5; BAA's Group Technical Director; and BAA's Group Supply Chain Director. He started his career at General Motors where he joined as an Industrial Engineer, before moving to British Aircraft Engineering in 1990 where he rose to become Product Manufacturing Director in the Regional Aircraft Division. He then moved to Kenwood Group as Manufacturing and Global Logistics Director.