PIDS & FIDS: Achieving optimal flow
Posted: 17 June 2014 | Anders Nielsen & Lone Teist, Billund Airport | No comments yet
Anders Nielsen and Lone Teist reveal how Billund Airport is using flight displays as a strategic tool to help passengers gain the most optimal flow through the airport.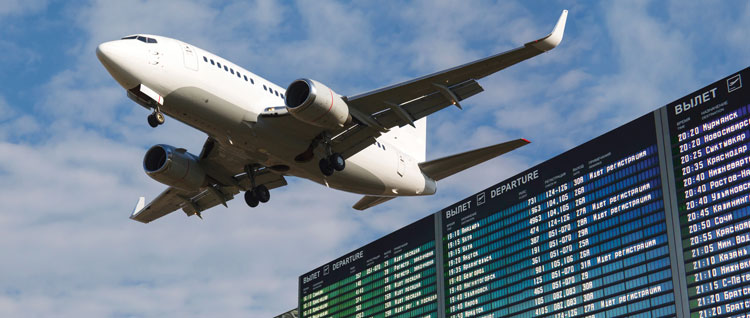 Today, approximately 80 per cent of passengers travelling on scheduled flights and approximately 86 per cent of passengers on charter flights use self-service check-in. Given these figures, airports must make an effort to meet changing demands and adjust to constantly changing e-initiatives in order to ensure passengers can travel through an airport in a timely and effective manner. Easy-to-navigate and reliable flight information is crucial.
Located in the western part of Denmark, Billund Airport is the country's second busiest airport after Copenhagen and more than 95 per cent of its air traffic is to European destinations. For the 2.7 million passengers who pass through the airport each year, the journey starts at www.bll.dk. On the homepage, flight details are deliberately divided under two headlines: Arrivals and Departures. A visual pictogram is also used to ensure that users can identify the correct button as soon as they look at the screen.
Through just one click, the user can view concise and live flight details. A 'today' timeline indicates the period for which flights are shown and a green box makes it easy for the user to navigate through various time periods throughout the day. The green time box can easily be adjusted to reflect the required time period.
Only the most essential information about a flight is displayed (see Figure 1).
By clicking on the check-in icon, the user is automatically led to the available check-in site, which will either be directly to a specific airline or to Billund Airport's own 'web check-in'. In general, web check-in for scheduled flights is handled via the airlines' own homepages, whereas charter flights are handled directly though Billund's website.
Billund Airport has developed its own check in system LCA (Local Check-in Agent) which is used for charter flights. The system has an indispensible web check module and flights are displayed on the website homepage as soon as the flight has been loaded with a Passenger Name List and is being prepared for check-in. Via a green or red light, users can easily determine if the flight is also open for check-in (see Figure 2).
The additional 'SMS' service column is optional. By clicking on this icon the user can subscribe to a specific flight and will then receive text messages whenever the flight status changes – for example when the gate opens, boarding begins, final call, etc. The same option is offered for arriving flights, so the user can opt to receive updates about whether a flight has landed or is delayed. This type of flight display, which is accessible even on the move, has been highly appreciated, particularly in relation to passenger pick-up.
Once a user has checked in and has passenger status, the next step is to travel to the airport. When entering Billund Airport, passengers are met by two large information boards, each equipped with a 7m2 active display area of 1024 x 192 pixels (Figure 3).
Each information board can be programmed to display various types of data and can handle different data files and data sources. Both boards are fully integrated with Billund Airport's FIDS (Flight Information Data System). As well as displaying flight operation information, the boards are also used to promote airport services. For example the boards promote the use of self-service check-in and a new streamer runs along the bottom with a welcome greeting and additional information for Business Class customers.
The boards were chosen based on their flexible display layout and format. Billund Airport handles flights from around 45 different airlines and with only one terminal, the information boards play a key role. Not only in terms of flight information, but also as a way-finding tool that naturally leads the passengers through the terminal in the most effective and optimal way. Airlines have different setups, and in order to meet the needs and expectations Billund Airport strives to achieve, flexible solutions are required.
Flight displays in Billund Airport's Tax Free area also have a strategic position. Smaller monitors are used, which are positioned so that passengers are naturally led through to the gates. Again, flight display signage also acts as an important tool in the way-finding strategy. The following terms are all used in connection with each flight:
Gate Open
Boarding
Final Call
Closed
Departed
These terms have been thoroughly planned to encourage a particular passenger action. Commercial promotion also plays a key role. For example, instead of displaying 'Go To Gate', the wording was changed to 'Gate Open'. The effect of giving passengers a reference rather than an instruction was seen immediately as they remained in the Tax Free area rather than proceeding to and waiting in the gate area to board. No doubt that Billund Airport's infrastructure also helped to make the 'Gate Open' command possible.
Billund Airport's FIDS is built upon the airport's mission to ensure accurate and timely information leading to passenger satisfaction, and to ensure that the high level of quality service that is expected is delivered.
Biographies
As Vice President for Project & Development, Anders Nielsen has been responsible for the development of Billund Airport for the last 15 years. Originally educated as an architect at the School of Architecture in 1977, Anders has completed many project developments including a new main railway station near Copenhagen and a new ferry terminal in Elsinore. He has been employed at Billund Airport since 1998 and led the airport's €125 million expansion project in 2002. His responsibility also stretches to business development, strategy planning and sustainable development and IT solutions.
As Service & Quality Manager, Lone Teist has the responsibility for the internal quality system at Billund Airport. Lone is also a Key Account Manager for a number of the airlines which operate at Billund Airport. Educated as a Forwarder in 1994, Lone received her Private Pilot License in 1996 and in 1997 began working at Thule Air Base in Greenland as an Airport Superintendent. From 2000-2002 she was a Team Leader at Novia, Copenhagen Airport and since 2002 has been employed at Billund Airport where she takes part in many transversal projects.