Interview Spotlight: Rheinmetall Canada
Rheinmetall Canada's Pierre Alègre discusses the role of electric air start units in building a safer, cleaner future for aviation.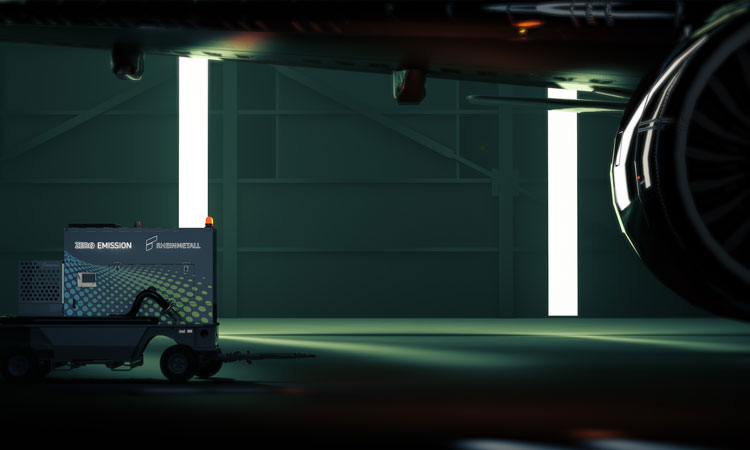 What led Rheinmetall Canada to develop a 100 per cent electric air start unit?
The aviation industry is seeing a significant move toward lower emission levels and healthier air quality at airports. While this change is partially due to local government regulations, many stakeholders are genuinely interested in reducing their environmental impact. What's more, these companies know that green initiatives are a massive plus in the eyes of their customers.
Rheinmetall Canada is committed to helping its clients achieve their goals: more sustainable airports with better ground support working conditions. That is why we have worked hard to develop and launch the world's first 100 per cent electric air start unit, the Rheinmetall eMSU.
How does the new Rheinmetall eMSU meet customer needs?
The eMSU is fully electric, battery-powered, mobile, and it does not need to be plugged in to operate. It is powered by lithium-ion battery packs that ensure maximum running time and minimal energy loss. The eMSU can be charged in as little as one hour when plugged into a high-voltage DC charger. It can be charged from a regular power grid interface or any electric vehicle charging station. We have consulted with numerous airports and everyone is following this market trend: many already have charging stations in place and those that don't are committed to installing them.
Another great feature of the eMSU is its increased airflow capability. Thanks to a 250 pounds per minute (ppm) bleed air output, the unit can start almost all aircraft engine types. We wanted our product to work for the largest group of customers possible. The eMSU is suitable for use in all climates and, of course, it meets all the most stringent emission restrictions currently out there, plus even stricter ones that are planned for the future!
How does the eMSU differ from other air start units on the market?
Compared to a diesel air start unit, our eMSU is incredibly low-maintenance and operates much more reliably in extreme weather conditions. It eliminates fuel consumption costs – both in the usual sense, in terms of financial cost, but also the environmental cost of burning fossil fuels.
We already have a great success with our turbine air start unit, which has been on the market since 1996. The Rheinmetall MSU is recognised worldwide as trustworthy and virtually maintenance-free, with an extremely long service life of 20-plus years. With the new eMSU, we have taken those aspects and improved them even further. And as always, Rheinmetall Canada is dedicated to forming long‑term partnerships with its customers and ensuring its products continue to meet their needs for decades to come. 
Issue
Related topics
Related organisations