Cleaner, Greener Airports: Making Aviation More Sustainable – Bangalore International Airport
In this instalment of International Airport Review's exclusive series, Hari K Marar, Managing Director and CEO of BIAL, discusses the transformation Bangalore International Airport has undergone and the growth the airport has driven through a pioneering sustainable mindset.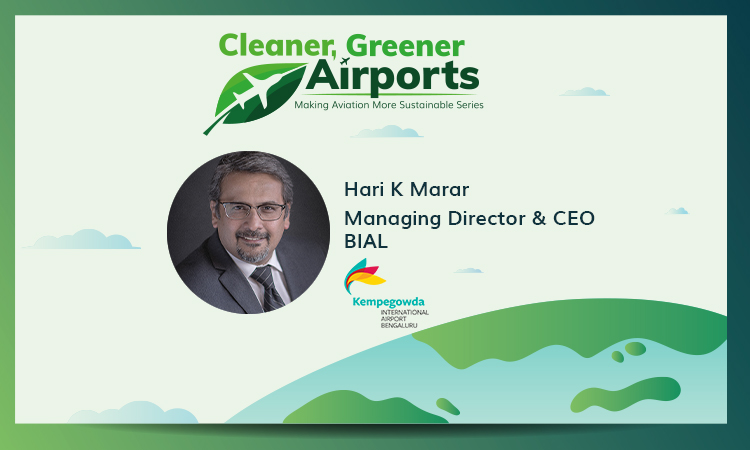 Fifteen years ago, Devanahalli — home to one of India's fastest growing airports — was a quiet village, far away from the hustle and bustle of the city. Situated on the fringes of Bengaluru in India, Devanahalli has since undergone a massive transformation from being an agricultural hub into a thriving community – a change driven by the growth of Bangalore International Airport (BLR).
Since inception in 2008, BLR Airport has become a key driver of the regional, as well as national, economies. In its 13-year journey, BLR Airport has welcomed 229 million passengers, served two million air traffic movements and processed 3.5 million metric tonnes of cargo.
As the country's third busiest, BLR Airport has remained focused towards creating a sustainable future. Connecting Bengaluru (the Silicon Valley of India) to the world, the airport is taking all steps to ensure that its growth is sensitive to the environmental and economic needs of the surrounding communities.
Before starting operations, we set ourselves an ambitious goal of making the environment and land on which this greenfield airport was built, a better place than it was. Sustainability is a significant part our corporate purpose and this responsibility has made us embrace actions and make choices towards environmental conservation at BLR Airport and its surrounding areas.
In order to support this, we have constantly sought to build partnerships with stakeholders through principles that address environmental sustainability, economic stability and social responsibility.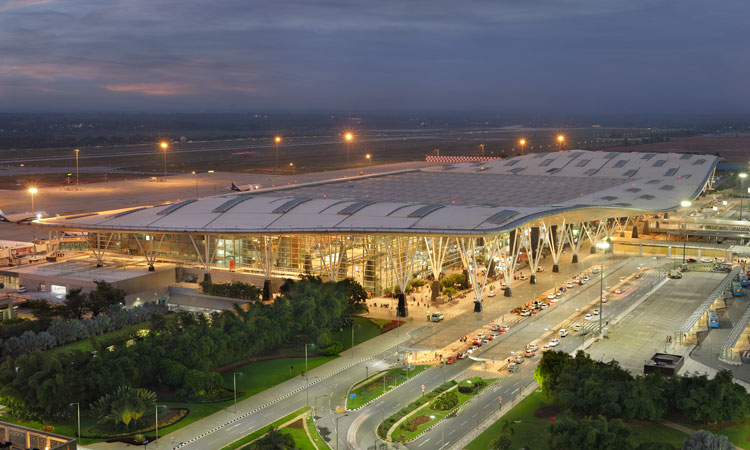 A pioneering mindset
In the last decade, BLR Airport has implemented best practices to achieve its sustainability goals and has been in the forefront, making great strides on this front.
Be it introducing cutting-edge technology, launching innovative services, or exploring unique concepts, this pioneering mindset of BLR Airport fuels our environmental strategy and helps us move forward towards achieving our sustainability goals.
The campus, which was once water depleted, is now water positive and has become energy neutral, with near 100 per cent consumption of energy through renewable sources. We have also made great efforts to restore the past glory of Devenahalli pomelo, a citric fruit that is associated with the region.
Water positivity 
Water is a precious resource in the region where BLR Airport operates. The region was categorised as an over-exploited area, meaning the extraction rate from aquifers is greater than the recharge rate.
Running an airport in such a water-depleted area posed a huge challenge as BLR previously consumed a substantial volume of water to maintain its infrastructure and conduct round-the-clock operations. It was crucial for us to adopt strong water conservation practices. 
Risks were evaluated and opportunities were explored to initiate various projects to improve the ground table. As a result, the BLR Airport campus became water positive from 2019. This means the rate of replenishment is more than the consumption rate. For every litre consumed, 1.37 litres of water are replenished.
Becoming water positive meant that the airport does not have to rely on municipal water supplies for its day-to-day operations. Ground recharge, lake recharge and an integrated management of liquid and solid waste to avoid contamination of ground water, were initiated to improve water resources.
With an aim to avoid water wastage within our campus, treated water is used to cater to the vast landscape and other water requirements such as air conditioning and firefighting. We have also built drains to direct excess water flow to Bettakote Lake, a sprawling body of water adjacent to BLR Airport.
Moving from the conventional set up, BLR Airport has adopted innovative technology to improve water usage efficiency across the facility. Low-water consumption fixtures across washrooms in the terminal were installed and we deployed a weather-based Smart Automatic Irrigation System to manage our sprawling 100-acre landscape.
This first-of-its-kind weather based Smart Automatic Irrigation System can be controlled from an app on a mobile phone. It irrigates plants based on the calculation of various parameters, including the evapotranspiration, soil moisture, and weather conditions.
Equipped with a Hydro-pneumatic Pump Station and Automatic Filtration Unit, the irrigation system enables water saving of up to 30 per cent over conventional modes of irrigation. This smart irrigation system applies precise amounts of water, based on plant requirement and minimises water wastage due to evaporation. 
The aim is to consume water responsibly, by reusing, recycling and replenishing water bodies.
At BLR Airport, our holistic sustainability efforts are also contributing to the economic and social development of the community.
Access to safe drinking water had become a challenge for the community around us. This resulted in us installing rooftop rainwater harvesting units in five villages surrounding the airport to provide safe drinking water for the community, impacting more than 300 families. This will enable access to safe drinking water and improve the water table in the region.
Energy neutrality 
Airports operate around the clock and are constantly looking for ways to source power to keep their energy-hungry operations on track. BLR Airport has a sprawling 4,000-acre campus, with a 150,000m2 terminal, two runways and infrastructure that requires significant amount of energy.
With a focus on our energy consumption and its impact on climate change due to greenhouse gas emissions, we implemented various measures to reduce its impact on the environment.
Rooftop solar panels were implemented, installations on airside were executed and initiated an off-site, power-purchase agreement for wind and solar energy. As a result, the dependency on non-renewable sources of energy was reduced, making BLR Airport net energy neutral.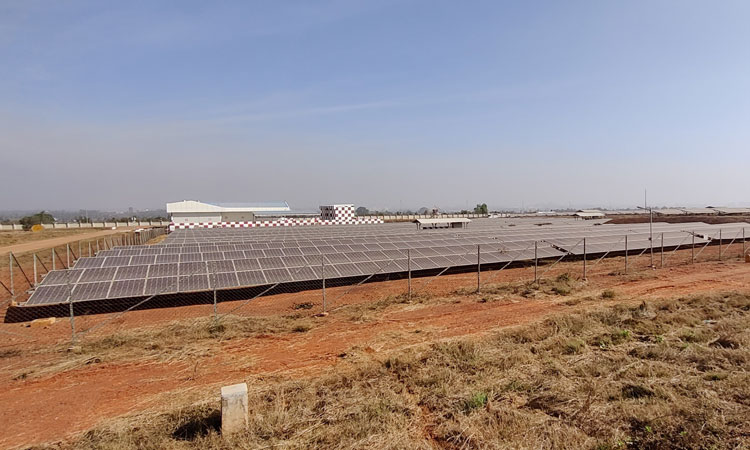 As an outcome of energy conservation, BLR Airport has been able to save nearly 2.2 million units of energy in fiscal year (FY) 2020 to 2021, enough to power nearly 9,000 houses for a month. Furthermore, 0.5 million units (kWh) were saved from lighting, and we implemented chiller plant optimisation in heating, ventilation, and air conditioning (HVAC), which has resulted in saving over 1.7 million units (kWh). To maximise energy savings while increasing the lighting and visibility with minimal glare, both runways are powered with LED lighting systems and the streetlights were converted to LEDs.
As a result of all our energy management efforts, BLR Airport was able to save 50,000 tonnes of carbon emissions.
BLR Airport is one of the leading players in the Airport Carbon Accreditation initiative, launched by ACI Europe, which has become a global benchmark for airports. BLR Airport has retained the Carbon Accreditation Level 3+ from ACI and we are working towards upgrading our ACI accreditation to Level 4+ by FY 2021 to 2022.
Environment management
As India's first greenfield airport to be established on Public Private Partnership (PPP) principles, our efforts are focused on carefully managing environmental responsibilities.
As part of our goal to achieve zero landfill, we are working towards building an in-house Solid Waste Management facility to manage waste generated at the airport.
Single-use plastics have been banned at all retail and F&B outlets within the airport. The outlets have also been encouraged to use Bagasse for packaging which is 100 per cent biodegradable and compostable.
BLR Airport became a pioneer in using plastic waste to lay roads within the campus. After a successful road trial using a mix of plastic and bitumen, the airport built polymerised roads that have a strong binding ability and can withstand extreme weather conditions. We have undertaken various landscaping and afforestation drives, provisioned several e-charging pods and emission control mechanisms to achieve our sustainability goals.
Ambitious growth plans
While we are proud of how far we have come, we are also aware of how the long the road ahead is. BLR Airport has ambitious plans of welcoming 90 million passengers per annum in the next few years, and as we grow to meet future demand, we seek to help shape this growth through sustainable development. We are confident that by making our operations completely sustainable, we will inspire others to make a commitment towards sustainability to ensure a greener future.

Hari K. Marar is the Managing Director and CEO of Bangalore International Airport Limited (BIAL), the operator of the Bangalore International Airport, the third largest airport in India. Hari is also the Chairman of Bangalore Airport Hotels Ltd. and Bengaluru Airport City Ltd. (BACL), which are the subsidiaries of BIAL. BACL is developing the airport campus into an aerotropolis, or airport city, that will be home to multiple businesses such as IT parks, knowledge and business parks, health care, biotechnology, as well as retail, entertainment, dining, concert arenas and hospitality. His vision is to transform the airport into a global leader and role model in the areas of sustainable practices, innovation led progress and technology leadership.