Freezing out winter weather delays at Chicago O'Hare
Jamie L. Rhee, Commissioner of the Chicago Department of Aviation, tells International Airport Review about the $168 million Central De-icing Facility that opened at Chicago O'Hare International Airport in 2018, which has been reducing winter weather delays ever since.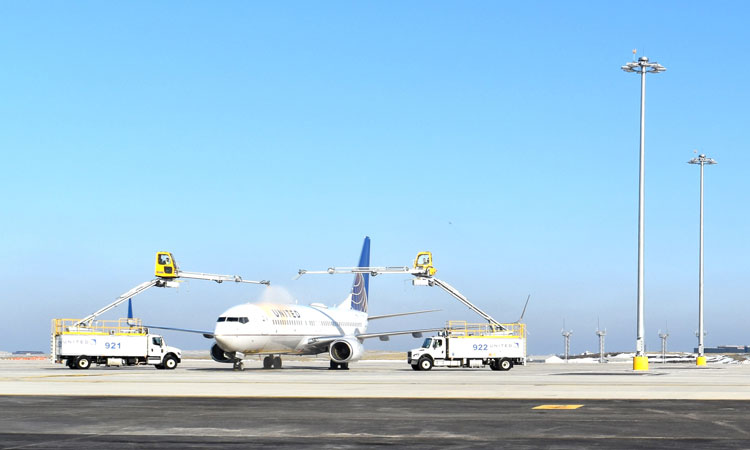 Credit: Chicago Department of Aviation
Cold and snowy winter weather is a fact of life in the Midwestern United States, and the Chicago Department of Aviation (CDA) is always at the ready to keep operations at Chicago O'Hare International Airport (ORD) and Chicago Midway International Airport (MDW) running as smoothly as possible in the event of adverse winter conditions.
While icy runways and taxiways can pose logistical challenges, the Central De-icing Facility (CDF) at O'Hare supports our airline partners by providing a dedicated space to de-ice aircraft away from terminal gates and closer to their departure runways during snow events. This improves access to gates and increases operational efficiency during the cold weather months. Prior to the CDF's construction, airlines de-iced their aircraft at the gates.
The CDF was built to streamline operations; maintain the safety of passengers and employees; and reduce winter weather delays at one of the nation's busiest airports.
The CDF was built to streamline operations; maintain the safety of passengers and employees; and reduce winter weather delays at one of the nation's busiest airports"
The $168 million project was first conceptualised in 2013, with construction beginning in April 2017, taking advantage of the increased airfield capacity created by the ongoing O'Hare Modernisation Project (OMP). After about 20 months of work, the facility was commissioned on 27 December 2018.
Crews laid more than 3.5 million square feet of concrete for the CDF and the new taxiways that connect it to the rest of the airfield – more than twice the amount of concrete that was used to construct O'Hare's runways. The design and construction phases of the project created an estimated 800 jobs. As with all CDA capital projects, no local taxpayer dollars were used for construction.
A CDF fit for a busy airport
At 835,350ft2, the CDF features the second largest, single-pad airport de-icing facility in North America, and the third largest overall, even compared to other multi-pad operations. The pad, roughly the size of 17 football fields, can accommodate 20 narrow-body aircraft or five wide-body aircraft at a time; each wide-body slot accommodates four narrow-body planes.
The four-storey ramp tower allows airlines to direct aircraft in or out of the pad and control their individual de-icing operations. A state-of-the art lighting system allows the CDF to be used 24 hours a day and helps to increase visibility during snowstorms.
Once an aircraft enters the CDF pad, it is serviced in areas dedicated to its specific airline. The facility provides airlines with access to equipment, de-icing fluid storage and other ancillary de-icing functions, while sustainability features in the CDF's design allow de-icing run-off to be recycled.
A full winter weather strategy
The CDF is just one part of O'Hare's comprehensive winter weather preparedness strategy, supplemented by operations staff at the ready to deploy snow removal equipment, road salt and de-icers as needed. Airlines can still also de-ice aircraft at the terminal gates.
Over the 2020-21 winter season, O'Hare experienced 48.8 inches of snowfall over 24 snow events and had a fleet of 267 units of snow removal equipment ready to respond to inclement weather, along with a staff of 528 motor truck drivers. The airport used a total of 9,357 tonnes of road salt, along with a total of 1,481,100 gallons of potassium acetate liquid runway de-icer and 286 tonnes of sodium formate solid runway de-icer.
In the 2019-20 season, nearly 35 inches of snowfall hit O'Hare over the course of 21 snow events, with 261 units of snow removal equipment and 544 motor truck drivers supporting operations. Airport crews used 6,888 tonnes of road salt, in addition to 241 tonnes of solid runway de-icer and 1,644,400 gallons of liquid runway de-icer.
The successful implementation of the CDF and O'Hare's other winter preparedness efforts are compounded by the ongoing modernisation of O'Hare's airfield, which marked a major milestone in November 2020 with the commissioning of Runway 9C-27C. Ground was broken on the last segment of the OMP, an extension of runway 9R-27R, in 2019 and will cap off 16 years of continuous runway construction at O'Hare when it is completed later in 2021. Improvements made under the OMP have led to a 61 per cent reduction in system impact delays when comparing 2003-2008 to 2009-2019.
In addition to playing a central role in O'Hare's winter operations infrastructure, the CDF also provides operational relief over the summer months during ground holds for inclement weather.
The continued success of the CDF will support O'Hare and its airline partners as the airport prepares for its biggest terminal expansion yet under the O'Hare 21 project. With the support and leadership of Mayor Lori Lightfoot, the $8.5 billion capital improvement programme will deliver more gates, new passenger amenities and create new economic opportunity to support the city and its future, bringing the airport into the 21st century. These investments are designed to modernise facilities, expand terminal capacity and enable O'Hare's future growth to better connect travellers and Chicago to other parts of the world, while also creating new opportunities for participation by minority- and women-owned businesses. 

Jamie L. Rhee is the Chicago Department of Aviation's (CDA) Commissioner and has an extensive history in public service and the aviation industry, overseeing more than 50,000 badged employees who have kept O'Hare and Midway International Airports running throughout a year like no other.
Under Rhee's leadership, Chicago's procurement reform efforts have received national and international recognition, and Rhee has been recognised with a dozen awards from industry organisations for her contributions to public service.
In early 2021, Rhee was elected to the Board of Directors of Airports Council International – North America (ACI-NA), which works to strengthen the commercial aviation industry in the US and Canada and promote cooperation between airport governing bodies.