Cleaner, Greener Airports: Making Aviation More Sustainable – VINCI Airports
In the latest instalment of International Airport Review's sustainability series, VINCI Airports – the operator of 45 airports in Europe, Asia and the Americas – explains why the operator is confident of reaching the target of net zero emissions by 2050.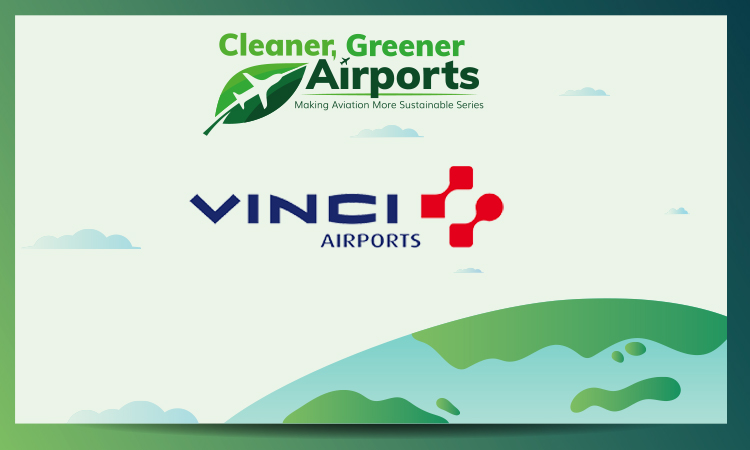 The environmental dynamic of aviation has never been so strong. All the major players of the sector are taking action, as is VINCI Airports. A leader in our industry – we are the first private airport operator in the world – we are turning our strong business footprint into environmental leadership.
The value of emulation
VINCI Airports has been built on a culture of achievements. On many occasions, we have been the first airport player to take action, such as entering new markets or launching unique operational innovations. As a leader, we think it is important to pave the way and show that yes, change is possible. Our culture of leadership has been creating emulation across our industry. Today, this pioneering mindset fuels our environmental strategy and helps us move forward with our ambitious plan.
In 2016, we became the first airport operator to launch a global environmental action plan involving all its network of airport. The result of this unprecedented move is that five years later, all our 45 airports are committed to a low carbon approach in 12 countries. Being the most advanced global network of airports for decarbonation enables us to deliver results on a wide scale: between 2018 and 2020, we have been reducing our carbon footprint by 22 per cent.
A leader in our industry – we are the first private airport operator in the world – we are turning our strong business footprint into environmental leadership"
We have been taking this momentum even further over the last few months, despite the pandemic, with two new 'firsts' for the environment. In January, VINCI Airports was the first operator to introduce a modulation scheme of landing fees depending on CO2 emissions of aircrafts – inciting airlines to renew their fleet. In the same vein, we recently became the first airport operator in France to make sustainable biofuels available to our users.
The COVID-19 crisis did not stop our photovoltaic curve either. We added +8MWp of cumulated solar power to our network during the last months – and we have now reached 17MWp, thanks to our photovoltaic plants in the Dominican Republic, Brazil, the UK and Chile. And we keep accelerating, as we have just launched the first in-airport solar plant in Portugal at Faro. This 3MWp solar plant is another step towards our target of multiplying our solar capacity by four in the next months, thanks to projects in France, Portugal, Serbia and Sweden.
Driving positive change in all geographies
With 45 airports in 12 countries. VINCI Airports operates one of the most internationally extensive airport networks. This international footprint is another a strong driver of change, as it enables us to deliver tangible progress in all geographies.
In Brazil, Salvador Bahia Airport (SSA) is a perfect example of our capacity to deliver new ideas in new countries. Concessionaire of the airport since 2017, we have been unrolling our environmental plan, making the airport a showcase of sustainable mobility in Brazil:
First airport in Brazil with its own solar central
First airport in Brazil to achieve zero waste to landfill and the only one to have maintained this target even during the COVID-19 crisis
First airport in Brazil to have zero liquid waste, with 100 per cent of treated wastewater recycled in the sanitary facilities and for the cooling towers
100 per cent equipped with LED lights.
This positive track has led the national regulator ANAC to name Salvador Bahia the most sustainable airport in the country for the second year in a row.
The same environmental leadership is at play on the Dominican Republic, where VINCI Airports' subsidiary Aerodom became, in 2020, the leading private producer of photovoltaic energy, by installing almost 7MWp solar capacity on its network of Dominican airports.
Another example in Cambodia. At the country's capital city Phnom Penh Airport (PNH), we are not only exemplary on our own perimeter – Phnom Penh Airport achieved the ACA level 2 certification in 2020 – but we are also taking action to innovate for our whole eco-system or airlines, passengers and partners. We bring solutions to help them reduce their own environmental footprint. For instance, with systems that allow aircrafts on the ground to use electrical energy provided by the airport, rather than their own kerosene-consuming power units.
Paving the way to net zero carbon emissions with new ideas
The run towards the net zero emission target is a virtuous circle – one that creates healthy competition among airport operators thanks to the emulation it results in. We are again pulling the move: we have just announced that Lyon-Saint Exupéry Airport (LYS) will be the first commercial aviation airport in France to achieve the net zero emission target by 2026.
To do so, we will continue our efforts to reduce Lyon-Saint Exupéry Airport's carbon footprint, until we reach the incompressible minimum of emissions which is around 400 tonnes of CO2. Even if this amount is just the final step of our decarbonation action plan, we saw an opportunity to innovate and bring fresh ideas: a reforestation programme to absorb Lyon-Saint Exupéry Airport's residual emissions.
Forest carbon sinks has been there for a while, but we are taking the solution to a new level, with three innovative ideas:
Saved for last: forest carbon sinks should not mean the right to pollute. We at VINCI Airports reforest only as the last resort, for our incompressible emissions, after all the value chain has been decarbonised
Local: VINCI Airports commits to local action, creating positive impact for the regions we serve. Our reforestation parcels are located within the influence of our airports. For instance, our programme at Lyon-Saint Exupéry Airport is located about 30km away from the airport
Inclusive: airlines and even passengers will be able to participate and use VINCI Airports' reforestation programmes. This will be of particular interest to airlines in France as of January 2022, since the Climate and Resilience Law will require the compensation of all domestic flights.
This third objective complies with our commitment to innovate not only for us, but also for our partners and clients. For us at VINCI Airports, being a leader means reaching actors beyond our own perimeter and this is the reason why we always seek to provide airline companies with solutions for their own environmental transition.
Our environmental pragmatism is at the heart of our decarbonation strategy, and it has given us the responsibility and ability of being a driver of transformation for our industry as a whole.
Today, the positive results we have managed to reach make us confident about our ability to meet our future goals. By 2030, VINCI Airports will have halved its network's carbon footprint, in order to reach the net zero emission target for all of our airports by 2050.
This is VINCI Airports' core value: transforming the climate emergency into a vehicle of growth and development for the territories where we operate, by putting our business leadership at the service of their environmental transition.