Edmonton Airport: North America's gateway to Asia
Myron Keehn, Vice-President of Air Service and Business Development at Edmonton International Airport, writes of the airport's proximity to Asia, and its plans to position itself as a key entry point into North America through cargo expansion.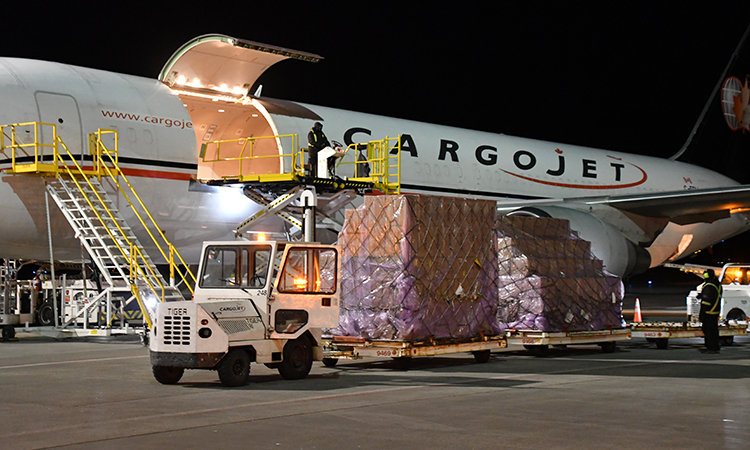 Credit: Edmonton International Airport
If you look at a map on a wall, Edmonton in Alberta, Canada, doesn't look like it's close to Asia. Not only is the Pacific Ocean in the way, but so is the western part of Canada and the Rocky Mountains, as well.
Now, grab a globe and take a second look. Draw a line north, up and over the northern Arctic and come back down south towards Edmonton. Surprise – Edmonton is a lot closer than you think. In fact, Edmonton is one of the closest major cities in North America to many parts of Asia. Edmonton has often been called Canada's Gateway to the North, but it is probably more fitting to be called North America's gateway to Asia.
Edmonton has often been called Canada's Gateway to the North, but it is probably more fitting to be called North America's gateway to Asia"
This little-known fact is a key part of a strategy that has been years in development for Edmonton International Airport (YEG). Our goal is to position our airport and our entire region as a key entry point into North America overall; both for cargo shipments from Asia and as a location for companies looking to expand.
In the past several years, I've made multiple trips to China, Japan, South Korea and other locations, often working with provincial and national government trade officials to highlight our region and plant the seeds for future opportunities. The COVID-19 pandemic has obviously limited travel in the past 12 months, but this work has begun paying off. In the past few years, YEG has signed agreements with several Asia-based companies for them to establish themselves at our airport as their North American headquarters or as their entry point within our Airport City.
These include companies with a focus on light industrial manufacturing and sustainable development.
Edmonton's Airport City
YEG's Airport City is a mix of light industrial and logistics companies, but also includes the Alberta Aerospace and Technology Centre and tourism-based attractions and retail opportunities, such as a horse racetrack, a casino and shopping outlets. We are Canada's largest airport by land area, with 7,700 acres of space, and we aim to make the most of it.
Many of these Asian-based companies fit our goal of also developing a Sustainability Campus within our Airport City. We are working with a European developer to construct Airport City Solar, the world's largest solar farm at an airport, 627 acres in size.
Expanding YEG's cargo facilities
With all of these building blocks in place, now is the time to focus on our own airport facilities. With support from Canada's National Trade Corridor Fund, YEG is moving forward with a CAD $36 million expansion of our cargo facilities.
This will be the largest single investment in our cargo operations in many years. The project breaks down into three main components:
Expansion of the primary cargo apron area by 47,000m2. That's equal to roughly 37 Olympic-level swimming pools in size. A new connection from the runway to the apron will also be constructed
A new hydrant system that will tie into the two two-million-litre Shell Aviation Fuel tanks, which were also recently constructed. This means faster and more efficient refuelling and less trucks on the apron to increase safety
Expansion of our cold storage capacity by 1,400m2. This will increase YEG's cold storage area to nearly 2,000m2.
These expansions are coming at a critical time in our cargo strategy. In 2020, the airport and its partner cargo companies handled 46,000 metric tonnes of cargo, a 7.5 per cent increase from 2019. This included medical supplies and equipment, as well as increases in e-commerce. Those numbers may be small compared to major global hubs, however, from 2014 to 2018, YEG recorded a 25-times increase in international overseas exports from its facilities. The entire airport is a foreign trade zone operating as Port Alberta. YEG is also the only airport in Canada with the International Air Transport Association's (IATA) globally recognised CEIV Pharma certification. This means that we meet the highest standards in the world for handling temperature-sensitive pharmaceutical cargo. These skills and systems also support agriculture and food product exports, which is a key industry in our region.
Growing trade
Logistics and transportation is a growing industry for our entire community, supporting between 63,000 and 73,000 jobs. Edmonton is closer to Beijing and Guangzhou than any city in the lower 48 American states. Edmonton also out-competes most North American jurisdictions in proximity to Seoul, Tokyo and Manila. In the case of Seoul, Seattle is the only American jurisdiction closer than Edmonton (and just barely).
As our cargo operations look to the future, we plan to incorporate technology and innovation, and our systems will be designed to maximise efficiencies for e-commerce and express cargo goods"
As our cargo operations look to the future, we plan to incorporate technology and innovation, and our systems will be designed to maximise efficiencies for e-commerce and express cargo goods. We know that e-commerce trends will continue growing. The pandemic may have accelerated these trends, but they were already there and will certainly continue. Cargo flights from Asia to North America will carry predominantly e-commerce products.
In addition to our operations, Edmonton is home to extensive railway loading facilities and has access to two Class 1 railway systems. We are the first major stop on the railway system originating at the Port of Prince Rupert on Canada's west coast, which is also North America's closest port to Asia, roughly 68 hours closer to Shanghai than Los Angeles.
Alberta is Canada's energy capital, and the Edmonton Metropolitan Region is a petroleum and petrochemical hub with several refineries, meaning that we have a stable and secure local source of jet fuel. Edmonton is also situated on the Can-AM-EX highway system for North America, and YEG's Airport City is home to a major trucking firm.
Our focus is ensuring that we work with regional partners to maximise opportunities for everyone. Canadian airports are federally mandated to support economic development opportunities for their regions, and we take great pride in working to create jobs and attract investment.
While e-commerce and shipments of medical personal protective equipment (PPE) have increased in 2020 for many airports, the expansion of our cold storage capabilities is another major point of activity for us. Alberta, in addition to energy, is a major agricultural producer. We know that the agricultural products from our region can compete with the world's best. The proximity to Asia goes both ways, of course, and we hope to help facilitate increased exports in the future.
Cargo will never drive our business in the same way as passenger traffic, but growing it is key to our long-term fiscal sustainability and revenue diversification. Our expansion project will take roughly two years to be fully complete, and it's exciting to think about what our operations could look like in five years, 10 years' time.
Myron Keehn leads Edmonton International Airport's development plan for air service routes and commercial revenues. He has a portfolio which includes air service, e-commerce, cargo, distribution logistics, value added manufacturing, warranty fulfilment, concessions, advertising, parking, ground transportation and real estate development. Keehn leads Edmonton Airport's efforts in the Asia Pacific region, including China, Japan, Korea and Singapore. He has driven the development of Edmonton's Airport City by attracting in excess of 1.2 billion of private investment.