Denver International Airport's award-winning winter operations
For International Airport Review's Winter In-Depth Focus, Denver International Airport details which procedures helped the airport to win the Balchen/Post award.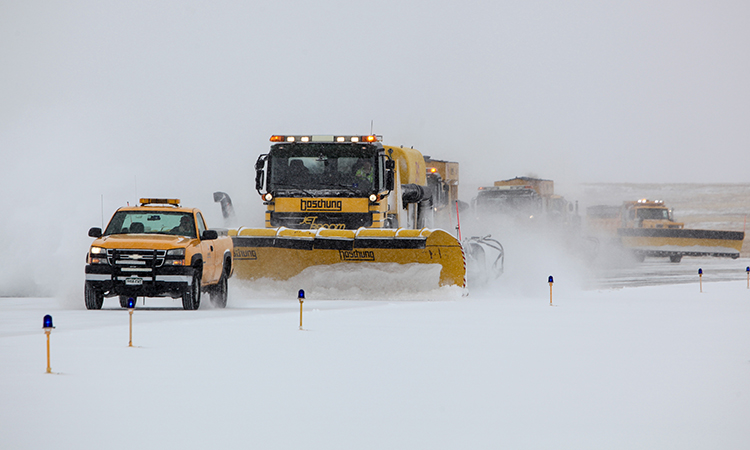 While snow in Denver Colorado isn't unusual, Denver International Airport's (DEN) response to snowy conditions might surprise you. The DEN Operations and Maintenance snow‑fighting team has been finetuning its response to snow for over 25 years, and with each new storm comes an opportunity to get even better.
Earlier this year, DEN was named the winner of the Balchen/Post award, a prestigious national accolade, recognising airports for outstanding snow and ice removal operations and maintaining airport operations during challenging winter conditions. 
The Balchen/Post award
For over 40 years, the Balchen/Post award, presented by the Northeast Chapter of the American Association of Airport Executives (AAAE), has recognised airports for outstanding snow and ice removal teams that result in safe operations. The award is based on a wide range of criteria for work during the 2019-2020 snow season, including snow and ice control plans; equipment readiness; personnel training; overall safety awareness; timely communication with airlines, the public and other airport stakeholders; storm clean up; and the effectiveness of snow and ice control plans on runways and other surfaces. DEN was named the winner in the category of large commercial airports with more than 200,000 flight operations annually.
"DEN has a very dedicated and talented team of snow fighters, who are experts at tackling Colorado's snowy months. Our teams work tirelessly to maintain safe and efficient operations on our airfield, on Pena Boulevard and our broader street system and our exposed parking facilities, even in the worst weather," said Airport CEO, Kim Day. "Ensuring that DEN is open and operating during snowstorms takes careful planning, training and execution, and I'm proud of the exceptional work of our snow team. They really are the best."
At 53 square miles – more than 34,000 acres – DEN is larger than the island of Manhattan, the city of San Francisco and the city of Miami. The airport's size is a huge asset that will eventually allow for six additional runways (for a total of 12) and terminal and concourse space to accommodate well over 100 million passengers per year in the decades to come. However, this size also presents logistical challenges when it comes time to clear all that surface area of snow.
With a seasonal average of 55 inches of snow per year, Denver has never been a stranger to winter aviation operations. In fact, it even snowed on the airport's opening day in February 1995. Year after year, DEN has built a snow-removal programme that uses a blend of cutting-edge technology and state‑of-the-art equipment to maintain efficient and safe airfield functionality for the airlines and the FAA, in all but the worst of conditions.
Plans built on lessons learned
DEN's current snow plan is full of lessons learned from past blizzards and snowy winters, beginning with back-to-back blizzards in December 2006 that dropped 20 inches of snow, forcing the airport to close for two days as aircraft, vehicles and support equipment were unable to safely operate in the whiteout and blizzard conditions.
Following the 2006 blizzards, DEN completely re-engineered its snow-removal programme. The resulting plan included newly prioritised snow‑removal areas and equipment routes, revised staffing plans and equipment upgrades. DEN purchased multi-function machinery that can plough, sweep and blow snow, and some can spread liquid and sand products at the same time. These investments continue each year as the snow plan is evaluated.
DEN now utilises over 200 pieces of airside snow-removal equipment to plough runways and taxiways. The ramp area alone is so massive that the area between concourses can accommodate side-by-side taxiing of four 747-400 aircraft. An additional 120 pieces of equipment are used for DEN's substantial landside operations. Those responsibilities include clearing 300 lane miles of roads (more than the distance from Denver to the Utah border) and 30 acres of parking lots with a total of 44,255 parking spaces.
The runway teams consist of a multifunction combination, plus dedicated brooms, blowers, chemical trucks and sanders. During a snow event, snow teams are divided across the east and west airfields. Generally, east airfield runways are used for arrivals and west airfield runways for departures. The runway teams are organised to move down the runway in a single pass, from edge to edge. Crews move in formation, consisting of the multifunctional equipment and dedicated brooms and blowers, followed by chemical trucks, sanders and, finally, a friction measurement vehicle.
Communication and coordination are key
As a result of the 2006 blizzards, the airport added a 'snowman' position in the FAA control tower, to orchestrate runway closures with snow crew movement. This position has streamlined the communication between the snow removal team and the FAA, and has bolstered the relationship and level of trust between airport operations and the FAA. The snowman also participates in the FAA's Command Center strategic planning conference calls, which are held every two hours throughout the day, to provide insight into the airport's snow removal plan and provide the FAA and stakeholders with the ability to give input to the plan.
Continuous improvement
DEN and its partners have also utilised technology to strategically manage aircraft arrival and departure rates to maintain a balanced throughput. DEN has implemented a customised version of its de-icing manager software, which uses a network of sensors to help the airport and airlines predict the best time for each aircraft to push back from the gate, how long it will take to taxi to the de‑icing pads, how long it will take to de-ice, and how long it will take to taxi to the runway for take off. This programme's use during a typical snow event will reduce airline delays by 2.6 minutes per aircraft and total costs by $88,000. This amounts to an estimated saving of $5.8 million per de-icing season by improving efficiency and reducing wait times at de-icing pads.
By using multi‑functional pieces of equipment, coordinating closely with partners, utilising the latest technology and making other improvements to snow management, the airport has reduced the average amount of time needed to clear a runway from 45 minutes to under 15 minutes"
Prior to the implementation of this software, the ramp tower would need to communicate with each airline to obtain information on de-icing progress, potentially creating longer queue times at the de-icing pads and runways. If an aircraft was not able to take off within the allotted time following de-icing, it would need to return to the pad for a second pass. This process caused lengthy delays for certain aircraft and, in some cases, resulted in twice the amount of de-icing fluid being applied to a single aircraft.
Today, by using multi-functional pieces of equipment, coordinating closely with partners, utilising the latest technology and making other improvements to snow management, the airport has reduced the average amount of time needed to clear a runway from 45 minutes to under 15 minutes.
As DEN prepares for the next snow season, this time amidst a global pandemic where the air travel industry has been seriously disrupted, the team continues to learn from past lessons and apply innovative solutions to quickly and efficiently keep runways clear, whilst keeping costs low for airline partners.