Philadelphia Airport's runway to COVID-19 recovery
Stephanie Wear, Director of Air Service Development and Cargo Services at Philadelphia Airport, discusses the airport's response to the drastic decline in air services through its COVID-19 Air Service Recovery Incentive Program.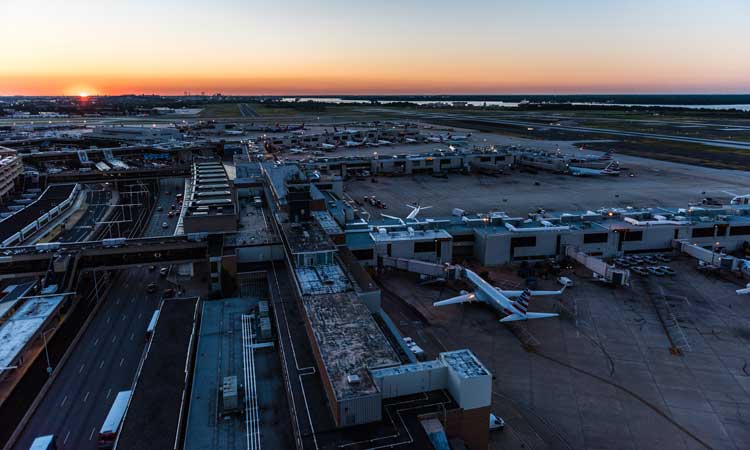 Credit: David Rosenblum, Philadelphia International Airport.
In recent years, airports around the world enjoyed a golden age of air service development in regard to new route successes, expanded networks and positive enplanement growth. Airport leadership was able to partner with airlines and offer incentives to bring new expanded routes that could increase enplanements and economic vitality to regions. Established relationships, headquarter meetings, promotional partnerships and stakeholder engagements all benefited from this period of continued economic stability.
Philadelphia International Airport (PHL) was riding the wave of air service growth, seeing a record 33 million passengers pass through its terminals in 2019.
The impacts of COVID-19
Enter 2020 and the COVID-19 crisis. Airlines shrunk down to oblivion and the years of hard work between airports, communities and valuable airline partners vanished. PHL's capacity hit its lowest point in May 2020: Available seats were down by almost 80 per cent and most flights had dismal load factors. All of PHL's international flag carriers – including some that had been in the Philadelphia market for decades – were forced to suspend their operations at PHL.
PHL serves the eighth largest metropolitan area in the U.S. and is American Airline's trans-atlantic hub. The airport is also served by several Oneworld partners operating international flights and other carriers carrying local and connecting traffic throughout North America, the Caribbean and Europe. PHL is one of the largest economic engines in the Greater Philadelphia region, serving over six million people in the 11-county Special Management Area (SMA), generating $16.8 billion for the economy and accounting for 106,000 full-time jobs annually.  The effects of this global pandemic on the airport have a multiplier effect on the region, as a lack of capacity affects the competitiveness of companies across multiple sectors.
When COVID-19 hit, PHL's leadership team immediately began working to create a comprehensive strategy to jumpstart the airport's recovery. This plan included looking for innovative ways to partner with airlines, driving consumer confidence, improving the guest experience and working with stakeholders in the airport. Free parking for passengers and employees in the airport's garages eliminated the need for shuttle buses (along with the associated costs) and were deferred to help concessioners. An additional focus was put on working with our partner airlines and creating an incentive programme that would align their immediate needs with those of the airport.
The PHL team looked for possibilities to drive short-term economic growth by regaining capacity from all our carriers and finding ways to support carriers willing to come back quickly. Initial steps involved reviewing various levels of data to gain an understanding of the airport's core domestic and international markets and what routes would not automatically return. The PHL team modelled projections of passenger traffic levels with a range of scenarios to understand what the financial commitment could be with different types of financial incentives. The resulting PHL COVID-19 Air Service Recovery Incentive Program (CASRIP) is designed to match an airline's needs with what the airport can offer. 
PHL's COVID-19 Air Service Recovery Incentive Program (CASRIP)
When developing CASRIP, Philadelphia Airport engaged its airline partners and found the most frequent 'ask' was to offer a way to offset cash in a market where losses are continuing to pile up. Airlines showed interest in some marketing support as in previous years, but the need to mitigate against cash outlay was paramount. CASRIP balances traditional air service waivers with an innovative approach to redefining what a new entrant is and introducing a component to support the return of the seasonal international routes. The PHL team coordinated with legal and financial partners to understand what was allowed in the current context of the industry. 
A recurring point discovered in PHL's research was that high-profile overseas routes at PHL are critical for the long-term health of the airport; representing a $2 billion impact to the Greater Philadelphia region (completed in 2019 for domestic and international). PHL not only serves local business and leisure travellers for international and domestic traffic, but is also a portal to the North American market. The geographic location of PHL reinforces that our attraction will always be a way to connect the trans-atlantic to the U.S. marketplace. With this analysis, it was apparent that the incentive would have to help bring as many of the seasonal routes back to Philadelphia as possible. 
PHL benefits from being an American Airlines and Oneworld hub due to non-stop breadth. CASRIP ensures that PHL's incumbent carriers thrive in parallel to the international carriers (Air Canada, British Airways, Lufthansa, Aer Lingus and Icelandair) that had to suspend operations during this challenging time. The new incentive programmes will, no doubt, have to shift from a 'growth' programme to a 'restoration' approach.
The world of COVID-19 has taught PHL and airports around the world that things can change instantly, and this required the incentive programme to include a framework that still rewards air carriers who want to start brand new services into the market. The PHL team believes that, with consistent dialogue, airlines will try to be opportunistic on the other side of this crisis.  
As the airport team seized the moment to position itself as a partner to airlines, they also wanted to create another seismic shift – introducing air cargo incentives for the first time. Currently, cargo flows are critical, but belly lift has decreased drastically. PHL felt that it could capitalise on a long overdue ability to promote the Greater Philadelphia region's strengths with air cargo and logistics (central location, affordable operating costs, strong freight forwarder community, land for facility development, access to population). Air cargo operates with a different recruiting structure, so airlines will always land on 'what are the incentives?'.
Ultimately, CASRIP provides a gesture or sweetener to airlines as they evaluate when and how they return to the market. Airlines may have less patience in a post-COVID-19 world for new or restored routes to deliver results, so PHL does not want to be penalised for not supporting those high-profile international routes, new domestic routes and expanded cargo operations. In a city that is known for its , the world should expect us to be leaders in partnerships.
In recent weeks, the airport has also been balancing the realities of the airline conversations with our government stakeholders who are working with PHL to remove restrictions for international travel to the U.S. – most notably, PHL is currently not a named 'funnel' airport for traffic from Europe. The hope is that, with CASRIP in place, there can be a quick market re-entry when the restrictions are phased out in the future. If this programme serves its purpose, it will create a robust environment that re-establishes routes on PHL's map and supports the broader recovery of the region. 
Airlines only have so many aircraft, even fewer than before the COVID-19 crisis. PHL wants to ensure that it offers the most attractive yet sustainable incentives to help bring them back to the Philadelphia market.